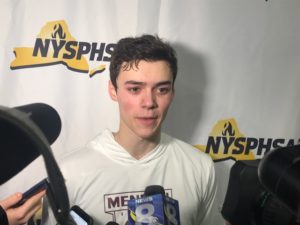 By PAUL GOTHAM
BINGHAMTON, N.Y. — Twelve words told the story.
When asked about his team's one-game-at-a-time approach with Satuday's state final in view, Pittsford Mendon head coach Bob Nally looked at the cameras and smiled.
"There's a couple of games next weekend we've been looking forward to."
Nally acknowledged for the first time, at least publicly, what Mendon has had within its sights all along: a New York State Championship and more.
Mendon, which dominated Section V during the regular season, has continued to romp past New York State's best. On Friday afternoon at the Floyd L. Maines War Memorial Arena, the Vikings dispatched Section II champion, Troy, by double-digits, their 23rd such effort this season.
As they have been throughout, Mendon was balanced on offense. Four scored in double figures. Dan Cook led with 38, Mike Harrington had 14, Nate Strauf had 12 and Jacob Shadders had 11.
They were efficient shooting 54.5 percent (36-of-65). In a pivotal third quarter, Mendon scored on 12 of its 19 possesssions.
They were stingy on defense. Mendon held the Troy Flying Horses 13 points under their season average. They limited Troy to 39.3 percent shooting (24-of-61) and converted 14 turnovers in 13 points.
But they were not satisfied.
As the final seconds ticked off the game clock, there was no chorus of a countdown. No dog pile could be found. There were smiles, a few high-fives, but the pervailing body language said that this team expected to be here.
Troy averaged better than 80 points per game this season while holding opponents under 54. Six days after holding Section VI champ Lewiston-Porter 22 points under their season average, Mendon (26-0) advanced with a 92-67 win.
For the first time this postseason, though, Mendon had to absorb a few body blows. Troy's defense forced turnovers on three straight possessions and an eight-point Vikings' first-quarter lead evaporated.
It was merely a speed bump.
By halftime, Mendon led by 11 and stretched that advantage to 20 midway through the third quarter.
"We've been pressed full court, picked up full court," Nally said about his squad's experience playing opponents who pick up the ball in the back court. "(Jacob) Shadders just has a lot of poise. He's able to get guys in foul trouble."
"Let Jacob Shadders make decisions," Nally said. "He was finding (Daniel) Cook. Cook would then take the ball up because they (Troy) were trying to then shut down Shadders."
Shadders had three assists and three turnovers in the first half. The sophomore ball-handler dished out five dimes in the second half.
"That was an extremely tough team," Shadders said of Troy. "They really brought it to us. We just matched that energy. Our energy is the biggest thing. That's what got us going.
"They were definitely speeding us up," Shadders explained. "I couldn't really slow it down because I had to go by all the time because they were pressuring me so high.
"I got comfortable and used to what they were bringing at me. I was able to read the floor a little bit better. In the first half, I had never really seen something like that. They were pressuring me like I've never really seen. I had to get used to it, and I had to make an adjustment at halftime and kinda slow myself down a little bit and find the open guy."
Cook continued a postseason that will get etched in history. For the fourth time in five games, he topped the 30-point mark. The senior forward averaged 18.8 points per game during the regular season. In six postseason games he is scoring 27.8 points and grabbing 15.2 rebounds.
"Dan was huge for us tonight as he has been all season," Shadders said.
Those couple of games to which Bob Nally referred earlier would be the New York State Federation Tournament of Champions that brings together the four major NYS winners. With a win on Saturday, Pittsford Mendon will join the champions from the Catholic High School Athletic Association (CHSAA), New York City Public School Athletic League (PSAL) and the New York State Association of Independent Schools (NYSAIS).
Mendon will play Poughkeepsie (I) in Saturday's NYS Class A final. A 7 PM tip time is scheduled.