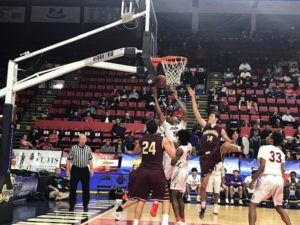 By JOHN LIKANJE
BINGHAMTON, N.Y. – Pittsford Mendon came out of the locker room during halftime and extended its double-digit lead in a 92-67 rout over Troy (II) in the New York State Public High School Athletic Association (NYSPHSAA) semifinals, Friday afternoon.
Leading 42-31 at halftime, the Pittsford Mendon Vikings outscored the Troy Flying Horses, 26-16, in the third quarter to take a commanding 68-47 advantage. Daniel Cook scored seven points during an 11-0 run for a 66-42 advantage. The senior forward converted a pair of layups-including one for a three-point play-and a floater.
"It's gotta be tough to play against us," Pittsford Mendon head coach Bob Nally noted. "What we've been able to do over the past couple of years and in the last 15 games is really step it up in the third quarter and make sure no teams can make a good run early on."
Not a rerun. Dan Cook. Hurt. Harm. Cook has 24 points and 11 rebounds. 2:02 remaining in 3rd @mendonbball leads 63-42 pic.twitter.com/i0orqQDV7i

— Paul Gotham (@PickinSplinters) March 15, 2019
Connor Krapf and Jacob Shadders each made a layup as the Vikings forced the Flying Horses into seven missed field goals and a turnover in seven possessions during the run.
"We've been pressed full court, picked up full court," Nally said about his squad's experience playing opponents who start their defense in Mendon's back court. "(Jacob) Shadders just has a lot of poise. He's able to get guys in foul trouble."
Cook poured 25 of his game-high 38 points (two shy of his season high of 40 which came on January 11 against Brockport) in the second half as the Vikings outscored the Flying Horses, 50-26. During the third quarter, the senior forward converted a pair of and-ones, part of an effort which saw him finish five traditional three-point plays and connect once from three-point land during the game. Cook corralled 19 rebounds for his 25th double-double of the season. Over his last five games, the 6-foot-6 forward has eclipsed the 30-point mark four times and is averaging 30.4 points and 15 rebounds.
"I'm just grateful for my teammates getting me the ball and giving me space to score," Cook said on his performance.
"What people don't know is Dan is not necessarily a big just because he's 6-6 (6-foot-6)," Nally explained. "We've been having him bring the ball up all year long and you saw that today."
Ball movement and a Dan Cook triple. HALFTIME: @mendonbball 42 Troy 31 pic.twitter.com/ICMynreyHR

— Paul Gotham (@PickinSplinters) March 15, 2019
Michael Harrington scored 12 of his 14 points in the first half and converted a three-point play at the end of the first quarter to give the Vikings a lead they did not surrender. The senior guard collected three rebounds and swiped two steals.
Nate Strauf broke through for his first double-digit scoring output of the season with 12 points on 6-of-7 shooting from the field. The junior forward grabbed five rebounds.
Shadders netted seven of his 11 points through the first 16 minutes of gameplay. The sophomore guard dished out eight assists and pulled down seven rebounds.
"Let Jacob Shadders make decisions," Nally said. "He was finding (Daniel) Cook. Cook would then take the ball up because they (Troy) were trying to then shut down Shadders."
Pittsford Mendon (26-0/No. 3 NYSSWA Class A) eclisped the 90-point mark for the 10th time this season. The Vikings win their 23rd double-digit game of the season as well.
Caleb Arena converts the rebound & putback to give @mendonbball an early 15-8 lead over Troy. pic.twitter.com/sLv0yrPNA2

— Paul Gotham (@PickinSplinters) March 15, 2019
For Troy (20-5/No. 8 NYSSWA Class A), Nazaire Merritt scored a team-high 26 points and converted 12-of-14 from the free throw line. The senior guard handed out four assists and collected a pair of rebounds.
Latyce Faison knocked down team-highs of eight field goals and four long-range buckets. The senior guard had three steals, two assists and a rebound.
Pittsford Mendon will play Poughkeepsie High School (I) for the NYSPHSAA Class A state title Saturday night at 7:00 PM. The Pioneers defeated Manhasset (VIII), 74-63, in the other Class A semifinal, Saturday afternoon.