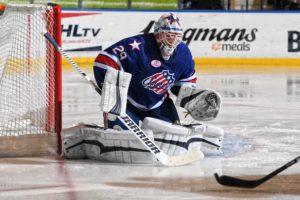 By KEVIN OKLOBZIJA
The Rochester Americans have been at or near the top of the American Hockey League's North Division all season.
Their goalie is now climbing the AHL's statistical charts.
Scott Wedgewood posted another shutout on Wednesday night, stopping 30 shots in a 3-0 victory over the Utica Comets at Blue Cross Arena at the War Memorial.
Winners of four straight and 10 of their past 12, the Amerks (39-18-3-2) now head to Charlotte (39-15-6-1) to play the league's best team on Friday and Saturday.
Here's your heavy-on-the-goalie Wednesday Amerks Six Pack:
1. Wedgewood? More like Wedgewall
With his fifth shutout of the season, the seventh-year veteran has a 25-10-2 record with a 2.48 goals-against average and a .916 save percentage.
He ranks 10th in GAA, 10th in save percentage, second in wins and second in shutouts.
"I just know he's in a good spot now," Amerks coach Chris Taylor said.
Wedgewood agreed. He has shutouts in two of the past three games and has allowed just one goal in his previous 10 periods.
"It's a confidence thing," he said, "but the guys are as mjuch a part of it as anybody," he said of his teammates.
"Ever since Christmas break I changed a few things up, kind of of the way I wear my gear. Beforehand there were a couple spots there I would be a little vulnerable for pucks, injuries so I found a way to clean that up."
2. The shutouts are impressive
Not since Ryan Miller recorded eight shutouts in 2004-05 has an Amerks goalie had more than four.
"Zeroes are always nice to see, it's a nice team win, a nice team achievement," Wedgewood said. "The guys give you props in here but that's as much as everyone out there as it is myself."
3 Wrong guy, right guy
C.J. Smith admitted he really wasn't supposed to be the guy jumping onto the ice from the bench to join the play in progress in the Comets zone on a delayed penalty midway through the third period.
The player up, he said, should have been Kevin Porter. "It's supposed to be the center and Ports was next up," he explained.
No one was complaining, however. Smith sped over the blue line, took an on-the-tape pass from Victor Olofsson, sliced between forwards Lukas Jasek and Zack MacEwen and fired a wrist shot past goalie Marek Mazanec to break a scoreless deadlock 8:24 into the third period.
Smith did say he apologized to Porter.
4. Leier jet
Taylor Leier continues to impress, and continues to score goals.
Obtained in the Jan. 17 trade that sent Justin Bailey to the Philadelphia Flyers, Leier has produced 8 goals, 2 assists and 10 points in his past six games, and 9-6-15 in the 21 games he has played for the Amerks.
His breakaway goal with 5:40 remaining off an extra-effort head-man pass by Andrew Oglevie was the clinching second goal.
"He loves to score goals," Taylor said.
5. Two dozen for Olofsson
Winger Victor Olofsson scored his team-leading 24th goal with a bullet one-timer in the final minute.
With 14 games remaining, he has an outside chance to hit 30, assuming he isn't recalled by the Buffalo Sabres.
The Amerks haven't had a 30-goal scorer since Thomas Vanek (42) and Jason Pominville (30) in 2004-05.
6. Familiar face
For Wedgewood and Utica defenseman Matt Pengrave, the game was a reunion.
"I've known him my whole life," Wedgewood said. "We went to kindergarten together, all the way through high school. We grew up maybe two blocks away so it was cool to see him."