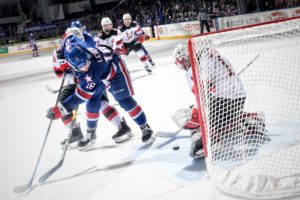 By KEVIN OKLOBZIJA
Take a team with a solid amount of talent, and then infuse said team with a colossal dose of confidence and what happens?
If that team is the Rochester Americans, they win three weekend games by a combined score of 16-4.
"Any time you can go six points of six points in a three-in-three, that's great for our team," center Taylor Leier said after Sunday's 6-1 home-ice victory over the Binghamton Devils. "It's a nice little building block."
Here's your Sunday Big Ditch Amerks Six Pack:
1. Gimme the puck, Part I
Leier's play epitomizes a belief in his game, and his production reflects it. He scored the first goal on Sunday and set up the second, by linemate and penalty killing partner Remi Elie.
In his past 10 games, Leier has produced 6 goals, 5 assists and 11 points. He has 8-6-14 in the 20 games since a Jan. 17 trade brought him to the Buffalo Sabres organization. In the exchange, Justin Bailey was sent to the Philadelphia Flyers.
So how confident is Leier, who scored 10-9-19 in 34 games for Lehigh Valley?
"Really confident; this is the best I've felt all year," he said. "You want that feeling of wanting the puck all the time and I have it right now. You're not afraid to shoot, you're not afraid to attack. It's a really good feeling and I think a lot of guys are playing like that."
2. Gimme the puck, Part II
Rasmus Asplund has joined the feeling-good-about-my-game club.
The first-year centerman scored again on Sunday and also assisted on goals by Lawrence Pilut and C.J. Smith. Asplund has 3-8-11 in his past eight games, which is nearly triple his production for his first 21 games (1-3-4).
"I think it's a mix that I'm getting rewarded and I have confidence right now," Asplund said.
Continuing to build confidence in his season-long linemates, Danny O'Regan and fellow Swede Victor Olofsson, certainly plays into the equation.
"We want to be better, we want to talk to each other, we want to make each other better," Asplund said.
His confidence is also evident on every shift.
"I think he really takes control of his game and he plays with so much poise out there," Pilut said. "You watch him now, he takes the ice, he takes one, two guys on him, and he still comes out with the puck. It's just amazing to see. He's been growing a lot lately."
3. Back in 1st place
In improving to 38-18-3-2, the Amerks moved back ahead of the idle Syracuse Crunch by a point in the AHL's North Division, 81-80. The Amerks also are just four points behind Charlotte for first overall in the Eastern Conference.
"We're a team that can win this division and that's what we want to do," Asplund said. "We're going to take every game and try to get two points and try to get the No. 1 spot."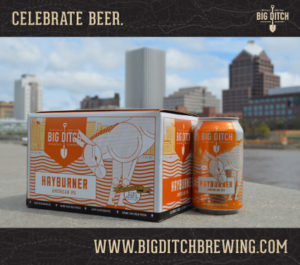 4. Getting back that goal-scoring feeling
When he left on Nov. 30 for what became a three month stay with the Sabres, Pilut has scored 3-19-22 in 16 games.
But since returning to the Amerks lineup on Feb. 23, Pilut had just two assists and was showing some natural signs of wanting to do more after his NHL stint.
That's a natural tendency, coach Chris Taylor said, for players coming back after a long stay up top.
"He wants to be the guy," Taylor said. "He's playing well but I think he can play better. There's another level for him."
Teammates were happy when Pilut found the net on a second-period power play to extend the lead to 4-1.
"It was good for him to get the goal, good for his confidence, too, so I gave him an extra hug there," Asplund said.
5 A weekend sweep, but …
Here's a true sign this Amerks team expects to play well into the spring. Their coach was finding the faults with the weekend.
There wasn't much to criticize in Friday's 5-0 blitzing of the Bridgeport Sound Tigers. But Taylor thought the Amerks could have better in Saturday's 5-3 win at Binghamton, and again on Sunday against the Devils, despite the score.
"I always love winning but I thought we were sloppy at times and turned the puck over too many times," Taylor said. "It's three-in-three, I know, and they're tough games, but we still have to play the right way."
6 A possible league review?
Amerks captain Kevin Porter was assessed an interference major for his blind-sided check behind the net on Devils defenseman Josh Jacobs in the second period.
The Devils scored their goal during the five-minute power play.
The league may review the hit, because of the category of penalty, but Taylor said he doesn't believe there will be a suspension.
"It wasn't as if he wanted to finish the guy (with a big check)," Taylor said.
Hockey loses a giant
Hockey Hall of Fame defenseman Harry Howell died on Saturday. He was 86.
Howell played 24 professional seasons, including the first 17 with the New York Rangers. He's one of 10 players to have his number (3) retired by the Rangers.
Howell, a native of Hamilton, Ontario, later coached and then was a scout for the better part of three decades. He made frequent trips to Rochester over the years, and saw the Amerks play countless times when Hamilton was a member of the AHL.
Just three weeks ago, Marilyn, his wife of 64 years, passed away.