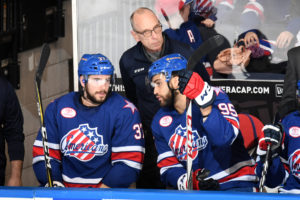 By KEVIN OKLOBZIJA
Being in the right place at the right time landed Kent Weisbeck his first full-time job as an athletic trainer in professional sports.
That was 34 years ago, and it remains the only job he's had in pro sports.
While working in a Buffalo gym, Weisbeck overheard a conversation then-Rochester Americans coach John Van Boxmeer was having. The Amerks, Van Boxmeer was telling a friend, needed a medical trainer because Jim Pizzutelli had been promoted to the Buffalo Sabres.
Weisbeck inquired, was given an interview, and not long after was hired for the 1985-86 American Hockey League season. Right place, right time, indeed.
Some 34 years later, Weisbeck remains on the athletic training staff of the Amerks. He was honored on Sunday afternoon when he worked his 2,500th regular-season game.
The milestone is believed to be an AHL record for a certified athletic trainer. Only one athletic trainer in the NHL, Pete Demers, worked more games. Demers was on the Los Angeles Kings bench for 2,632 games.
The organization gave Weisbeck a watch to commemorate the feat. During Sunday's pre-game ceremony he was presented with a plaque and Amerks No. 2,500 sweater with his name.
"Truly the best," Amerks coach Chris Taylor said in one of the video tributes played during the game. Taylor played all or parts of nine seasons with the Amerks between 1999-2000 and 2010-11.
In a video board tribute, former player and coach Randy Cunneyworth told Weisbeck, "Nobody's done more than you have over the years."
Weisbeck has worked for 11 head coaches, tended to tens of thousands of ice packs and ridden endless miles on team buses. Most importantly, he helped hasten the recovery of injured players every season.
"The Calder Cup  championship runs (in 1987 and 1996), you remember those, but the friendships with some of the players are the big thing," Weisbeck, 62, said. "There's lots of good memories."
Weisbeck's role changed when the Buffalo Sabres returned as the parent team in 2011. Rob Frost was the head athletic trainer from 2011-12 to 2014-15, and Bob Mowry has served in that role since 2015-16.
With the title of assistant athletic trainer, Weisbeck is active at practice and for home games. When the team is on the road, he's responsible for the health and rehabilitation of injured players.
"As long as my health stays good and they want me, I'll be here," said Weisbeck, who was inducted into the Amerks Hall of Fame in 2010.