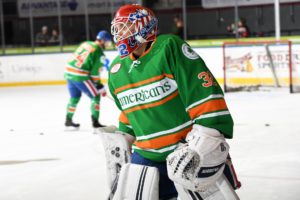 By KEVIN OKLOBZIJA
The Rochester Americans billed Friday as Irish night, with a rendition of the Irish National Anthem, bagpipes and green uniforms providing a little Celtic flair.
Rasmus Asplund and Alex Nylander apparently didn't get the memo. They turned it into Swedish Night.
Asplund scored twice and Nylander once as the Amerks steamrolled the Bridgeport Sound Tigers 5-0 at Blue Cross Arena at the War Memorial.
In playing one of their most complete games of the season, the Amerks halted Bridgeport's seven-game winning streak and improved to 36-18-3-2. The Sound Tigers had earned 19 of a possible 20 points in their past 10 games and gained a solid hold of second place in the AHL's Atlantic Division.
"That's a good team, they play really hard, and we wanted to make sure they turned pucks over and we didn't," said Amerks captain Kevin Porter, who converted a great give-and-go pass by C.J. Smith into the game's first goal just 7:08 into the first period.
Here's your Friday Amerks Six Pack:
1. Asplund heating up
The first-year centerman from Sweden had little to show for solid play before Christmas. In his first 32 AHL games, he produced just 1 goal and 8 assists.
But over the past 26 games, he has scored 2-11-13.
"That's the way I want to play, that's the way I want to produce," he said.
His linemates almost all season have been Danny O'Regan and Victor Olofsson. They've played extremely well together, which is why Amerks coach Chris Taylor hasn't tinkered.
"Their chemistry all year has been remarkable," Taylor said.
2. Feel free to shoot … please
Taylor said one reason for Asplund's increased productivity is a willingness to shoot the puck more often.
He became a little ineffective for a stretch because opponents knew he was usually looking to pass. They took away passing lanes and it often negated a scoring chance.
"He's got a great shot and we tell him all the time we wish he'd shoot more," Taylor said. "When he does, it opens up more for the whole line."
3. Shutout No. 4 for Wedgewood
Goalie Scott Wedgewood posted his fourth shutout of the season, making 29 saves while displaying an air of you're-not-beating-me-tonight confidence.
He said he's not all that infatuated with shutouts.
"It's a win," he said, emphasizing that wins are most important. "It's nice to see and it helps the numbers but I'm comfortable and happy with how I'm playing. The team knows what I'm going to give them."
Just once in the past 14 seasons has an Amerks goalie posted four shutouts: David Leggio in 2012-13. Before that, it was Ryan Miller, with eight in 2004-05.
Oh, and that 2004-05 season was also the last time the franchise won a playoff series.
4. Dominant from start to finish
The Amerks led 2-0 after the first period and 4-0 only 68 seconds into the second period. With nine minutes left in the second period, they were outshooting the Sound Tigers 25-9 and Bridgeport starting goalie Jeremy Smith was watching from the bench.
"We played a full 60 minutes at home and we didn't let up at all, which is great," Porter said.
5. A little D-pair experimentation
The coaching staff broke up the pairing of Zach Redmond and Lawrence Pilut, instead putting Pilut with Will Borgen while Redmond skated alongside Matt Tennyson. The third pairing had Andrew MacWilliam with Jack Dougherty.
Taylor said it's not necessarily permanent, and it might not even how they use the defensemen the rest of the weekend.
But he said they were experimenting a little, allowing Dougherty to play on the right side, for which they believe he is better suited, and also having Tennyson on the left.
And because Borgen, another of the Amerks dynamic rookies, is thinking defense first, Pilut can be more creative.
"It gives him a chance to get up in the play a little bit more," Taylor said.
6. A pair with Binghamton closes the weekend
The Amerks play at Binghamton Saturday and the teams come to Rochester for 3 p.m. Sunday rematch.
The Devils are an AHL-worst 24-32-5-0. Taylor said it's not easy to play a team out of contention, that Binghamton players are playing for next year's contract.
But when you're 24 points better in the standings, and the Syracuse Crunch have taken over first place in the North Division, there can be no excuses. Which the players know.
"We're chasing to clinch a playoff spot and we need four points," Asplund said.