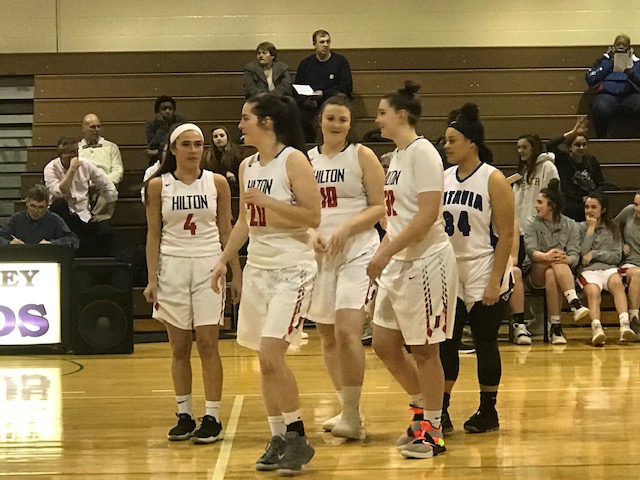 By PAUL GOTHAM
ROCHESTER, N.Y. — When a water main broke at Greece Athena early Thursday morning, organizers were forced to relocate the 2019 Monroe County – RCAC Senior Exceptional Games. Administrators moved the contest four miles east to the Greece Odyssey campus – the former home of Cardinal Mooney High School.
Little did they know that the alternative venue brought full circle the athletic careers of the Burgmaster-McGwin clan.
The change in location created a situation in which Hilton's Meaghan McGwin played her last game in a Cadets uniform inside the same gymnasium where her mother and uncles all played as members of the Cardinal Mooney Cardinals.
"I walked through those doors and I was like 'holy cow,'" Deb (Burgmaster) McGwin said. "Everything just started coming back to me and then the thought that Meg is playing on the same court that I used to play on."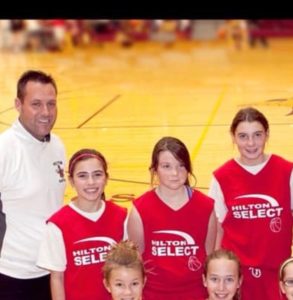 The younger McGwin has played organized basketball since fifth grade. Despite living in a neighboring school district, the Cadets forward never played inside those same four walls of the former Mooney gymnasium at 750 Maiden Lane.
That is until Thursday night.
"I didn't grasp the magnitude of how I would feel walking through those doors," the elder McGwin said. "It was wild."
The irony doesn't stop there.
Meg McGwin played her last high school interscholastic basketball game – a sectional quarterfinal game – at Edison Tech where her dad graduated from in the early 80s. The Cadets season and Meg's high school career ended with a 61-52 loss this past February 21st. Deb (Burgmaster) McGwin's last high school game? You guessed it. A quarterfinal loss to Edison Tech.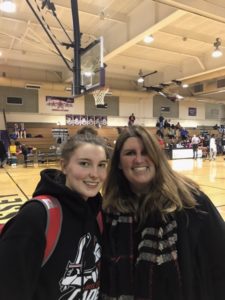 With teammate Linzee Reyes playing in the Ronald McDonald All-Star game later this month that left Meg with the opportunity to take the tip off for the first time this season. Mooney's red and gold had been traded for Odyssey's purple and white, but the moment wasn't lost.
"It was pretty awesome," Meg said after the game. "My dad went to Edison. That's where I ended my regular season. Now I get to end my season where my mom went to school and played ball. And I got to do the tip, so it's pretty cool."
"I stood right there," Deb McGwin said.  "She hasn't done a tip all year. That's the crazy part. She never does the tip off. Linzee did them. Who's doing this? I was in awe. It gave me shivers."
McGwin's uncles, Tim Burgmaster and Mike McGwin, both played at Mooney during the late 1980s under Section V Hall of Famer Ed Nietopski in Rochester's famed City-Catholic League. The two helped form the front court for Nietopski's final team at Mooney.
Tim Burgmaster highlighted his career that season with a 40-point effort in a 60-59 win over Wilson. McGwin added 11 points and 11 rebounds in the victory. McGwin went on to a hall-of-fame career at Nazareth College.
VIEW MORE PHOTOS FROM THE 2019 SENIOR-EXCEPTIONAL GAME HERE.
They were the end of the line for a Mooney basketball program which included names like Doug Farrell (an MLB draft pick who continued his career as a two-sport athlete at Niagara University), Rob Rose (a George Mason graduated who played in the NBA and later professionally in Australia), Tom Kinsella  and Dave Brust (an MVP on the Ball State baseball team who eventually played three seasons in the Atlanta Braves system), to name a few.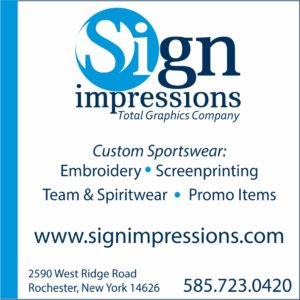 The City-Catholic League connections didn't stop there.
Chris Schiano, the father of Meghan Schiano (one of Meg McGwin's teammates at Hilton) played for Aquinas during the early 80s against Nietopski and Mooney. By the end of the night former East High stars and current coaches, Darrell Barley and Tony Scott, were on hand to roam the sidelines for one of the boys teams.
Meghan Schiano uses a Meaghan McGwin ball screen to get space for a triple. #SeniorExceptionalGame pic.twitter.com/RBMaNCiipN

— Paul Gotham (@PickinSplinters) March 8, 2019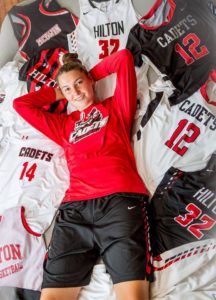 The reunion, of sorts, conjured memories of other 80s C-C greats: Joe Arlauckas (Jefferson), Joe Binion (Madison), Drew Henderson (McQuaid), Scott Martzloff (McQuaid), Devin "Press" Murphy (Charlotte), Tom Sheehey (McQuaid), Chris Tuck (Charlotte), Glenn Taggart (McQuaid) and Greg Woodard (McQuaid), for starters (feel free to add any more names – which there are many – in the comments section).
Meg McGwin will continue her playing career at Keuka College where she will study Occupational Therapy.
"They are one of the few schools around here that have really good program," she said. "I really love the Keuka coach. The whole school is beautiful. It was just kind of a no-brainer. As soon as I got there, I just knew I belonged there."
As for making memories, that comes naturally.