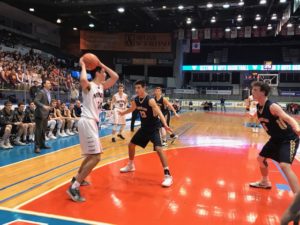 By JOHN LIKANJE
ROCHESTER, N.Y. – Pittsford Mendon went on a huge run and maintained a double-digit lead for the entire second half to take down local rival Pittsford Sutherland, 74-53 in the New York State Class A Far West Regional Qualifier, Wednesday night, at Blue Cross Arena.
After the Sutherland Knights (16-9) went on an 11-0 run to tie the game at 19 in the opening minutes of the second quarter, Mendon (24-0/No. 3 NYSSWA Class A) responded with a 24-5 surge to open up a 43-24 edge during the third period. Senior guard Michael Harrington led the charge with nine points.
"We were going through some droughts," Pittsford Mendon head coach Bob Nally explained. "They (Pittsford Sutherland) were throwing different defenses at us. I thought our guys adjusted well and we have four guys out there at all times who can make shots, so that helps in the scoring department."
Sophomore guard Jacob Shadders knocked down a pair of three-pointers and a floater. Senior forward Daniel Cook made a long-range shot from the left corner, a layup and two free throws. During the run, the Vikings held the Knights to nine missed field goals and six turnovers in 18 possessions.
"Our defense was good early and when we play really good defense, it enables us to get out on offense and in transition," Nally noted.
Daniel Cook 3-pointer extends @mendonbball lead over @SutherlandHoops to 38-22 at halftime. Cook has 13 for the Vikings. Ben DiGiovanni leads the Knights with 7 points. @PickinSplinters pic.twitter.com/wSngve1rt4

— John Mitchell Likanje Junior (@jml5798) March 7, 2019
Harrington poured in 22 of his game-high 27 points after the opening period in which the Vikings held a 19-14 lead. The senior guard went 5-of-8 from beyond the arc, collected five rebounds, handed out four assists and swiped three steals.
"I have the gift of my height and that helps a lot," Harrington said. "My teammates definitely find me at the right time. (Jacob) Shadders is always finding me when I make good cuts."
"He just shoots with a ton of confidence," Nally explained about Harrington. "When he shoots it like that, he's deadly. He gets in a groove. Every time he catches it, you want him to shoot because you know it's going in. He's got great hands around the rim."
Cook recorded 21 points and 12 rebounds for his 23rd double-double of the season. The senior forward netted nine of his 11 attempts from the charity stripe, blocked a pair of shots, had two steals and two assists.
"I could see it in his eyes tonight," Nally said about Cook. "He just wasn't going to let us lose. He was doing it on both ends and really getting it done on the boards like he has all year. He's really a consistent player for us, a great leader and certainly someone to build your team around."
Dan Cook grabs the loose ball, finishes inside. 3:33 to go in the half: @mendonbball 24 @SutherlandHoops 20 pic.twitter.com/dwDCem8hD5

— Paul Gotham (@PickinSplinters) March 7, 2019
Shadders netted three shots from long range and scored 11 points in the first half as the Vikings surged to a 38-22 lead going into the locker room. For the night, the sophomore guard had 16 points along with two steals, two assists, a blocked shot and a rebound.
Jacob Shadders hits the turnaround. 3:26 remaining @mendonbball 71 Sutherland 47 pic.twitter.com/tbIBlEwPJA

— Paul Gotham (@PickinSplinters) March 7, 2019
For Pittsford Sutherland, Kevin Ryan scored nine of his 15 points in the second half. The senior forward pulled down six rebounds, collected a pair of assists and blocked a shot. Ryan completed his four-year varsity career with 1,203 points.
Junior guard Ben DiGiovanni had 13 points, grabbed five rebounds, dished out five assists, blocked a pair of shots and swiped a steal.
Ben DiGiovanni layup cuts @SutherlandHoops deficit against @mendonbball to 19-14 at the end of the 1st quarter. @PickinSplinters pic.twitter.com/l5neYWWyg2

— John Mitchell Likanje Junior (@jml5798) March 7, 2019
Matt Panara knocked down three shots from beyond the arc en route to 11 points. The senior guard collected six rebounds and had an assist.
The Vikings scored 19 points and made six field goals in each of the first three quarters.
Pittsford Mendon defeated Pittsford Sutherland for the third time this season. The Vikings win their 21st game of the year by double-digits as well.
Pittsford Mendon will play Lewiston-Porter (VI) on Saturday at 2:30 PM at Greece Athena High School. The Lewiston Porter Lancers (21-3) defeated Amherst to win the class A2 title and took down A1 sectional champion, Seneca West, to advance to regionals.
PITTSFORD SUTHERLAND (16-9)
Kevin Ryan 6-10 3-6 15; Ben DiGiovanni 5-12 2-2 13; Matt Panara 4-11 0-0 11;
John Luther 1-8 0-0 3; Own Flisnik 1-3 0-0 3; Connor Fitzsimmons 1-1 1-1 3;
Stratton Hancey 1-2 0-0 2; John Messina 1-2 0-1 2; Garrett Glanton 0-0 1-2
1; Aiden Pelligrino 0-0 0-0 0; Torin Wilcox 0-1 0-0 0; Nick Morabito 0-1 0-0
0; Patrick Sanna 0-0 0-0 0; Lincoln Perinello 0-0 0-0 0. Totals 20-51 7-12
53.
PITTSFORD MENDON (24-0)
Michael Harrington 9-14 4-5 27; Dan Cook 5-13 9-11 21; Jacob Shadders 6-15
0-0 16; Connor Krapf 2-6 0-1 4; Nate Strauf 1-1 2-2 4; Kyle Hennessey 0-0
2-2 2; Will Orzell 0-0 0-0 0; Tommy Birmingham 0-0 0-0 0; Caleb Arena 0-2
0-0 0; Luke Hoyser 0-0 0-0 0; Kidder Lindley 0-2 0-0 0; Charlie Bennett 0-1
0-0 0; Isaiah Cotton 0-0 0-0 0; Kevin Keneally 0-1 0-0 0; Will Connors 0-0
0-0 0. Totals 23-55 17-21 74.
Pittsford Sutherland……….   14    8   16   15  –   53
Pittsford Mendon…………..   19   19   19   17  –   74
3-point goals–Pittsford Sutherland 6-23 (Matt Panara 3-9; Own Flisnik 1-3;
John Luther 1-8; Ben DiGiovanni 1-2; Stratton Hancey 0-1), Pittsford Mendon
11-22 (Michael Harrington 5-8; Jacob Shadders 4-9; Dan Cook 2-2; Kidder
Lindley 0-2; Charlie Bennett 0-1). Fouled out–Pittsford Sutherland-John
Messina, Pittsford Mendon-None. Rebounds–Pittsford Sutherland 27 (Matt
Panara 6; Kevin Ryan 6), Pittsford Mendon 34 (Dan Cook 12).
Assists–Pittsford Sutherland 13 (Ben DiGiovanni 5), Pittsford Mendon 13
(Michael Harrington 4). Total fouls–Pittsford Sutherland 21, Pittsford
Mendon 12. Technical fouls–Pittsford Sutherland-None, Pittsford
Mendon-None. A-1000