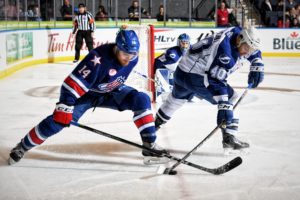 By KEVIN OKLOBZIJA
It was bad enough that the Rochester Americans gave the Syracuse Crunch five power plays in the first period, creating a 1-0 deficit.
But then, just 2:03 after Alex Nylander's 10th goal tied the score for the Amerks early in the second period, defenseman Will Borgen cross-checked and roughed up Crunch super-pest and super scorer Cory Conacher.
Boom, another power play for the Crunch, another power play goal, and the Amerks ended up on the wrong end of a 4-1 score on Sunday afternoon.
With a chance to extend their lead in the American Hockey League's North Division to four points, the Amerks instead stumbled. Undisciplined play led to three power-play goals (on eight chances) for the Crunch.
As a result, Syracuse (35-17-3-2) and Rochester (35-17-3-2) now each have 75 points, but the Crunch are technically in first place because they have played one fewer game.
"There's 76 games in a year — it's hard to win all the ones you want to win," center Taylor Leier said.
He was looking at the big picture, with victories in Utica (3-1 on Wednesday) and Syracuse (5-3 on Saturday) providing four of a possible six points.
Still, it's difficult not to think the Amerks failed themselves by losing on Sunday, when the Crunch were playing for the third time in three days.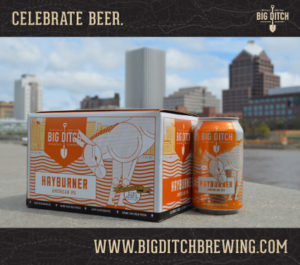 "When you get the first two, especially on the road, and you're coming back to your building, it's a little disappointing," coach Chris Taylor said.
That the Amerks allowed just one power play goal despite being short-handed for more than six minutes, including two extended five-on-three Crunch power plays, was a minor miracle.
But then more penalties led to two more power-play goals for Syracuse in the second period.
Borgen said he was at fault for the not-so-wise penalty. His coach, however, pretty much absolved his rookie defenseman of any significant blame.
Borgen was responding to Conacher's well-after-the-whistle slash on goalie Scott Wedgewood, who had frozen the puck in his glove.
"He slashed our goalie after he covered it and I got the retaliation," Borgen said. "That's on me."
A common-sense assessment of the situation was that Borgen figured Conacher was surely getting a penalty for the blatant slash. Thus, at the very worst, the manpower alteration caused by any penalties would be evened up.
"I think that's what he thought," Taylor said of Borgen. "Honestly, I think Conacher knew he was coming after him; he knew he did something."
The referees, Shaun Davis and Tim Mayer, didn't see it that way, however. They gave Borgen the only penalty, and just 38 seconds into the ensuing power play, Alex Barre-Boulet fired home a Carter Verhaeghe
"He slashed our goalie, we're here to defend everyone," Taylor said of Borgen's response.
Remi Elie's interference penalty 50 feet from the puck led to a Mitchell Stephens' man-up goal at 12:00 of the second and the Amerks — who went 0-for-5 on the power play — couldn't overcome the 3-1 deficit.
"We took too many penalties," Nylander said. "That kind ofd wasn't so good."
Taylor was diplomatic in defense of the special teams failures by his team.
"Let's not make too much of it," he said. "We're top five in the league and top seven in the league in power play and penalty kill."