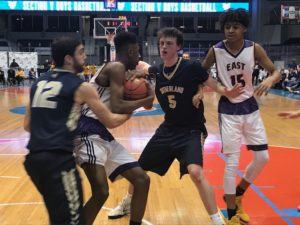 By PAUL GOTHAM
ROCHESTER, N.Y. — John Nally didn't allow himself to believe it was possible. Instead the Pittsford Sutherland head coach only prepared like it was.
Tournament MVP Kevin Ryan led four in double figures as the No. 6 Sutherland Knights defeated top-seeded East High, 53-49 to claim the 2019 Section V Class A2 championship.
"That's pretty surreal," Nally said after his Knights claimed their second title in the past four years. "I thought we had a chance. It was hard for me to think that with a team like East High with all the history they have and coming in at 21-1."
Ryan and junior guard Ben DiGiovanni combined for 10 points in the first quarter when Sutherland jumped to a 19-6 advantage.
"The way we came out in the first quarter and guarded them set a great tone," Nally added. "We were here to play, and that showed early."
Ryan converted two free throws on Sutherland's first possession. The 6-foot-6 senior nailed a turnaround jumper in the lane for a 10-4 lead. DiGiovanni hit a runner early and he capped the stanza with another bucket in the lane.
The Knights' defense created two turnovers in the opening eight minutes, but they also forced East into contested jump shots early.
"It's funny we talked about a lot of different scenarios, defensively," Nally explained. "We didn't necessarily execute everything exactly the way we wanted to. We let guys get to the strong hand when they wanted to. We didn't necessarily guard the screen and rolls the way we wanted to. It just came down to toughness and grit."
When it was over, Sutherland had held East (averaging 82.55 points per game during the regular season) to their lowest output of the campaign.
"It started with Coach Nally," Ryan said of the defense. "He really just all week was prepping for us. It was tough because we had to play against a tough Wilson team in the semis. He just really put his time in, had a great scouting report for us. We went in this morning and everything just worked out."
East, as they have on several occasions this season, rallied in the second half. Extending their defense over half court, the Eagles took Sutherland out of rhythm.
"You're not really going to be able to run a lot of plays against a trap like that," Nally said crediting guards Matt Panara and DiGiovanni. "You just got to play basketball, play catch, move the ball and find the open guy. We are a team that has mostly been predicated on running our stuff. For us to just play basketball like that is really difficult."
Chaz Washington scored seven and added an assist during a 9-4 at the end of the third to pull East within four at 44-40. The senior guard slipped along the baseline for a reverse layup and an-one with 33.7 seconds remaining to make it 50-47 game.
But the Eagles couldn't get any closer.
"Chaz Washington is super dynamic," Nally commented. "I love how tough he plays, the way he carries himself and everything.
Sutherland (16-8) which only won back-to-back games once over the first two months of the season has now won eight of nine.
"We didn't have any illusion that we were going to win this by 20, so we just talked at halftime about having to weather the storm, grinding it out and playing it through every last possession of the game which of course we had to do."
Sutherland advances to play cross-town rival Pittsford-Mendon in the NYS Far West Regional. John Nally will face his brother, Bob, for a chance to play against the Section VI Class A champion.
PITTSFORD SUTHERLAND (16-8)
Kevin Ryan 5-13 5-7 15; John Luther 4-10 0-0 12; Matt Panara 3-9 3-4 10; Ben
DiGiovanni 5-11 0-1 10; John Messina 1-4 2-2 4; Patrick Sanna 1-4 0-2 2;
Connor Fitzsimmons 0-1 0-0 0. Totals 19-52 10-16 53.
EAST (21-2)
Chaz Washington 8-15 4-4 21; Zecharia Scott 7-15 1-3 16; Maurice Coney 2-3
2-3 6; Kaori Barley 2-3 0-0 4; Dyllon Scott 1-12 0-0 2; Howard Eagle 0-1 0-0
0; Freddie Brock 0-2 0-0 0; Damani Barley 0-7 0-0 0. Totals 20-58 7-10 49.
Pittsford Sutherland……….   19    9   16    9  –   53
East……………………..    6   13   21    9  –   49
3-point goals–Pittsford Sutherland 5-18 (John Luther 4-10; Matt Panara 1-7;
Ben DiGiovanni 0-1), East 2-14 (Chaz Washington 1-2; Zecharia Scott 1-3;
Kaori Barley 0-1; Dyllon Scott 0-3; Damani Barley 0-5). Fouled
out–Pittsford Sutherland-None, East-None. Rebounds–Pittsford Sutherland 33
(Matt Panara 9), East 29 (Zecharia Scott 9). Assists–Pittsford Sutherland
13 (Matt Panara 4), East 10 (Chaz Washington 4). Total fouls–Pittsford
Sutherland 9, East 19. Technical fouls–Pittsford Sutherland-None,
East-None. A-2000
*Correction: Article originally stated that Sutherland has won two titles in three years. The Knights last won a sectional title in 2016.