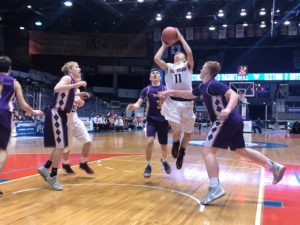 By JOHN LIKANJE
ROCHESTER, N.Y. – Caledonia-Mumford surged to a double-digit second quarter lead and never let the game get close en route to a 57-46 win over York in the Section V class C3 final.
"To see us now, the celebration here, I think those guys are going to look back at this and realize the coaches pushed them for a reason," Caledonia-Mumford head coach Dan Dickens said.
Leading 15-10 going into the second quarter, the Caledonia-Mumford Raiders started the period on a 9-2 run for a 24-12 edge. Junior guard Vin Molisani sparked the charge with a three-point play. Freshman Kyle Wade made a pair of layups on back-to-back possessions. Junior forward Joe Laursen knocked down a mid-range jumpshot from the right wing. During the run, the Raiders held the York Knights to four missed field goals and two turnovers in seven possessions.
"I'm fortunate to have some great assistant coaches," Dickens explained. "They handle most of the offensive stuff. I have a lot of confidence in them and they got it into our guys. We were ready for zone, whether it's 2-3 or 1-3-1."
Molisani poured 18 of his game-high 20 points in the first half as the Raiders had a 36-24 lead going into the locker room. The junior guard grabbed seven rebounds and handed out three assists.
"He's (Molisani) more of a scorer," Dickens said about his junior guard. "I know that he's got what it takes to make big shots. He's a clutch kid. He's shown that multiple times this year."
Patient possession for @CalMumHoops against the York zone. Vin Molisani gets in the paint to give the Raiders a 36-24 lead. pic.twitter.com/CEM6svO2WW

— Paul Gotham (@PickinSplinters) March 1, 2019
Wade scored eight of his 12 points through the first 16 minutes of game play. The freshman forward collected five rebounds, dished out three assists and swiped a steal. Laursen had all 12 of his points by the end of the third quarter as the Raiders extended their lead to 52-34. The junior forward pulled down seven rebounds and had an assist.
"Those two guys (Wade and Laursen) are two of the best athletes I've ever coached," Dickens said. "They both jump really well and they both can finish. They're not afraid of contact."
Vinny Molisani finds Kyle Wade cutting baseline. Class C3 final: Cal-Mum 22 York 12 pic.twitter.com/6rjUHpTaxr

— Paul Gotham (@PickinSplinters) March 1, 2019
Senior guard Eric Wilson chipped in nine points, hauled in nine rebounds and collected an assist.
Eric Wilson buzzer-beating putback layup extends @CalMumHoops lead over @AthleticsYork to 52-34 at the end of the 3rd quarter. @PickinSplinters pic.twitter.com/7nMArBI6go

— John Mitchell Likanje Junior (@jml5798) March 1, 2019
For York, Matthew McFarland netted 11 of his team-high 18 points in the first half. The senior guard pulled down 11 rebounds, swiped four steals and handed out a pair of assists.
Caledonia-Mumford wins its first sectional title since 2015. The Raiders, who were also the top seed, defeated No. 6 Geneseo to claim the Section V class C2 title.
YORK (16-7)
Matthew McFarland 7-13 4-5 18; Riley Stella 3-14 2-2 8; Timmy LaGeorge 2-5
0-0 4; David Cuozzo 1-5 2-4 4; James Kennedy 2-6 0-0 4; Ty Cunningham 1-2
0-0 3; Lucas Maggio 1-5 0-0 3; Josh Davis 1-4 0-0 2; Daniel Mullen 0-1 0-0
0; Jack Geary 0-0 0-0 0; Connor Reilly 0-1 0-0 0; Lucas Garza 0-0 0-0 0.
Totals 18-56 8-11 46.
CAL-MUM (22-1)
Vinny Molisani 7-20 3-3 20; Kyle Wade 6-11 0-0 12; Joe Laursen 6-8 0-0 12;
Eric Wilson 2-10 5-8 9; Ethan Pies 1-1 1-2 3; Colin Guldenschuh 0-2 1-2 1;
Noah Carnes 0-0 0-0 0; Troy Kolb 0-0 0-0 0; Adam Estes 0-0 0-0 0; Kevin
Flint 0-2 0-0 0; Max Reed 0-0 0-0 0; Adam O'Donoghue 0-0 0-0 0. Totals 22-54
10-15 57.
York……………………..   10   14   10   12  –   46
Cal-Mum…………………..   15   21   16    5  –   57
3-point goals–York 2-20 (Ty Cunningham 1-2; Lucas Maggio 1-2; Timmy
LaGeorge 0-1; James Kennedy 0-2; Josh Davis 0-2; Connor Reilly 0-1; Riley
Stella 0-8; Matthew McFarland 0-2), Cal-Mum 3-16 (Vinny Molisani 3-9; Kyle
Wade 0-2; Joe Laursen 0-1; Eric Wilson 0-3; Kevin Flint 0-1). Fouled
out–York-None, Cal-Mum-None. Rebounds–York 29 (Matthew McFarland 11),
Cal-Mum 41 (Eric Wilson 9). Assists–York 8 (James Kennedy 3), Cal-Mum 12
(Vinny Molisani 3; Kyle Wade 3). Total fouls–York 12, Cal-Mum 10. Technical
fouls–York-None, Cal-Mum-None. A-1100