Les Harrison Court at Blue Cross Arena is the stage for the Class C3 championship. Livingston County Division II meets Livingston County Division III for the championship brick. Here's the breakdown:
No. 1 CALEDONIA-MUMFORD (21-1/Livingston County Division II) vs. No. 3 YORK (16-6/Livingston County Division III)
When: Friday, March 1, 5 PM
Where: Blue Cross Arena at the Rochester War Memorial
How they got here: Cal-Mum defeated No. 8 Clyde-Savannah 79-38 in the quarterfinals and No. 4 Naples 69-38 in the semis. York beat No. 6 Pavilion 68-52 in the quarterfinals and No. 2 Lyndonville 67-50 in the semis.
Last time they met: Cal-Mum swept the season series by scores of 70-56 and 56-47. The second game in the series was played on December 28th.
History 101: Cal-Mum's last title came in 2015, when they won the Class C2 championship. While Cal-Mum has ranked in the top three of their class the last three seasons, the Raiders have not been able to pull out a championship. In 2013, York snatched the Class C3 title. Since then, the Knights reached the finals twice in 2016 and 2017. Senior Matt McFarland and junior Riley Stella held spots on the roster in 2017.
How they match up: Cal-Mum has won 10 straight games, going back to mid-January; York is holding a four-game win streak. Cal-Mum averages 65.79 points per game, while holding opponents to an average of 52.95. York averages 60.56 points per game and keeps opponents to 56.61.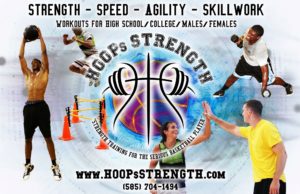 Players to watch for Cal-Mum: Vinny Molisani Jr. G 15.2 PPG, 5.2 RPG, 5.3 APG, 2.1 steals; Eric Wilson Sr. G 14.7 PPG, 3.6 RPG, 2.3 steals; Joe Laursen Jr. F 10.3 PPG, 8.6 RPG; Kyle Wade Fr. G 8.1 PPG, 5.7 RPG, 2.9 APG; Ethan Pies Sr. F 7.2 PPG, 6.5 RPG.
Players to watch for York: Matt McFarland Sr. 12.7 PPG, 9.0 RPG, 4.0 APG; Riley Stella Jr. 18 ppg, 7.0 RPG; James Kennedy So. 8.2 PPG, 5.0 RPG; Josh Davis Jr. 7.4 PPG, 4 RPG; David Cuozzo So. 7.0 PPG.
Coaches: Dan Dickens (Cal-Mum), Ed Orman (York)
What's at stake: The winner advances to the NYS Class C Far West Regional Qualifier.