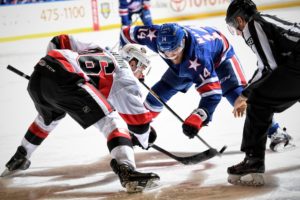 By KEVIN OKLOBZIJA
After a 5-3 loss to the Belleville Senators on Saturday night, Rochester Americans coach Chris Taylor was already looking forward to practice next week.
"It'll be a hard practice on Monday, I can tell you that," he said. "I'm really disappointed at what transpired here. It was just a bad game by our team."
Winger C.J. Smith was also perturbed, but there was a two-pronged reason for his annoyance.
1) The loss stung;
2) Getting sent down by the parent Buffalo Sabres on Saturday afternoon stung even more.
If Smith was dismayed by his reassignment after a 20-day stay with the Sabres, he didn't let it show in his play.
He assisted on the game's first goal, by Sean Malone 11:04 into the first period during a penalty kill, and later set up Wayne Simpson and Matt Tennyson for great chances.
But afterward, it was very evident that he hadn't expected a return to Rochester, and it appeared he didn't think it was warranted, either.
Asked if he was surprised, he simply said, "Yes."
Asked if he was given a reason, he said, "I don't really want to answer any of those questions. If you want to talk about the game, I'll talk about the game."
To replace Smith, the Sabres recalled forwards Danny O'Regan and Scott Wilson, and both played in a 5-2 victory over the Washington Capitals.
Still, with Smith and defenseman Lawrence Pilut now back in Rochester, the Amerks (33-17-3-2) should able to make a run at defending their first-place status.
Well, they should if they perform better than they did against Belleville.
They let 1-0 and 2-1 leads disappear in the second period, then, unlike Friday in Utica when they rallied from 3-down to win 4-3, they couldn't beat Senators goalie Marcus Hogberg in the third period.
"He made like six unbelievable saves," Taylor said.
And that's even though the Amerks weren't exactly super-charged.
"All of our top guys didn't play very well," he said. "We looked like we were tired, we looked like we were fumbling the puck."
Of greater concern to the coach: The inability to respond to negativity.
Taylor said too often, instead of forgetting about a mistake or an opponent's strong play that led to a goal against, they look to the past, not the future.
And then one goal against leads to two and three.
"Guys just get down," Taylor said. "I don't know why; respond; it's one goal.
"We have to get our act together. If we keep doing it, we're not going to last long (in the playoffs)."