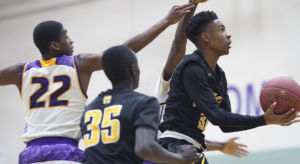 By CHUCKIE MAGGIO
ROCHESTER, N.Y. — Kobe Long grabbed the ball and put up another floater that caught nothing but net. This time, however, he wasn't met with cheers from friends and family.
"Woah, that's not a shooting ball, Kobe!" someone said. "That goes in a case or something, you're not supposed to dribble it!"
The basketball in question was Long's commemorative 1,000th point ball, inscribed with his name and achievement. For once in his life, making a shot was frowned upon.
Long couldn't resist the chance to see one more shot go through the twine. He scored 24 points against Victor on Friday night, but 22 of those points came in the first half and he didn't play much in the second. Shooters are going to shoot.
The junior led all scorers, but the Knights were dominant as a team in their last home game of the year. After Victor's last lead of the game, a 12-11 first quarter advantage, McQuaid outscored the Blue Devils by 32 the rest of the way. Class AA's No. 3 seed won 87-56 to advance to the Section V semifinals for the third consecutive season.
McQuaid will meet No. 2 seed Gates-Chili on Tuesday at 8 p.m. at the Blue Cross Arena.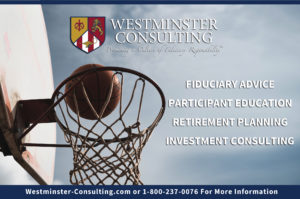 "I'm very excited to go back to the Blue Cross," Long said. "This'll be my third year playing there and it's very exciting. It's a very nice place to play in and I'm just glad we brought it all out in this game. We played 100 percent every possession."
Long closed the first and second quarters with significant personal runs. He scored the last nine points of the first, draining two three-pointers and scoring the other three points with a traditional and-one. That stretch turned a one-point Knights lead to a 10-point edge at the horn. The 6-foot-1 guard scored eight of McQuaid's last 14 points in the second quarter, with a three-ball, three-point play, a two-point bucket and two more free throws.
"My teammates found me for a lot of open threes and got me open for easy twos," Long explained. "And I think I played pretty hard defense to get some steals and get fastbreak layups. I'm just glad my teammates found me for my shots."
A performance like the one the Knights put on requires more than a one-man show. Harry Bruu chipped in 13 points, none more notable than his near-halfcourt buzzer-beater at the end of the third quarter. Jermaine Taggart added 12, Jon Catone recorded nine and Connor Zamaria posted eight.
While the Knights featured a balanced offensive attack, their defensive intensity wasn't to coach Jack Leasure's liking over the first 16 minutes. Taggart revealed that Leasure's halftime address to his team was that they were playing defense with 60 percent intensity; he needed his squad to turn up the pressure.
"We were talking about how we weren't that consistent with our energy on defense, and I thought we picked that up in the second half," Leasure commented. "Rotated well, improved on some things."
As the Knights improved their defense, Victor's offense faded. The Blue Devils made just six field goals over the second and third quarters while McQuaid made five three-pointers alone in that span. With the outcome decided, Victor outscored McQuaid in the fourth to prevent a 40-point margin of victory.
Jon Crowley led the Blue Devils with 15 points, followed by Jeremy Summerson's 10-point effort. Connor Williams posted eight points while Matt Caggiano contributed six.
Victor pulled off a road upset of Webster Thomas in the first round to advance to Friday's quarterfinal. They had three days to prepare for McQuaid, while McQuaid earned a first-round bye and enjoyed a nine-day layoff between its regular season finale and first sectional game.
The Knights decided any "rest vs. rust" debate fairly early on Friday: they were still in top form despite having over a week off from game action.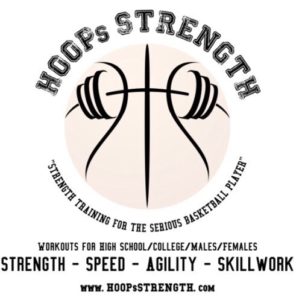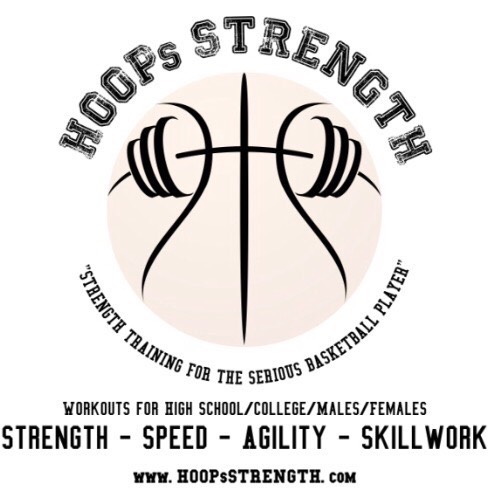 "I think that's always a concern," Leasure said. "We try to create game-like stuff as best we can in the stretch we had off, but you never know if you're gonna be affected by a period where you're off. It was good to see them, after the first few minutes where I didn't think our energy was great, it was great to see us pick that up."
Leasure has played and coached sectional games at the Blue Cross Arena. His team will enter downtown Rochester on Tuesday with one goal in mind: getting to the final for the second straight year. The 18-3 Gates-Chili Spartans pose a formidable challenge.
"It's a really tough matchup, I think," Leasure said. "Any time you've got that many wins, you've done something right. So they're a tough, tough group. They play very hard. Coach Nowden does a very good job with them and we're just going to prepare to play hard and hopefully give them a game."
Other scorers: McQuaid- Justus Ross-Simmons (6), Keith Warren (4), Ryan Hoffman (3), Seamus Hogan (3), Brandon Simms (3), Brady Darby (2)
Victor- Jaxen Roth (5), Will Tehan (4), Tyler Buddendeck (3), Alex Newton (3)