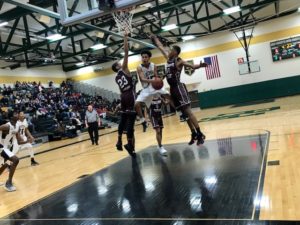 By PAUL GOTHAM
ROCHESTER, N.Y. — Jacob Scott didn't rely on any flashy pre-game rhetoric to prepare his squad for Tuesday's opening round contest of the Class AA sectionals. The 11th-year coach went with a familiar theme, and he found a captive audience in his Edison Tech Inventors.
"I told the guys after the last game 'everybody's 0-0,'" Scott said. "We don't have anything to lose, everything to gain."
With just one win on the season, Edison took the court Tuesday night. The Inventors doubled their victories.
Three scored in double figures, and Edison used a decisive third-quarter run to upset R-H, 68-49.
"Guys are just really buying in to what I'm trying to feed them," Scott added. "No one's bickering. Everybody is playing for each other and for the team which makes it coaching a lot more of a joy."
Knotted at 27 midway through the third, Edison closed the quarter on a 19-4 run to take a commanding 15-point lead into the final eight minutes.
Javonte McKnight gets the friendly bounce. Edison Tech leads 57-35 pic.twitter.com/GnbfyQQHhN

— Paul Gotham (@PickinSplinters) February 20, 2019
"Guys just picked it up defensively," Scott said of the third quarter effort. "We got a lot of hands on the ball. They were smart. Rush presented pressure, but I was telling guys 'once we get over half-court just get into our offensive set.' Once we get into our offensive set and trust what we're doing, trust what we've tried to do all year, we get good things out of it."
Shaheem Ellis, Jr. started the run with a 3-pointer. The sophomore followed that converting one of two free throws. Javonte McKnight then drove baseline for an and-one. It was the junior guard's first of eight points he scored over the remaining 3:35 of the quarter.
Torrean Lewis steal and layup pulls Edison Tech within 3. @RushAthletics leads 15-12 pic.twitter.com/Rk3PH46RLg

— Paul Gotham (@PickinSplinters) February 20, 2019

"I've been encouraging him all year," Scott said of McKnight. "He looks very skinny, but he has a big heart. He can shoot the three, but at the same time he's strong underneath. He has one of the highest IQs on our squad. I feel very comfortable with him being on the wing."
Edgar Bass IV connected from 3-point land and then hit a pull-up jumper.
McKnight pushed the advantage to double-digits with a jumper in the lane.
Alton Knight finds the measure 6:14 remaining Edison leads 49-33 pic.twitter.com/pVTIRWvK20

— Paul Gotham (@PickinSplinters) February 20, 2019

Edison never let the game get to single digits again.
Scott saw reason for hope in the final three games of the season including a two-point loss to Wilson Magnet and a five-point setback to NE Douglass.
"I felt comfortable after our last three games of the season," Scott explained. "They were close and competitive games. One of the things I saw even though we lost was an attitude shift in our team. That really made the difference. That's one of the points of emphasis we've had going into sectionals: check your attitude. If we are all on the same page and being positive, we can be successful."
Torrean Lewis had a tap in off a missed free throw and McKnight drilled a 3-pointer at the horn for a 46-31 Edison lead after three quarters.
Natrell Colbert and McKnight paced Edison with 12 points apiece. Lewis added 10. Bass added nine. Ellis had eight. Alton Knight (7), Jarell Johnson (4), Mike Morgan (3) and Jordan Leslie (3) rounded out the scoring for Edison.
Jevonte Williams scored five points in the first quarter when Rush-Henrietta jumped to an early 13-5 lead. Tim Jackson paced R-H with nine points. Eddie Beverly and Charles Bowden III scored seven apiece for the Royal Comets. Quinn Hargrave and Tyshaun both scored five. Patrick Sherron added two points for the Royal Comets (10-11).
Edison advances to take on fourth-seeded Fairport in Friday's quarterfinal.
Rush-Henrietta played without starters Shamire Broyld (coach's decision) and Nyles Goodwin (injury).