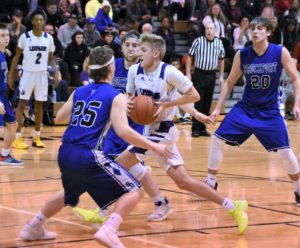 By CAITLIN McCLARE
JoJo Plummer combined for 45 points on the week, finishing Webster Schroeder's regular season with his season high. Terrence Wilson threatened beyond the arc in a split week for Churchville-Chili. Kelvin Reaves, Jr. paced Greece Athena to two wins, and Korey Canton returned from injury in mid-season form for Greece Odyssey.
For their performances in the final week of the regular season, Monroe County recognized these four as the Player of the Week (Feb. 11-16) for their respective division.
Webster Schroeder bounced back from a four-game skid in its 64-51 win at Penfield. There, Plummer tallied 14 points and pulled down five rebounds. The junior sank five of his six attempts from the field and went four-for-four from the stripe. The following day, Plummer one-upped his game big time. Against Rush-Henrietta, he dropped a career-high 31 points and grabbed six boards to lift Schroeder 71-59 over the Comets. Plummer, who finished the regular season averaging 16 points per game, went 10-for-12 from the field and 10-for-11 from the free throw line. Webster Schroeder (9-11) is set to start sectional play against Penfield at home on Tuesday, Feb. 19.
VIEW MORE DON SCANZAROLI PHOTOS HERE. 
Wilson combined for 21 points in two Churchville-Chili games, all of which connected from three. Against Irondequoit, the senior guard finished with 12 points. One of his three-pointers dropped with seven ticks left, the Saints' eventual game-winner. With the Saints up 61-60 with one, quick Irondequoit possession left, Wilson stole the inbound pass to seal the victory. The following day at Gates-Chili, he finished with nine points in the Saints' 72-59 loss. Churchville-Chili (10-10) starts sectional play on home court on Wednesday, Feb. 20 against Greece Arcadia.
After a loss to the undefeated Pittsford Mendon, Reaves and his squad bounced back quickly over Brighton. Reaves got Athena (No. 15 NYSSWA Class A) off to a hot start, scoring nine of his 12 points in the first half. The junior guard also dished six assists and grabbed five steals. The following day, Reaves drained three treys on his way to 16 points at Pittsford Sutherland. Reaves finished the regular season averaging 16.65 points per game with double-figures in all but one game. Seeded at No. 2 in Class A, Athena (17-3) will face the winner of Franklin v. Brighton on Saturday, Feb. 23.
Against Honeoye Falls-Lima, Canton took the floor for the first time in three weeks. Coming off of an ankle injury, he scored six points, including two treys, and dished three assists and two steals in Odyssey's 90-63 win. Warmed up and ready to go, the junior guard went five-for-eight from three on his way to 17 points against Greece Olympia. His 17 points marked a season-high. He recorded three assists and three steals as well. Odyssey (17-3), seeded No. 1 in Class B1, will face the winner of Livonia v. Midlakes on Saturday, Feb. 23.