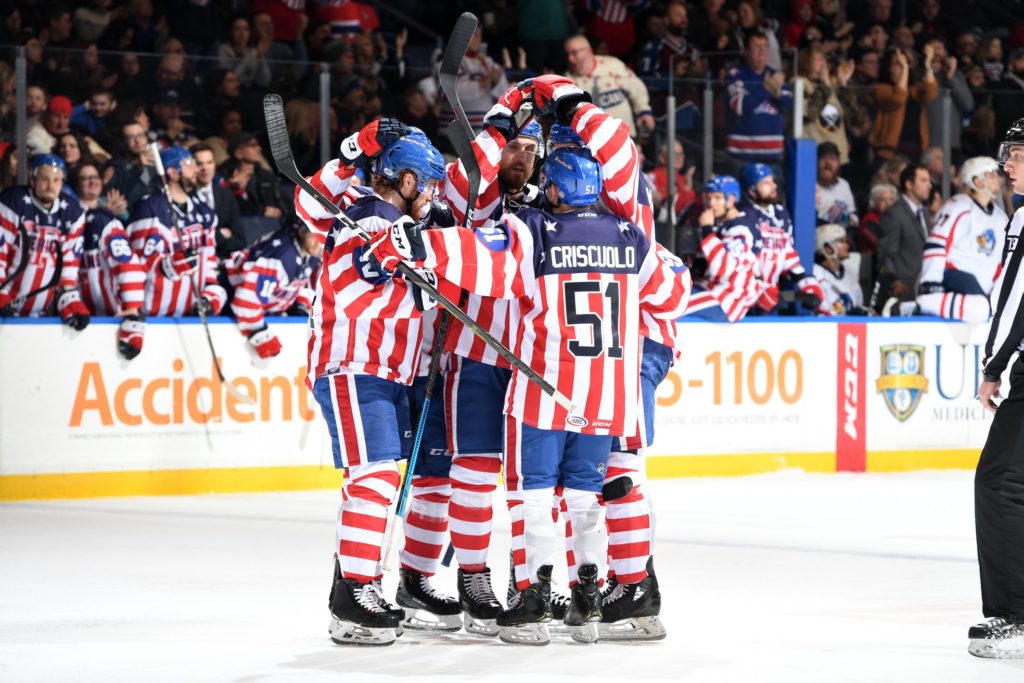 By KEVIN OKLOBZIJA
The Rochester Americans broke out the throwback stars and stripes sweaters for Hall of Fame night on Friday — then went out and played like they belonged in them.
"Those are sick, really nice," Victor Olofsson said of the jerseys, which were made popular by the 1996 Calder Cup championship team. "Old-school."
Olofsson may lobby for the stars and stripes to become the every-night sweater. He scored his first professional hat trick and had an assist as the Amerks thumped the Springfield Thunderbirds 7-1.
"Obviously that turned out to be a great game," the 23-year-old Swede said after pushing his goal total to 18.
Scott Wilson, Wayne Simpson, Rasmus Asplund and Tyler Randell also scored goals for the Amerks, who improved to 29-13-3-2 and ran their points streak to 10 games (7-0-1-2).
After a maddening 2-1 shootout loss on home to the Syracuse Crunch on Wednesday, when the Amerks managed just one shot in the third period and were lucky to even get to overtime, they responded with a dominating performance.
"I thought our defensive zone play was awesome," coach Chris Taylor said. "In the first two periods we gave up four (scoring) chances, and two of those were on the PK (Springfield's power play)."
It was the type of bounce-back Taylor hoped to see, and he really didn't need to implore his team to play better. Other than goalie Scott Wedgewood, the players all knew they weren't good.
"Our line thought it (Wednesday) was our worst game of the year," said Asplund, the center between Olofsson and Danny O'Regan (two assists).
They went out and made amends on Friday. Olofsson assisted on the game's first goal, by Wilson 8:12 into the second period, then scored the next two to give the Amerks a 3-0 lead.
"We started out playing the right way," he said. "We started playing really good defensively and that led to offense."
While the game became a blowout, the score was just 2-0 after two periods. Then Olofsson connected off a Asplund pass for a power-play goal 1:33 into the third and the rout was on.
After leading the Swedish league with 27 goals a year ago, Olofsson is just one behind injured defenseman Zach Redmond for the team lead.
"That's what he can do, he's a game-breaker," Taylor said. "He loves to score goals and that's hard to find nowadays; guys want to pass the puck."
Simpson scored at 2:50 after a coverage error by Riley Stillman, and short-handed goals by Asplund and Olofsson 41 seconds apart pushed the lead to 6-0.
For Asplund, the goal at 6:39 was just his third of the season, and it was hardly how he planned it. He was passing to O'Regan on a two-on-one fast break but the puck hit the shins of defenseman Jacob MacDonald and ricocheted past goalie Chris Driedger.
Asplund was more than happy to take it.
"That's what I needed right now," he said. "Scoring a goal gives you a lot of confidence, no matter how ugly it was."
Wedgewood lost his shutout with just 5:07 remaining on a deflection, but he wasn't complaining.
"I hadn't played hockey in about 10 minutes," he said with a smile, referring to the Amerks dominance in the third period. "I'll take that over having too much work or being down."
We did learn this, however: Caps apparently are expensive, because there may not have been a dozen tossed after Olofsson's hat-trick goal.
"But everybody gets a free burrito," Taylor said, referring to the Moe's Southwest Grill promotion when a "Moe's Hot Player" scores a hat trick.
Notes: Nick Baptiste was the last Amerk to score a hat trick on home ice (Dec. 14, 2016). C.J. Smith scored three goals at Toronto on Jan. 12. … The last Amerk to score four goals was Derek Whitmore on Nov. 26, 2011. … Casey Nelson began a conditioning assignment from the Buffalo Sabres and played well on defense. That's after he was sent neck-first into the boards by Dryden Hunt on the first shift. "I hit my throat on the dasher," said Nelson, whose neck still had a mark from impact. "Not how you want to start off but it woke me up, that's for sure."