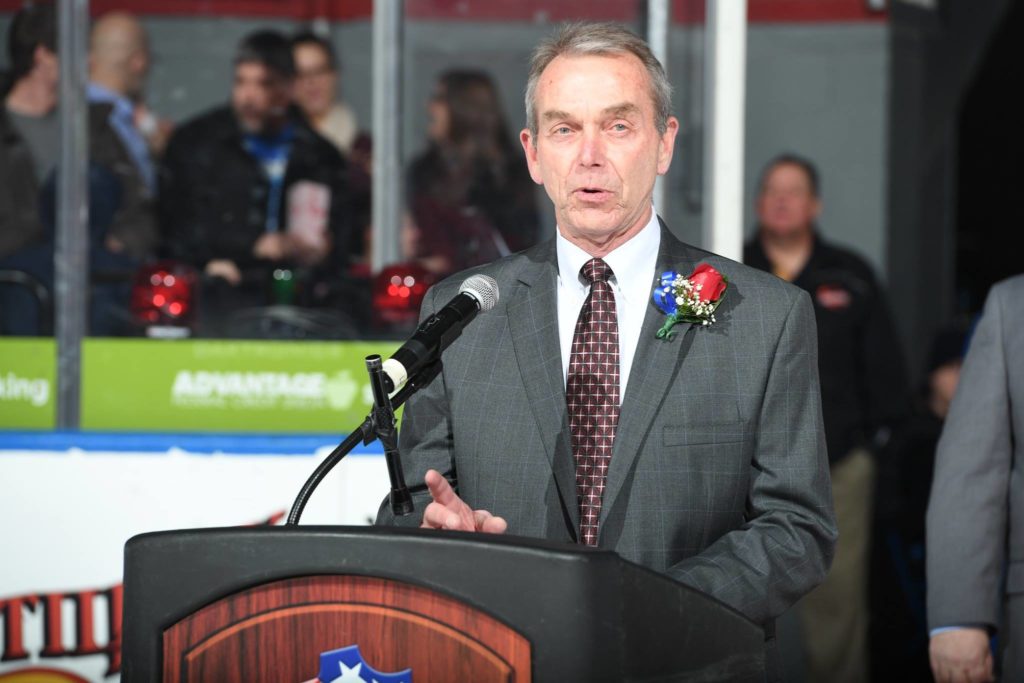 By KEVIN OKLOBZIJA
The year was 1972 and Steve Langdon was thinking his hockey career might very well be over before it ever really got rolling.
Cut by the Toronto Marlboros heading into the 1971-72 season, he spent the year playing right wing for their Junior B team, then began making plans to attend the University of Western Ontario in London.
Common sense told him it was time to quit dreaming.
Fate, however, intervened. Langdon did indeed end up going to London the next year, only it was to play hockey, not study.
Mark Howe had refused to report to the Ontario Hockey Association's London Knights, so the son of Mr. Hockey was traded to the Marlboros for Dennis Maruk, Larry Goodenough and Langdon.
Langdon, Maruk and Terry Martin formed a potent second line for the Knights and it launched Langdon's six-year pro career, five of which were spent with the Rochester Americans.
It's funny how life happens sometimes. Playing in London led to being drafted by the Boston Bruins, which brought him to Rochester, where he met his wife, Karla Kyle. Some 45 years have passed and he still hasn't left.
On Friday, Langdon and Doug Janik were inducted into the Amerks Hall of Fame before the American Hockey League game against the Springfield Thunderbirds.
"I really feel like a native Rochesterian," Langdon, a Toronto native, told Friday's crowd.
Dedication to hockey and community
Langdon, 65, was by no means the highest scoring forward in Amerks history, not even close. He ranks 35th. He scored 30 goals once and 25 another time.
However, he is also being honored for his dedication to hockey, the franchise and the community. He has been a builder, an executive and a coach in youth hockey, he has helped bring the game to wounded veterans, and he remains a driving force with the Amerks Alumni Association.
"It was very surprising," Langdon said of the induction news late last summer, "but obviously very touching. It's beyond words."
He said specific games, goals or victories don't leap from the memory banks. "It's the fans and the teammates I remember the most," he said.
Some guy named Orr
He will never forget one game, though: His first call-up to the Bruins, on April 3, 1975. The Calder Cup playoffs were already underway in Rochester but the NHL regular season hadn't ended. The Bruins needed a player for the Thursday game in Buffalo.
Langdon was summoned by coach Dick Mattiussi after practice and told to get to Buffalo. He packed his gear and trainer Nate Agnello and he made the four-hour drive — yes, four hours on the Thruway thanks to a snowstorm.
Then there was this slight problem upon arrival: the red, white and blue of an Amerks uniform doesn't really work well with the black and gold of the Bruins.
So the Bruins staff pieced together a set of equipment, including pants belonging to one Robert Gordon Orr.
"I was a third- or fourth-line guy (with the Amerks), I had no dream of getting this callup," Langdon said.
When Langdon finished his induction speech, he put on a red Amerks sweater one last time, calling it "maybe the best in all of hockey."
Lifetime friendships for Janik
Janik arrived in Rochester 22 years after Langdon retired and played in 376 games over five seasons. He produced 18 goals and 73 assists while piling up 686 penalty minutes, third-most by a defenseman in franchise history.
"I have so many great memories and so many great friends from the city of Rochester," Janik said.
Over 14 professional seasons he played in 190 NHL games and now is in his fourth season as an assistant coach with Springfield.
"When I think back to my time in Rochester, what really sticks out the most was how close we were as a team, how much fun we had at the rink," Janik told the crowd in pre-game induction ceremonies.
He thanked the Amerks support staff and his former teammates and then singled out three teammates:
Jason Botterill: "You were always honest, you told me when I was playing terrible and were always there to teach me."
Doug Houda: "You taught me how to compete and be a true competitor."
Chris Taylor: "You, (wife) Lisa, your kids Nick and Sam, you always treated us like family."