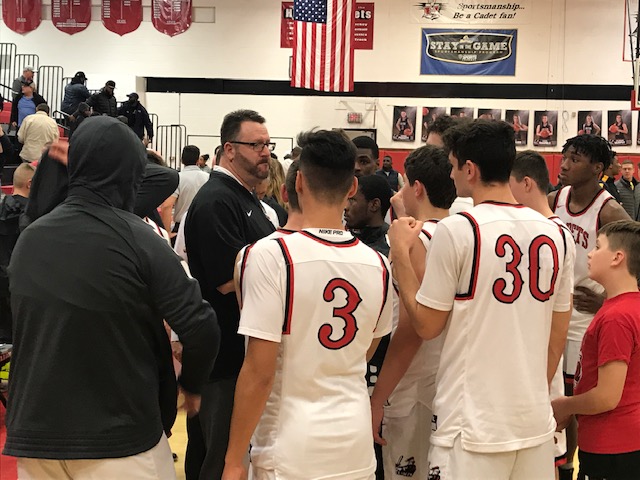 HILTON (14-3) 58
PENFIELD (5-13) 49
Tah'Jae Hill scored 18 of his game-high 34 points in the fourth quarter to lead Hilton to its third straight win and sixth in the last seven games. Hill connected twice from 3-point land in the final stanza and converted 11 of 13 free throw attempts for the night and eight of 10 in the final eight minutes. The scoring effort was the 12th time this season Hill has topped the 30-point mark. Mitch Carr connected five times from behind the 3-point arc and added 19 points. Jack Gombatto (3) and Najier Daniels (2) rounded out the scoring for the Cadets. Patrick Piampiano led Penfield with 16 points. Javion Monroe had 15. RJ Wilkins (6), Jayden Bulger (5), RJ Green (3), Ryan Novy (2) and Ryan Wensley (2) also scored for Penfield. Hilton took the previous meeting between the two teams, 81-51.
MCQUAID (13-4) 86
FRANKLIN (9-10) 51
Ryan Hoffman and Jermaine Taggart scored six points apiece in the second quarter when McQuaid turned an eight-point lead into a double-digit advantage. Taggart finished with a game-high 18 points. Kobe Long connected twice from behind the 3-point arc and added 16 points. Harry Bruu and Reuben Daniel scored eight apiece. Connor Zamiara chipped in with six points for the Jesuit Knights. Devonte Goins paced Franklin with 16 points. Tyrone House had 14 points, and Brandon Moore 13. The Quakers had won six of seven coming into the game. Other scorers: McQuaid – Mike Maloney (3), Charlie Salina (4), Seamus Hogan (6), Brandon Simms (6) and Brady Darby (2). Franklin – Tyree Spann (2) and Tahjir King (6)>


WHEATLAND-CHILI (0-18) 39
ELBA (15-4) 66
Jon Boyce posted a double-double with 23 points and 11 rebounds to lead Elba (No. 7 NYSSWA Class D). The senior connected nine times from the floor including three from 3-point land and added two assists. Colton Dillon scored nine of his 17 points in the third quarter when Elba stretched a 13-point halftime lead to a 30-point bulge. Dillon grabbed nine rebounds for the Lancers. Collin O'Halloran scored eight points and dished out eight assists. Wheatland-Chili's Brian Napier and Aaron Lund scored 11 points apiece. Brenden Moore added nine. Other scorers: Elba – Evan Hare (3), Greyson Huntington (4), Holder Brinkmann (3), Zach Marsceill (5) and Tyler Stevens (3). Wheatland-Chili – Jordan Richards (6) and Maurice Brown (2).
ROMULUS (7-10) 47
HONEOYE (5-12) 53
Dom Trippi scored 17 of his game-high 21 points in the first half to pace Honeoye to a 29-14 lead going into the break. The junior forward connected six times from the floor during the first two quarters including once from behind the 3-point arc. Trippi also converted all four of his free throw attempts in the first half and finished 8-of-11 from the charity stripe for the game. Tyler Rudolph added 14 points for the Bulldogs, and Jack Reynolds had 11. Joey Moresheimer (4) and Darren Redmond (2) rounded out the scoring for Honeoye. Daryl Morrell paced Romulus with 12 points. Hunter Hanson added nine. Spencer John scored six points for Romulus. Luke Willower (1), Max Mapstone (7), Dan Reyes (6) and Camden Derby (4) also scored for the Warriors.
PEMBROKE (8-11) 51
ALEXANDER (13-4) 72
LYNDONVILLE (15-2) 67
BATAVIA-NOTRE DAME (9-9) 69
HOLLEY (3-15) 40
OAKFIELD-ALABAMA (9-8) 47
ANDOVER (10-9) 24
SCIO (13-4) 58
FILLMORE (11-6) 60
BOLIVAR-RICHBURG (5-13) 35
GENESEE VALLEY (11-7) 62
BELFAST (12-6) 73
Adam Enders broke his own school record for single-game scoring with 56 points.
WHITESVILLE (1-16) 39
HOUGHTON (5-9) 42
Jesse Pensyl recorded a double-double in a losing effort with 17 points and 10 rebounds to go along with seven steals. Teammate Chris Gullett had seven points, four assists and four rebounds.
BYRON-BERGEN (6-11) 56
ATTICA (12-6) 62
LETCHWORTH (3-14) 30
LEROY (10-6) 53
MIDLAKES (6-13) 62
PENN YAN (9-10) 68
ROCHESTER PREP (6-12) 99
LIMA CHRISTIAN (3-17) 37