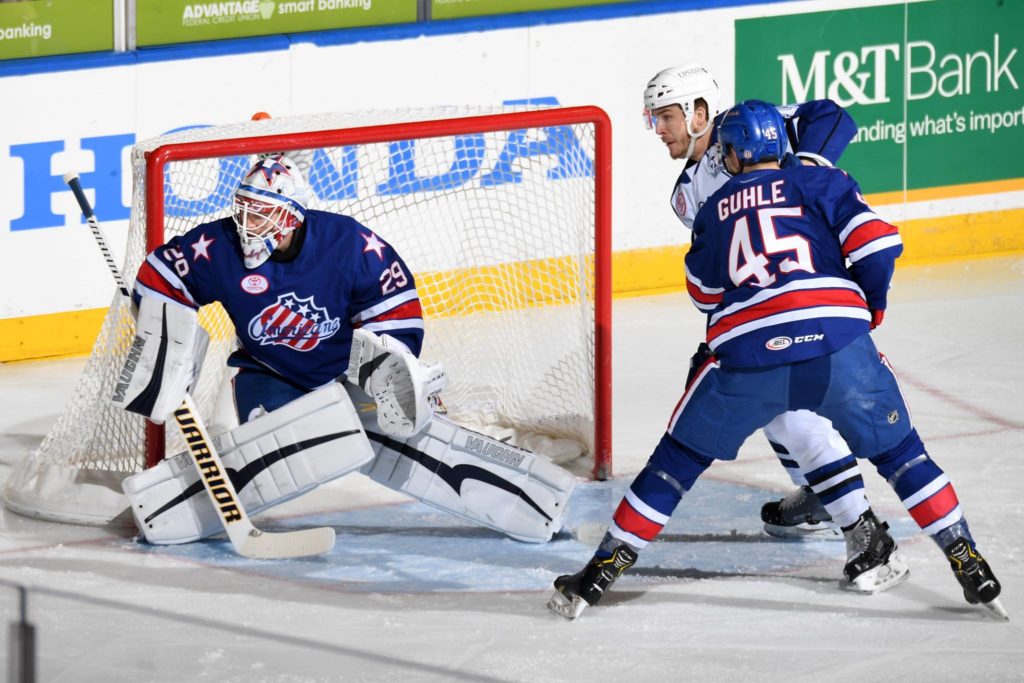 By KEVIN OKLOBZIJA
Should the Rochester Americans and Syracuse Crunch end up facing off in the Calder Cup playoffs, this much is certain:
The Crunch will never be concerned if they're trailing going into the third period.
They've schooled the Amerks in the third period in the past two meetings, a men-against-boys differential that has cost Rochester a pair of victories and, if they're not careful, their lead in the AHL's North Division.
Here's your Amerks 6 pack from Wednesday's 2-1 shootout loss on home ice:
1. The Amerks played a dreadful 3rd period
How dreadful? They were outscored 1-0 and outshot 10-1. Their one shot? A just-glad-to-clear-the-puck bank off the side boards in the Amerks zone by Dalton Smith that just happened to slide 120 feet and right on goal in the 17th minute of the period.
"We didn't come out with much energy and I don't know why," Amerks coach Chris Taylor said. "They won every 50/50 battle."
The third-period collapse was reminiscent of the Jan. 26 game in Syracuse, when the Crunch turned a 2-1, two-period deficit into a 4-3 overtime win, largely because of the 20-4 shot domination in the third period.
2. The Amerks weren't much better in overtime
Goalie Scott Wedgewood was forced to make a terrific blocker save on Carter Verhaeghe 1:35 into the extra period after the Crunch attacked two-on-one.
Then, despite a power play for a full two minutes, the Amerks couldn't capitalize.
"We couldn't even get anything going on the power play in overtime; it's unacceptable," captain Kevin Porter said. "It starts with the older guys, the leadership group, and we have to be better."
3. This loss hurt in the standings
The Amerks came into the game leading the Crunch by three points, 60-57, but Syracuse had played two fewer games.
Now the lead is two, and the Crunch still have the two games in hand.
"There's still a lot of season left and we have them seven more times," Porter said. "It's not the end of the world, but it's definitely disappointing."
4. Wedgewood was terrific in return from injury
The Amerks No. 1 goalie had been out since Jan. 24, a day after X-rays revealed a stress fracture in his fibula.
For a guy who hadn't played in a game for two weeks and hadn't even skated for 11 days, he was exceptionally sharp in stopping 32 of 33 shots before going 0-for-2 in the shootout.
"He was really good for us," Taylor said. "He got us a point."
Wedgewood was also pleased with his performance, saying it might have been one of, if not the, best game he has played all year "from a mental standpoint, a physical standpoint, for rebound control, and giving the guys a chance."
His injury was revealed after he felt a pinching feeling in his leg going into the Jan. 23 game against Binghamton (7-5 win, 20 saves) and then again afterward.
The stress fracture was apparently slow in forming but it was decided to give him time off, rather than risk it becoming something serious.
He said the injury has healed.
5. Solid debut for Elie
After clearing waivers over the weekend, winger Remi Elie made his Amerks debut and played well on a line with Yannick Veilleux and Dalton Smith.
They may very well have been the Amerks most productive and consistent line all night.
Elie had played in just 16 games with the Sabres, producing one assist, since being claimed on waivers from the Dallas Stars as the season started.
Playing sporadically for four months isn't easy, but he didn't display much rust on Wednesday.
"I think it's one of the hardest jobs in the NHL," Elie said of being a part-time player but full-time practice participant. "It's all mental.
"I just have to work on my game and get back to playing and get back to my routine."
6. Nylander on the injured list
Winger Alex Nylander didn't play because of a lower body injury, which he suffered when he was hit in practice by defenseman Will Borgen.
Taylor didn't have a timetable for a return.
Defenseman Zach Redmond, hurt on Jan. 23, did skate Wednesday morning and will be evaluated over the next two days to determine if he's ready to return.