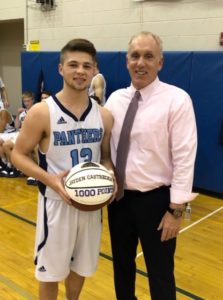 By JOHN LIKANJE
ROCHESTER, N.Y. – Monday night, Gananda hosted Destiny Christian for its penultimate home game of the regular season. Jayden Castrechini poured in 31 points as the Gananda Blue Panthers secured the 99-58 win, their fourth in a row. However, two of the senior guard's points made history.
"Jayden is very unselfish," Gananda head coach Jeff Thomson said. "I think he had three assists tonight before he even shot the ball."
In the first quarter, Castrechini finished an alley-oop layup off a back screen against a zone defense. With the bucket, the senior guard became the second player in program history to reach 1,000 career varsity points, joining Ted Yonker, who accomplished the feat in 2000 and finished with 1,012 career points.
"His sophomore year, Jayden was a role player," Thomson said as he reminisced about Castrechini. "He has a lot of athletic ability. He plays both sides (of the court) and he's very good on defense. I believe he leads the team in steals."
Castrechini also passed Yonker on the all-time scoring leaderboard for the program. The senior guard now has 1,019 varsity points with three regular season games and sectionals remaining.
"Last year, he took on more of a role as a scorer," Thomson explained. "This year, we shoot a lot of threes, press a lot and have a lot of guards, which fit Jayden's style."
Castrechini is in his third year at the varsity level. The senior guard also plays football in the fall and baseball in the spring. Castrechini was voted first-team all-state for both sports last year. Currently, the senior guard has athletic scholarship offers from local colleges such as Saint John Fisher College, Alfred University, and SUNY Cortland.
"I think he's one of the top two athletes I've seen at Gananda," Thomson said when praising Castrechini as an all-around athlete.
The next player who could potentially finish with 1,000 career points for the Blue Panthers is Andrew Gabbard. The sophomore guard is averaging 15 points per game this season and already has a year of Varsity experience.
After Monday night's victory, the Blue Panthers have a 14-2 record. Thomson's squad is 11-2 in Wayne County divisional play and currently holds the No. 3 seed in the Class C1 standings. Gananda will play at Red Creek High School Wednesday night at 7:30 PM.