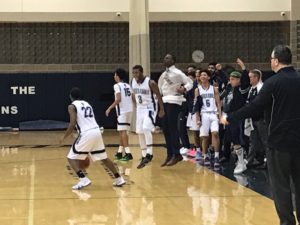 By WOLVERIDGE LANGAN
For the first time this season, a new Section V Class AA team made the NYSSWA Top 25. After winning eight in a row, the Gates-Chili Spartans (14-2/No. 5 PS LS Poll) claimed the No. 24 spot in this week's rankings.
The Spartans only played once last week, grabbing a close win over divisional opponent Irondequoit 62-59. Gates-Chili is led by a pair of top five Monroe County II leading scorers, Keith Slack (2nd) and Adam Williams (3rd). Slack averages 21.3 ppg while Williams manages 15.7 ppg for an offense scoring consistently in the upper sixties (67.31 ppg). The Spartans will look to extend their win streak to nine straight tonight against University Prep at 6:30 PM.
For Class A, Pittsford Mendon (15-0/No. 1 PS LS Poll) stayed at No. 3 NYWSSA Class A for the third straight week after dominant back-to-back wins against Brighton 85-50 and Leadership Academy 90-65. Mendon, one of two Section V teams to stay undefeated, will try to continue the unbeaten run against Fairport on February 6th.
East (15-1/No. 2 PS LS Poll) and Northstar Christian (16-0/No. 3 PS LS Poll) both moved up one to No. 6 and No. 7 in Class A following undefeated weeks. East will face Wilson Magnet while Northstar takes on Bishop Kearney later today. Greece Athena (15-2/No. 4 PS LS Poll) jumped two positions to No. 11 NYWSSA Class A with a dominant win over Greece Arcadia 73-34.
Greece Odyssey (12-3/No. 2 PS SS Poll) dropped their only game of last week to Eastridge 57-67 causing them to fall from their No. 18 spot to No. 22 NYWSSA Class C. Odyssey will attempt to bounce back at Canandaigua on February 6th.
All five of Section V's Class C Top 20 teams remained level, with Lyons (16-2/No. 1 PS SS Poll) leading the way in retaining the No. 4 NYWSSA Class C ranking. C.G Finney (15-2/No. 7 NYWSSA Class C/No. 3 PS SS Poll), Avon (14-2/No. 9 NYWSSA Class C/No. 4 PS SS Poll) and Caledonia-Mumford (15-1/No. 10 NYWSSA Class C/No. 5 PS SS Poll) rounded out the squads in the top 10. Marcus Whitman (13-2/No. 6 PS SS Poll) is right behind them at No. 12.
After holding the No.1 position in Class D for three straight weeks, Prattsburgh (15-2/No. 8 PS SS Poll) slipped to No. 2 following a loss to C.G Finney 61-88. Elba (14-3) also fell in the rankings to No. 7 NYWSSA Class D from the No. 4 spot. Avoca (15-2) held on to their No. 3 position with Mount Morris (11-3) making progress as they climbed one spot to No. 13 NYWSSA Class D.