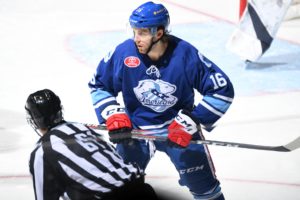 By KEVIN OKLOBZIJA
Nine days ago, while in Hartford with the Lehigh Valley Phantoms, Taylor Leier had just finished dining when his phone rang.
The voice on the other end totally spoiled his dinner.
Leier, a mainstay with the Phantoms since his rookie year of 2014-15 and a capable depth player for the parent Philadelphia Flyers, had been traded to the Buffalo Sabres for Justin Bailey and would be reporting to the Rochester Americans.
Blindsided by the trade, he has managed to shake off the shock and make an immediate impact with his new team, however.
The 24-year-old left winger scored the Amerks first goal in Wednesday's 7-5 win over Binghamton and on Friday night scored the winning goal in the tiebreaker shootout as the Amerks edged the Utica Comets 3-2 at Blue Cross Arena at the War Memorial.
"You only get one chance to make a first impression so I'm really just trying to do whatever I can, have no complacency in my game," Leier said after the Amerks (26-13-2-1) won for the eighth time in the past 12 games and remained on top of the AHL's North Division with 53 points.
"I keep telling people it feels like I just blinked and I'm here but I think it's going to get more normal and easier the more I'm around the team and the coaches and stuff."
Leier, who played 55 NHL games for the Flyers (2-5-7), has been on a line with Eric Cornell and Yannick Veilleux. He also has killed penalties and the Amerks were four-for-four on the PK Friday night (and 13-for-13 in the past five games).
"That line was really good, they brought a lot of energy to our game," Amerks coach Chris Taylor said. "And we've struggled with our PK and to add him helps."
His skill-set was what the 6,189 fans will remember, though. He won the extra-inning shootout in the seventh round, making a quick deke before firing a low shot past the right leg of goalie Ivan Kulbakov.
"I didn't try to think too much," Leier (pronounced leer, as in jet) said. "Obviously it was an important shot."
And while he has wanted to show the Amerks and Sabres that he can help the organization, he's doing the things he has always done, rather than trying to be someone he's not.
"I just try to stick to the things I do well," he said, "and the system stuff and that other stuff that teams do differently, that will start to come more naturally where you don't have to think so much and I think you're going to see my game continue to grow."
During regulation, the Amerks twice had to erase one-goal deficits. Reid Boucher broke a scoreless tie 4:36 into the second period and the Amerks didn't tie it until 9:34 of the third when Danny O'Regan scored his 17th goal — and seventh in the past 11 games.
"A game of runs," O'Regan said. "Sometimes pucks just find their way into the net."
Boucher scored again, however, just 1:40 later and the Amerks didn't tie it until just 1:44 remained, and after goalie Jonas Johansson had been pulled in favor of a sixth attacker.
C.J. Smith fired a shot from the top of the left circle that was blocked by Adam Gaudette but the puck bounced right to Matt Tennyson in the circle and he lasered a shot into the lower left corner of the net.
"It's a team (North Division rival Utica) you don't want to give up a point to but we found a way to win, and that's why we're a first-place team," Smith said.
The Amerks also had to rally in the shootout. The Amerks trailed 2-1 after two rounds when Smith stuffed one in around Kulbakov.
"I kind of just blanked out," Smith said. "I went to shoot and he went down and then I somehow got around him."
Johansson denied the next five Utica shooters and Leier's goal provided victory.
Johansson was recalled from ECHL Cincinnati on Thursday because Scott Wedgewood has a lower body injury that will keep him out at least until next weekend.
"He was great throughout the game," O'Regan said, "and came through clutch in the shootout — a lot of guys did — but he really shut the door when we needed him."
All-Star addition
Defenseman Brendan Guhle was named to replace injured Zach Redmond to represent the Amerks at the AHL All-Star Classic in Springfield on Sunday and Monday. Redmond suffered a lower body in jury in the final minute on Wednesday and is listed as week-to-week, although he seemed to be walking without discomfort after Friday's game.