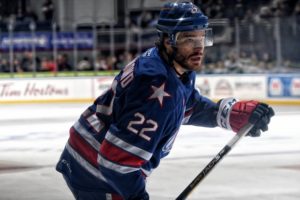 By KEVIN OKLOBZIJA
On a night when Zach Redmond entered the Rochester Americans record book with his 19th goal, he didn't take his first-star, post-game curtain call at center ice or even celebrate with his teammates after a 7-5 victory.
He couldn't.
As Wayne Simpson was speeding down the ice to score the clinching empty net goal with 28.5 seconds to play on Wednesday night, Redmond was limping to the Amerks bench and then getting helped to the dressing room.
The veteran defenseman appeared to hurt his right ankle, although there was no report on the precise ailment, or the severity of the injury, when coach Chris Taylor spoke to the media following the victory over the visiting Binghamton Devils.
"He'll be fine," Taylor said.
He didn't look fine leaving the ice, however, and his injury prevented him from addressing the media. He was in the basement medical area for X-rays, hardly the place to celebrate his record-breaking goal.
The 46-year-old single-season franchise mark for goals by a defenseman finally fell at 16:21 of the second period, when Redmond steered home a pass from Kevin Porter on a two-on-zero fastbreak. It also was the winning goal, Redmond's eighth game-winner of the season.
"I actually didn't know it was him but I figured you have to pass it on a two-on-oh," Porter said.
Having tied Rick Pagnutti's mark on Friday night by scoring his 17th and 18th goals at Wilkes-Barre/Scranton, Redmond needed only two games to break it.
"It's so cool," said right winger Danny O'Regan, who scored the Amerks' second and fifth goals against Cory Schneider. "No one deserves it more."
Taylor felt the same way.
"First and foremost, he's a great person for our dressing room and you can't say enough about what he does for our team, our organization and this community. The guys were more happy than he was and that just says what kind of person he is."
That Redmond has piled up 19 goals in only 41 games tells you he has great offensive instincts along with a exceptional talent.
"He's got a really good shot, a really good release," O'Regan said. "I think he's just one step ahead of everyone. Some of the shots hes able to take and some of the pucks he's able to get through, it's special."
What should have been a special night, however, was tarnished as Redmond was hurt behind the Amerks net in the final minute.
He reached a loose puck first and, just as he fired it around the boards, he appeared to catch his skate in the ice, causing him to tumble awkwardly into the end boards.
He struggled to get to his feet and, while he did manage to maneuver to the front of the net to help the Amerks protect a 6-5 lead, he could put little weight on his right leg. When the puck exited the zone, he finally headed to the bench.
Victor Olofsson also displayed his special shooting talent on Wednesday. His goal at 8:53 of the second period was a rocket wrister, placed just below the cross bar and past the glove and left arm of Schneider before the former NHL mainstay could even react.
"I was on the bench for that one," O'Regan said, "and I already had my hands in the air before he shot."