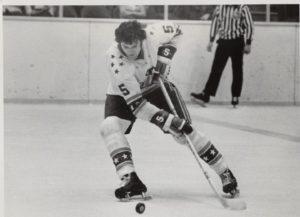 By KEVIN OKLOBZIJA
They say records are made to be broken, and Rick Pagnutti knows that very well.
But even he may have been starting to wonder if that cliché pertained to all records.
After all, nearly a half-century has passed since he set the Rochester Americans single-season record for goals by a defenseman. He found the net 18 times during the 1972-73 campaign playing for coach Don Cherry. That's was a fairly lofty number for a defenseman, but it certainly wasn't an outrageous goal total for a 76-game season.
And yet, here we are, 46 years later and midway through the 2018-19 season, and only now is his record about to fall.
Zach Redmond scored a pair of goals on Friday night in a 5-4 victory at Wilkes-Barre/Scranton, giving him 18 through 40 games. With 36 games remaining, the hard-shooting, offensively gifted defenseman will obviously break the mark.
He has a chance to set the record Wednesday night when the Amerks play the Binghamton Devils at 7:05 at Blue Cross Arena at the War Memorial.
"I congratulate Zach," Pagnutti,72, said today by phone from his home in Sudbury, Ontario, where he was born and raised. "I've always cherished that.
"But, my God, who would have thought that with all the defensemen who have come through there, that record still would have existed this long."
Indeed, the mark has stood the test of time — and challenges.
Bob Hess came the closest to erasing Pagnutti from the team record book He scored 17 in 70 games during the 1980-81 season under then-rookie coach Mike Keenan.
The only reason Hess probably didn't set the record, or at least tie it: He started the season with the NHL's St. Louis Blues and didn't join the Amerks until late October after a trade by the Buffalo Sabres.
T.J. Brennan most likely would have obliterated the mark in 2012-13. He had piled up 14 through just 36 games but then was recalled by the Sabres when the NHL lockout ended in mid-January. Just three weeks later, he was traded to the Florida Panthers.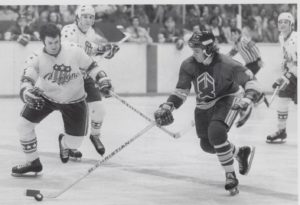 Brennan flaunted his goal-scoring ability with the Toronto Marlies the next season by scoring 25 times. He matched that for the Marlies two years later.
In 1994-95, Philippe Boucher was well on his way to surpassing Pagnutti. Through 43 games of the 80-game season, he already had 14 goals. But that production merited a recall to Buffalo, and then in February he was traded to the Los Angeles Kings.
Boucher scored 19 for the NHL's Dallas Stars in 2006-07.
And so the record has lived on.
Pagnutti, a retired Sudbury firefighter of 30 years, has fond memories of his four seasons in Rochester, when he produced 45 goals, 149 assists and 194 points. He was inducted into the Amerks Hall of Fame in 2012.
"That was so heart-warming," he said. "When Jody Gage called me to tell me, I had to go outside and go for a walk. I just kept thinking, 'Can you believe they remember me?' "
Long-time Amerks fans haven't forgotten Pagnutti, and he hasn't forgotten the city.
"If I wouldn't have gotten a job as a firefighter in Sudbury, I probably would have gone back to Rochester to live," he said.
He's still an Amerks fan, too. "I've followed them ever since I left," he said. "If they can make a nice run in the playoffs, I hope to get down for a game or two."
Amerks all-time single season highs for goals by defensemen
Rick Pagnutti, 18 in 72 games in 1972-73
Zach Redmond, 18 in 40 games this season
Bob Hess, 17 in 70 games in 1980-81
Graeme Nicolson, 16 in 80 games in 1978-79
Don McSween, 16 in 70 games in 1989-90
T.J. Brennan, 16 in 52 games in 2011-12
Michael Kostka, 16 in 80 games in 2010-11
Daniel Naud, 15 in 79 games in 1983-84
Mike Hurlbut, 15 in 72 games in 1998-99
Zach Redmond, 15 in 66 games in 2017-18
Philippe Boucher, 14 in 43 games in 1994-95
Sergei Klimentiev, 14 in 77 games in 1996-97
T.J. Brennan, 14 in 36 games in 2012-13