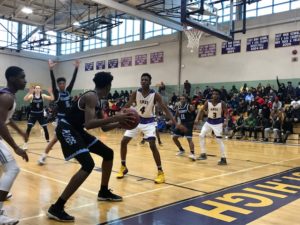 BISHOP KEARNEY (6-8) 59
EAST (14-0) 61
None of the teenage observers who gleefully sprinted around the gymnasium after Kidtrell Blocker's poster dunk off a Deiontray Dixon lob will recount East guard Damani Barley's basket after officials cleared the floor and resumed play. Very few will even discuss Eagles senior Chaz Washington's game-winning free throws with a second left to keep East perfect. Read More
UNIVERSITY PREP (5-8) 76
NE DOUGLAS (10-3) 84
The NE Douglass Panthers (10-3/No. 23 NYSSWA Class A) used a pair of runs at the end of the third quarter and in the fourth to pull away for the victory. Jiahmere Mitchell sparked a 13-3 surge with a contact layup to end the third. The senior guard knocked down two free throws as well. After Lamar Lovelace hit a shot from beyond the arc to begin the fourth to go along with a pair of attempts from the charity stripe, senior guard Trevion Miller made a layup and junior forward Adonis Flagler went 2-of-2 at the foul line for a 70-59 edge with 4:36 remaining, their largest of the second half.. Read More
This just happened…@ESPNSCTop10 pic.twitter.com/1fUIifgo6k

— John Mitchell Likanje Junior (@jml5798) January 21, 2019

WHITESVILLE (0-12) 42
ALFRED-ALMOND (7-7) 60
Three players scored in double figures for Alfred-Almond in a balanced offense. Dylan Guthrie paired five assists, five steals and two rebounds with 14 points. Isaac Little stuffed the stat sheet with 11 points, eight rebounds, four steals, three blocks and two assists. Arnold Saint-Phard recorded 10 points, six rebounds, two steals, one assist and one block. Davon Bloom came one basket short of a double-double with eight points, 10 rebounds, four blocks and two assists. Kyle Margeson, Ty Kenney and Jonas Kays all put in four points. Margeson grabbed two boards, a steal and an assist, Kenney finished with one rebound, a helper and one steal and Kays pulled down three rebounds, blocked two shots and dished out two assists. Blake Mcmichael had three points and Logan Whittall added two for Alfred-Almond. Mcmichael also got three rebounds and an assist and Whittall recorded one steal. Chris Gullett led Whitesville with 17 points, four rebounds, two steals and one assist. Colby Gaines added 12 points, four rebounds, three assists, two steals and one block. Jesse Pensyl flirted with a double-double, putting in seven points, grabbing 10 rebounds, dishing out four assists, securing three steals and blocking a shot. Ian Middaugh had four points and Dylan Acor scored two to finish off the scoring for Whitesville. Middaugh also pulled down six rebounds, grabbed two steals, one block and an assist, while Acor had three rebounds and one assist.
NORTHSTAR CHRISTIAN (14-0) 74
WILSON MAGNET (4-8) 61
Averaging better than 85 points per game, Northstar managed just 29 points through the first 13 minutes of action. Section V's all-time leading scorer Miles Brown was held without point in the first quarter – the first such occurrence over an eight minute span this season. READ MORE.
BARKER (0-12) 00
ALEXANDER (10-3) 00

LEROY (8-4) 00
HAVERLING (6-7) 00