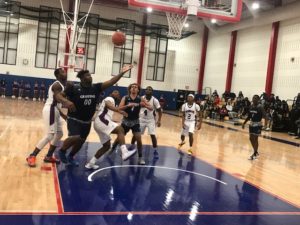 By JOHN LIKANJE
ROCHESTER, N.Y. – A shorthanded James Monroe Red Jackets team was determined to get a victory Tuesday night. Head coach Matthew McCormick's squad got the job done, defeating the World of Inquiry Griffins.
"It wasn't the prettiest game by both teams," McCormick said after Monroe's 80-68 win over World of Inquiry in RCAC Lower Division action. "But hey, sometimes you got to grind wins out. You got to play through foul trouble. You got to make plays at the right time."
De'vante Mateo led four players in double-figures with 19 of his 29 points in the first half as the Red Jackets held a 36-31 lead. The senior guard finished six layups-two resulting in three-point plays, swished five free throws, three mid-range jumpshots, and two three-pointers.
De'vante Mateo converts the steal, layup and-one to give @JMHSRedjackets a 69-52 lead over World of Inquiry with 4:55 remaining pic.twitter.com/c5lAhwvHfm

— Paul Gotham (@PickinSplinters) January 16, 2019
"De'vante has to find a nice medium of trying to press too much and find his area to score and I think in the first half, he did that," McCormick explained about Mateo's offensive workload. "The second half, he played more reserved, but he picked his spots and got some points off transition. He made some nice distributions too."
Coming out of the locker room after halftime, the Red Jackets surged out to a double-digit lead with a 10-3 run for a 46-34 advantage with 3:51 remaining in the third quarter. Seniors Tyquil Glasgow and Jo-Nathan Jones combined to score eight of the 10 points on two layups and a pair of free throws each. Jamar Williams had a layup of his own. During the run, the Red Jackets (8-4) held the Griffins (2-9) to eight missed field goals, while forcing three turnovers and allowing just one field goal in 14 possessions.
"We talked about trying to have more of a chip on our shoulder on the defensive end, but playing with a controlled chip, meaning that we knew we couldn't get into foul trouble because we weren't too deep tonight on the bench," McCormick said about how his squad played in the second half. "Just playing more edgy. That's what we needed to do because we didn't do that in the first half."
Mateo sparked the Red Jackets with a three-point play and a pair of free throws during a 12-2 run midway through the fourth quarter for a 69-52 edge with 5:19 remaining. Senior guard Kerone Kearse made back-to-back layups and Jones knocked down a long-range shot from the right corner. During the run, the Red Jackets forced the Griffins into three turnovers, two missed field goals, and one made field goal in seven possessions.
The Red Jackets got out to a fast start in the first half. Mateo swished a pair of three-pointers while Glasgow knocked down one as well during a 9-4 run for a 34-19 lead with three minutes remaining in the second quarter. Mateo scored seven of the Red Jackets' first 15 points of the game on two mid-range jumpers and a three-point play as they busted out to a 15-2 lead. Williams made a layup and a long-range shot while Glasglow had a layup of his own to go along with a free throw. During the run, the Red Jackets held the Griffins to nine missed field goals, five turnovers, and one made field goal in 16 possessions.
Glasgow finished with 19 points on 6-of-8 shooting from the charity stripe, four layups, a mid-range jumper, and a three-pointer.
Tyquil Glasgow converts the rebound & putback in transition @JMHSRedjackets up 13-3. pic.twitter.com/CZuFY9eRM5

— Paul Gotham (@PickinSplinters) January 15, 2019
Willams netted 11 on three layups, went 2-of-2 from the foul line, and hit a shot from beyond the arc. Kearse finished with five points in the quarter and 10 for the game. The senior guard converted three layups, hit a shot from beyond the arc, and a free throw.
"We played great team defense. We struggled a little at the beginning but we got it together," Kearse said after the victory.
Jones (9) and Cameron Thomas (2) rounded out the scoring for the Red Jackets.
"The focus has to be a little bit more on scoring," McCormick said. "You lose that kind of defensive presence, you got to kind of redefine yourself."
Tremier Dollar poured in a game-high 39 points for the Griffins. The senior guard netted 11 layups, one which resulted in a three-point play, six free throws, three shots from beyond the arc, and a mid-range jumpshot. Dollar scored five in the first period, 14 in the second, four in the third, and 15 in the fourth. The senior guard's 15 points in the fourth quarter came in the final six minutes. Dollar also scored 14 of the Griffins' 22 points in the second quarter. The senior guard grabbed five rebounds, dished out five assists, and had two steals.
Tremier Dollar takes the handoff from Bobby Searight and gets in the lane for 2 of his 32. World of Inquiry trails @JMHSRedjackets 75-61 with 3:05 remaining pic.twitter.com/ZdmCWBQz0l

— Paul Gotham (@PickinSplinters) January 16, 2019
"I feel like I was effective, but not effective enough," Dollar said when evaluating his performance. "I'd rather score 15 and get a win than 39 in a loss."
Dollar netted six points on two layups and a mid-range jumpshot during a 12-2 run to end the first half. Junior guard Michael Thomas converted two layups and sophomore guard Dorian Smith had one of his own. During the run, the Griffins held the Red Jackets to 10 missed field goals and two turnovers in 14 possessions.
Dollar hit a three-pointer, a layup, and a free throw during a 10-3 run that spanned from the end of the first quarter into the middle of the second to cut the deficit to 18-12. Thomas and Smith each made a layup as well.
Senior forward Bobby Searight grabbed a team-high seven rebounds. Thomas blocked a team-high two shots.
Monroe was missing seniors Fidel Brock and Trevone Glasgow. Brock, a starter, has missed all or part of the past five games.
Thomas (8), Smith (6), Jahlil Bell (6), JaQuan Close (4), Josh Shaw (3), and Searight (2) rounded out the scoring for the Griffins.
Monroe will host Livonia tomorrow night at 6:15 PM.