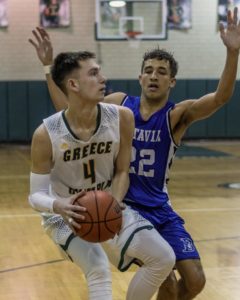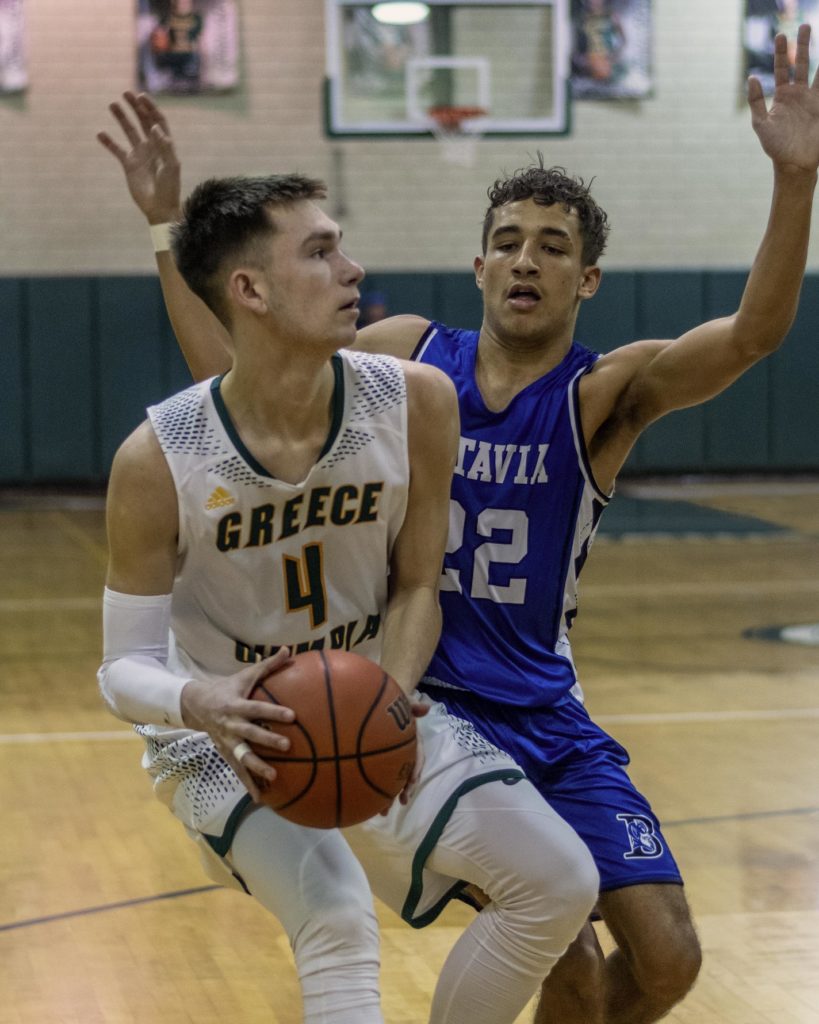 By CAITLIN McCLARE
Luke Insley led Webster Schroeder to two home wins. Freddie June Jr. combined for 34 points in a pair of Irondequoit victories, including a victory over previously undefeated Hilton. Dan Cook shot better than 80 percent from the floor as Mendon stayed undefeated. Mason McFollins continued his double-digit streak in a split week for Batavia.
For their standout games, Monroe County awarded the quartet with Player of the Week (Jan. 7-Jan. 11) honors in the respective divisions.
Insley dropped a season-high 25 points against Canandaigua, helping Webster Schroeder halt a five-game losing streak. The sophomore almost tied his season high in the following game. In the Warriors' four-point victory over Penfield, Insley connected on five shots behind the arc on his way to 23 points. Schroeder (4-6) plays crosstown rival Webster Thomas on Titans territory on Wednesday, Jan. 16 at 7:15 p.m.
Irondequoit walked into a battle on Tuesday, Jan. 8, facing the undefeated Hilton. Behind June's 15 points, two rebounds, and two assists, the Eagles handed Hilton its first loss of the season. Following the 68-64 win, June and his Irondequoit squad defeated Churchville-Chili by 34 points. The six-foot-two senior guard scored 19 points, pulled down four rebounds, and dished four assists. Irondequoit is back at home on Wednesday, Jan. 16, tipping off against Greece Athena at 7:15 p.m.
VIEW MORE JENNIFER LAEMLEIN PHOTOS HERE.
Pittsford Mendon topped 90 points in both wins last week. Cook played a huge role in that. He dropped 26 points and grabbed 14 rebounds in 25 minutes against Batavia. A majority of his 26 points came from the field, as Cook connected on 11 of his 13 attempts. The 6-foot-6 senior one-upped his own performance against Brockport. He drained 40 points, the most of all Vikings this season, and pulled down 18 boards for his seventh double-double of the season. On the floor for 26 minutes, Cook went 16-for-23 from the field, 2-for-2 from three, and 6-for-6 at the line. The Vikings (8-0) are scheduled to travel to Greece Odyssey on Wednesday, Jan. 16, for a 7:15 p.m. tipoff.
Despite being on the other end of Mendon's 91-point game, McFollins recorded his sixth consecutive double-digit game. The senior attempted 12 shots from three-point range and connected on five of them on his way to a 19-point game. He also pulled down four rebounds and handed three assists. McFollins led Batavia in a bounce-back win over Greece Olympia with yet another double-digit game. He remained hot behind the arc hitting six 3-pointers in 12 attempts, racking up 24 points. Batavia (4-6) is back in action on Wednesday, Jan. 16, against Brighton.
| | | | | | | | | | |
| --- | --- | --- | --- | --- | --- | --- | --- | --- | --- |
| Standings | | | | Overall | | | | | |
| Monroe County I | CL | W | L | W | L | PF Avg | PA Avg | Strk | GP |
| Hilton | AA | 4 | 0 | 8 | 1 | 72.78 | 57.11 | W1 | 9 |
| Fairport | AA | 4 | 0 | 8 | 3 | 64.45 | 53.82 | W2 | 11 |
| Rush-Henrietta | AA | 2 | 2 | 6 | 4 | 54.00 | 57.60 | L2 | 10 |
| Webster Schroeder | AA | 2 | 2 | 4 | 6 | 61.70 | 66.40 | W2 | 10 |
| Penfield | AA | 0 | 4 | 3 | 8 | 55.00 | 59.27 | L2 | 11 |
| Victor | AA | 0 | 4 | 2 | 9 | 59.64 | 63.45 | L4 | 11 |
| | | | | |
| --- | --- | --- | --- | --- |
| Scoring Leaders | School | Grade | PPG | GP |
| Hill, T. | Hilton | Jr. | 34.2 | 9 |
| Piampiano, P. | Penfield | Sr. | 17.8 | 11 |
| Caggiano, M. | Victor | Jr. | 15.8 | 11 |
| Insley, L. | Schroeder | So. | 15.4 | 10 |
| Monroe, J. | Penfield | Sr. | 14.9 | 11 |
| | | | | | | | | | |
| --- | --- | --- | --- | --- | --- | --- | --- | --- | --- |
| Standings | | | | Overall | | | | | |
| Monroe County II | CL | W | L | W | L | PF Avg | PA Avg | Strk | GP |
| Webster Thomas | AA | 3 | 1 | 6 | 5 | 62.36 | 62.55 | L2 | 11 |
| Gates-Chili | AA | 3 | 1 | 9 | 2 | 64.36 | 57.09 | W3 | 11 |
| Irondequoit | A1 | 3 | 1 | 8 | 1 | 67.11 | 48.89 | W4 | 9 |
| Churchville-Chili | A1 | 1 | 2 | 5 | 4 | 64.89 | 61.56 | L1 | 9 |
| Spencerport | A1 | 1 | 3 | 4 | 7 | 51.73 | 57.09 | W2 | 11 |
| Canandaigua | A1 | 0 | 3 | 0 | 12 | 51.58 | 70.17 | L12 | 12 |
| | | | | |
| --- | --- | --- | --- | --- |
| Scoring Leaders | School | Grade | PPG | GP |
| Mason, A. | Thomas | Jr. | 26.2 | 11 |
| Slack, K. | G-C | Sr. | 20.2 | 11 |
| Thomas, P. | Iron. | Sr. | 16.3 | 9 |
| Williams, A. | G-C | So. | 14.9 | 11 |
| Stella, G. | C-C | Jr. | 14.6 | 9 |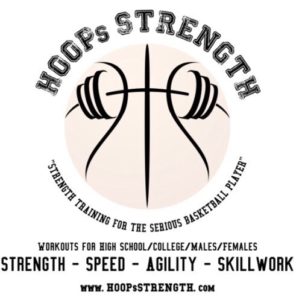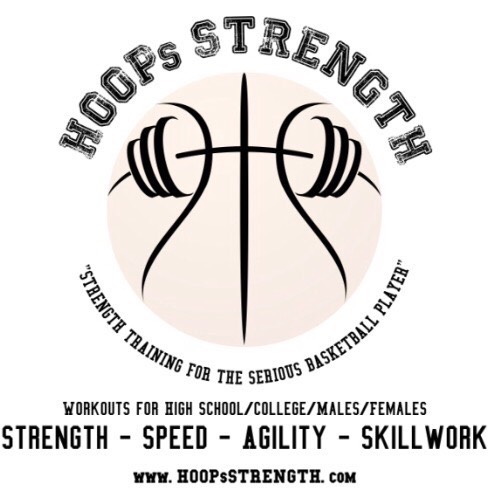 | | | | | | | | | | |
| --- | --- | --- | --- | --- | --- | --- | --- | --- | --- |
| Standings | | | | Overall | | | | | |
| Monroe County III | CL | W | L | W | L | PF Avg | PA Avg | Strk | GP |
| Pittsford-Mendon | A1 | 4 | 0 | 8 | 0 | 80.63 | 53.50 | W8 | 8 |
| Greece Athena | A1 | 3 | 1 | 10 | 2 | 66.33 | 53.92 | W3 | 12 |
| Brockport | A1 | 3 | 2 | 6 | 5 | 63.25 | 64.92 | L3 | 11 |
| Pittsford Sutherland | A2 | 2 | 2 | 6 | 5 | 61.18 | 53.27 | W1 | 11 |
| Brighton | A1 | 1 | 4 | 3 | 6 | 56.00 | 64.88 | L2 | 9 |
| Greece Arcadia | A1 | 0 | 4 | 0 | 11 | 41.82 | 68.73 | L11 | 11 |
| | | | | |
| --- | --- | --- | --- | --- |
| Scoring Leaders | School | Grade | PPG | GP |
| Harrington, M. | Mendon | Sr. | 19.6 | 8 |
| Council, Jr. M. | Athena | Jr. | 18.9 | 12 |
| Ryan, K. | Sutherland | Sr. | 18.9 | 11 |
| Cook, D. | Mendon | Sr. | 18.7 | 8 |
| Reaves, Jr. K. | Athena | Sr. | 17.3 | 12 |
| | | | | | | | | | |
| --- | --- | --- | --- | --- | --- | --- | --- | --- | --- |
| Standings | | | | Overall | | | | | |
| Monroe County IV | CL | W | L | W | L | PF Avg | PA Avg | Strk | GP |
| Greece Odyssey | B1 | 3 | 0 | 10 | 1 | 69.82 | 53.73 | W6 | 11 |
| Eastridge | A1 | 2 | 1 | 6 | 5 | 66.64 | 64.64 | W2 | 11 |
| Honeoye Falls-Lima | A2 | 2 | 2 | 5 | 6 | 54.00 | 59.55 | L5 | 11 |
| Batavia | B1 | 1 | 2 | 4 | 6 | 54.30 | 54.30 | W1 | 10 |
| Greece Olympia | B1 | 0 | 3 | 5 | 5 | 71.70 | 66.00 | L1 | 10 |
| | | | | |
| --- | --- | --- | --- | --- |
| Scoring Leaders | School | Grade | PPG | GP |
| Jung, Jr. J. | Olympia | Sr. | 21.8 | 10 |
| James, C. | Olympia | So. | 19.7 | 10 |
| McFollins, M. | Batavia | Sr. | 19.2 | 10 |
| Chamberlain, T. | HF-L | Sr. | 16.3 | 11 |
| Hartsfield, J. | Odyssey | Jr. | 15.7 | 11 |