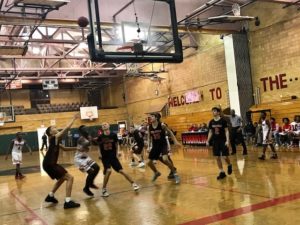 ELBA (10-2) 64
ALBION (4-7) 55
After a quiet first half, Jon Boyce scored nine of the Elba Lancers' 17 third quarter points to pull away. Boyce and Elba (No. 5 NYWSSA Class D) limited Albion to only nine points in the same quarter, after only leading by four at the half. The senior finished with 24 points (two 3-pointers), grabbed 11 rebounds for the double-double, two steals and went a perfect 4-for-4 from the free throw line. Colton Dillion led the Lancers from beyond the arc, hitting four 3-pointers, en-route to an 18 point double-double (10 rebounds) with an assist and a steal, . Greyson Huntington also scored in double figures, with 10, two rebounds and two assists. Collin O'Halloran (nine rebounds, nine assists) and Tyler Stevens (one assist, one steal) rounded out the scoring for Elba, putting in eight and four points respectively in the Lancers' sixth win in a row. Deyonci Farley led all scorers for the Albion Purple Eagles, ending the game with 21 points, which included three 3's. The junior was kept scoreless during the game's pivotal third quarter. Liam Ward (14 points) and Bryce Pritchard (11 points) combined for six makes from behind the three point line. Kevin Hillman and Dylan Fox both had three points. Xavier Cornick had two and Vincent Zona scored one point to wrap up the scoring for Albion.
AQUINAS (3-8) 66
LEADERSHIP ACADEMY (7-5) 87
The Leadership Academy Lions splashed 13 three-pointers in their victory over the Aquinas Institute L'il Irish. READ MORE
WELLSVILLE (9-4) 74
FRANKLIN (3-8) 59
Joe Tronetti drilled a pair of triples and scored 12 points in the second stanza when the Lions turned a one-point deficit into a seven-point halftime. READ MORE.
HOUGHTON (3-5) 49
WHITESVILLE (0-11) 28
Chris Gullett led the Whitesville Blue Jays with nine points, also dishing out two assists, securing two rebounds and one steal. Jesse Pensyl scored seven, but added 14 rebounds and five steals. Dylan Acor grabbed three boards to go with his six points, while Robert Whitesell, Ian Middaugh and Colby Gaines all had two for Whitesville. Whitesell collected an assist, two rebounds, a block and a steal. Middaugh had two rebounds, while Gaines also did a bit of everything, dishing out two assists, grabbing three rebounds, sending back two shots and securing one steal.
LIMA CHRISTIAN (2-9) 20
BRADFORD (4-7) 50
HOLLEY (2-10) 32
PEMBROKE (5-6) 77
NORTH ROSE-WOLCOTT (1-10) 51
WILLIAMSON (3-9) 62