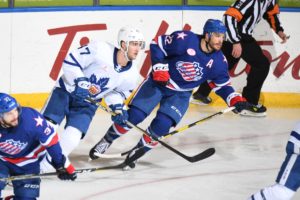 By KEVIN OKLOBZIJA
Inside the arena, at around 6:40 p.m., warm-ups were underway for the Rochester Americans and Toronto Marlies on Friday night.
Outside, traffic was snarled on Exchange Boulevard as well as Broad and Court streets.
Ah, just like the old days, when a Friday night in January meant a big crowd at Blue Cross Arena at the War Memorial for Amerks hockey.
Except back in the old days, the Amerks usually won. On this Friday night, the big crowd of 8,326 — including more than 500 for a Paychex company outing — was pretty much the end of anything positive for the Amerks, who were thumped 5-1 by the Marlies.
Grab the bottle opener; here's your Amerks six-pack from Friday night:
1. Ugh, that just wasn't what a first place team should look like
After a solid first period, when the Amerks misfired on a host of great scoring chances, Toronto took control with three second-period goals and were never threatened over the final 30 minutes.
"I thought we had half our team going and half our team not," Amerks coach Chris Taylor said.
Mason Marchment's power-play goal at 15:29 broke a 1-1 tie — after the Amerks had killed off 76 seconds of five-on-three Marlies' power play. When Carl Grundstrom zipped a shot past goalie Scott Wedgewood from the left of the slot at 18:11, Toronto had a 3-1 cushion going into the second intermission.
"I thought we had a good first period and then I don't know what happened in the second," said captain Kevin Porter, who returned after missing 13 games with a lower body injury.
2. Solid opener for Scott Wilson
Fifth-year forward Scott Wilson made his Amerks debut — and season debut.
Wilson broke his ankle during the preseason and hadn't played a game all year. He cleared waivers earlier this week and joined the Amerks.
"I thought my legs and lungs would be a little worse, to be honest," Wilson said. "My timing felt a little off, maybe a second off, but that's to be expected. I'm not too worried about that."
His timing for hitting was a little better. Just eight minutes into the game, he bowled over Grundstrom near the right corner in the Marlies zone.
"For me, that's a big part of my game," Wilson said of playing the body. "Sometimes that stuff is underrated because you have to get your timing back on that too."
3. The lineup is closer to full strength
Porter's return, and the assignment of Wilson, has helped solidify the forward lines. They were joined on one unit by Wayne Simpson.
The other lines: Alex Nylander-Kyle Criscuolo-Eric Cornel
Victor Olofsson-Rasmus Asplund-Danny O'Regan
Dalton Smith-Sean Malone–Justin Bailey.
That last grouping provides a hint of perhaps the role the Sabres would like Bailey to grow into, an on-the-puck, rambunctious-on-the-forecheck, create-havoc-with-speed-and-size role.
4. And the lineup will be even better on Saturday
Winger C.J. Smith was reassigned to the Amerks late Friday afternoon, but only after the Sabres were sure Jack Eichel would be able to play in the game at Carolina.
Eichel missed three games with an upper body injury.
Smith is second on the Amerks in goals (13) and third in points (29). He scored his first NHL goal on Tuesday in a 5-1 victory over New Jersey.
He's expected to play in Saturday's rematch with the Marlies in Toronto.
"We have to make sure we split," Taylor said of the importance Friday's loss puts on Saturday's game.
5. Not much offense
Nylander scored the Amerks goal, tipping in an O'Regan shot during a power play at 8:58 of the second period to tie the score.
Despite a dozen shots in each the second and third periods, the Amerks had few great chances.
6. A classy farewell to a guy in stripes
The game was the last in the AHL for referee Chris Ciamaga. A 41-year-old native of Buffalo, Ciamaga is retiring from pro hockey after 16-plus seasons in the league.
He worked 17 NHL games — and over 800 pro games — in his career.
Before the game, Mike Murphy, AHL executive vice president of hockey operations, made a presentation with Ciamaga.
After the game, many players shook his hand, including Olofsson and Bailey from the Amerks. Marlies center Chris Mueller, another Buffalo native, joined Ciamaga in posing for a photo.