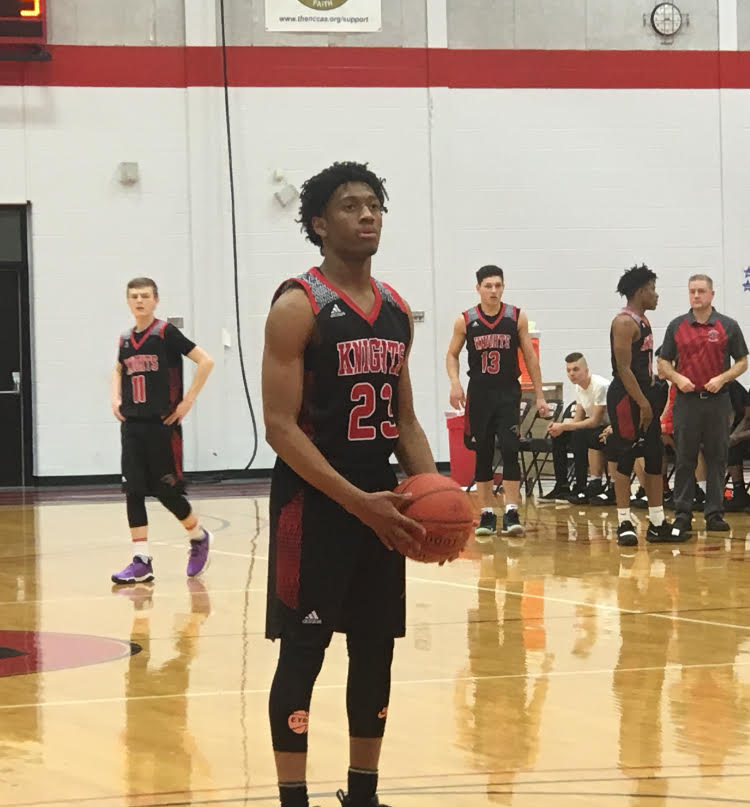 By BILLY HEYEN
ROCHESTER, N.Y. — Midway through Tuesday's game between Northstar and University Prep, one fan shouted praise of Knights' guard Miles Brown.
"Miles is playing (NBA) 2K on rookie mode," the spectator yelled in reference to playing a popular basketball video game on the lowest difficulty setting.
So when Brown grabbed a rebound, dribbled up court and waved at his head coach to not use a timeout in a tie game inside a minute, JJ Garwood listened. He had planned to use one. But he trusted his star, who once more proved that fan's statement true. Section V's all-time leading scorer delivered with a leaner off glass for two.
"He has my 100 percent trust," Garwood said, then laughed and continued, "and I'm a smart coach for listening to him."
And @NCA1972 takes the lead with about four seconds left on this @milesballers bucket. He's got 44. 76-74. UPrep timeout. @PickinSplinters @TrabsMatt @jml5798 @jjDandC pic.twitter.com/w1I12SkrSS

— Billy Heyen (@Wheyen3) January 9, 2019
Those were the final two of Brown's 44 points on Tuesday night at Roberts Wesleyan College in Northstar's (10-0) 76-74 win over UPrep (4-7). He knocked down five first-half 3s and added six rebounds. It was just enough to comeback and overcome Jakhi Lucas' 32 points for UPrep and keep the Knights undefeated.
"We knew going in there was gonna be a battle," Brown said. "… Our team showed great mental toughness throughout the whole game and pulled out the victory."
Brown got off to a scorching start. After Ryan Garwood knocked down a game-opening 3, Brown scored Northstar's next 14 points. Three 3s, two reverse layups and one free throw. The Knights led 17-6 about halfway through the first quarter, and it looked like they'd dominate both ends of the floor.
Defensively, Brown's twin Michael was shutting down UPrep's leading scorer, Lucas. In the game's early sequences, Michael forced Lucas into two five-second violations and a travel.
"We know Michael's our key defender," Brown said. "He's our energy spark on defense. When the point guard comes up, he plays great defense. And that's what happened today."
With Northstar up 17-6, stand-in UPrep coach Jerice Crouch used a timeout and implored his team to show pride and not get blown out. His words boosted the Griffins enough to avoid getting crushed and create a game that wouldn't be decided until the final seconds.
Coming out of the first quarter break, Lucas assisted on one basket and then hit a floater. But at the other end, Brown kept Northstar up 10 early with a 3 from the left wing. It was already his third, and as he ran back down the court, he cracked a smile.
"I don't know how this happened, but my 3s were on, but I couldn't throw a rock in the ocean from the free throw line," Brown said, laughing.
Lucas kept coming, though. He scored 19 in the second quarter, including four 3s. He put UPrep ahead for much of the second frame and even beat the buzzer with a 30-plus foot runner to head to halftime up three.
After Brown makes both at the line, @lucas15_j knocks it down from deep on the run to put UPrep up 42-39 at the half. Lucas goes to the half with 21, Miles Brown has 31 for @NCA1972. @PickinSplinters @jml5798 @jjDandC @TrabsMatt pic.twitter.com/yyKi2F0mo3

— Billy Heyen (@Wheyen3) January 9, 2019
He didn't cool down out of the break, either, hitting two 3s right away to keep UPrep ahead. By the end of three, the Griffins led by five. But last Friday, Northstar had staged a big comeback to beat Mekeel Christian. Garwood reminded his team of that.
"We've been here guys, we've been here," Garwood remembered telling his team. "We know what it's like to be down four with a couple minutes left. That's all I told them. We've been here, let's finish the game."
Brown began the fourth with a steal and bucket. But Lucas answered right back with a finish through contact of his own. The teams continued to go back-and-forth, with Kendrick Cheyshad hitting a 3 for UPrep, and Ryan Garwood answering from behind the line for Northstar.
Down 71-68, Brown grabbed a rebound, dribbled the length of the floor, and finished through a foul. But he missed the foul shot and the Knights remained down one. A UPrep 3 followed, but then Northstar won a crazy loose ball before releasing Sean Smith deep for a layup to get within 74-72.
Wild sequence leads to a Sean Smith Layup and UPrep leads 74-72. 1:25 left. @PickinSplinters pic.twitter.com/6sPNBQ7hKs

— Billy Heyen (@Wheyen3) January 9, 2019
Brown worked his way to the line down two, and this time, he made both free throws. Northstar got the stop it needed in a tie game, and Brown took it to the rim and scored. But he'd left about three seconds on the clock, and UPrep used a timeout.
It had been Michael or Smith on Lucas all game. But on the last possession, Brown wanted him. Garwood and Brown liked the extra length he provided in that defensive spot. And Northstar's leader hounded the UPrep star in the backcourt, forcing a dribble out of bounds to seal the Knights' win.
"I was like let me take him, I've got good length on him, little taller, longer arms," Brown said. "And I just made a great defensive play to finish the game off."
After the win, Brown received a scholarship offer from Niagara, his third Division I offer. He was joked with by one adult, who told Brown he'd have more than 44 if only he hit more of his foul shots. And that point total pushed him into 10th on New York's all-time leading scoring list.
About five feet away, Garwood was thrilled with how this season has begun. But he already was looking toward the future.
"I wanted to beef up the schedule and my concern was I might've had too heavy of a schedule," Garwood said. "But my guys have really responded. I'm proud of them. Front end of the season, 10-0, and this is where the real test begins, second half of the season, the back end plus sectionals."