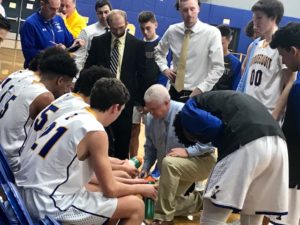 By CHUCKIE MAGGIO
ROCHESTER, N.Y. — You could say Irondequoit spoiled the party on Tuesday night. You could also say the Eagles are just that good.
When Hilton junior Tah'Jae Hill made two free throws just 58 seconds into the third quarter to reach 17 points for the game and 1,000 points for his career, the game was put on hold and a ceremony took place to commemorate his achievement. Hill participated in the typical photo ops that follow the milestone and received the congratulations of his teammates, coaches and the hometown crowd.
The celebration was brief. When play resumed, the Cadets had a nine-point deficit to work through.
Hill did his best, scoring 11 of Hilton's 16 points to close out the quarter and adding 11 points in the fourth quarter to give himself 40 for the game. The Cadets cut their deficit to three on three occasions in the fourth. But the Eagles had an answer for every run, made their last six free throws and held onto a 68-64 victory.
Patrick Thomas scored 18 points and grabbed eight rebounds for the Eagles (No. 16 NYSSWA Class A), who improved to 7-1. Hilton suffered its first loss, falling to 7-1.
"I told them at halftime, some coaches say it's 0-0 at half, play like it's 0-0 and I go 'No! We're up 11. You worked really hard to get to that point,'" Eagles coach Chris Cardon said. "(Hilton is) really good, they're well-coached and they've got other good parts.
"Tahj is ridiculous; he's so hard to guard. And I told them that Tahj is gonna get his points. Now I didn't want to give him 40, but he earned them. But he's gonna get his points; we've gotta keep the other guys down. They've got other guys who can score, but Tahj is obviously the head of the beast. And he's just a classy kid and he was really good, he made big shot after big shot. But I just felt like, with our five out there, that we had more options, a little bit."
Those options included junior Connor Shafer, whose nine-point second quarter off the bench included back-to-back three-pointers to extend the lead to double-digits and marked a career high. Freddie June, Jr. got things started by scoring seven of his 15 points in the first quarter. Luke Melidona and Josh Stenglein scored seven points each and combined for nine assists.
Each player had a valuable personal stretch: June in the first, Shafer in the second, Melidona and Stenglein closing it out with free throws in the fourth, Thomas throughout.
"Patrick, we're trying to get him to play slow inside, because he's really unstoppable inside at times but he just rushes it a little bit. When he plays slow he's so much better," Cardon commented. "Freddie had a good breakout game offensively. He's been doing all the dirty work for us this year, but he broke out offensively for us. And Josh Stenglein on Mitchell Carr, Mitchell's tough; he's averaging (13.5 points per game). Josh's defense on him and then Luke being able to bring the ball up and not turn the ball over is good.
"And we got good play off the bench by Jack Brennan, Connor Shafer and Kenny Gonzalez. They gave good minutes when guys got fouls."
Carr scored 11, narrowly missing his average, but made some timely shots to keep things interesting.
A Carr three-pointer with 2:58 to play cut Irondequoit's lead to 57-54. After June cut backdoor for a layup, Hilton came up empty on three-point attempts the next two possessions and Thomas made a shot to extend the Eagles' lead to 61-54. Hill made a layup to trim the deficit back to five, after which Hilton had to intentionally foul four times to get Irondequoit to the free throw line.
Melidona made the first free throw but missed the second, after which Carr hit a three-pointer to make it a 62-59 game. Irondequoit didn't miss any more free throws, Carr couldn't hit another three and the Eagles held on.
Despite the loss, Cadets coach Troy Prince still had plenty of praise for Hill on his special night.
"It's so well-deserved," Prince said. "He's the fourth guy in our school's history to reach that milestone. If things continue he'll probably be our all-time scorer before the season's over. And I'm just really proud of him, because we stress (that) you get what you deserve by how hard you work and how you handle yourself.
"He's getting what he deserves. He's terrific and he did it in grand fashion tonight, just being unbelievable on the offensive end again. Really proud of him."