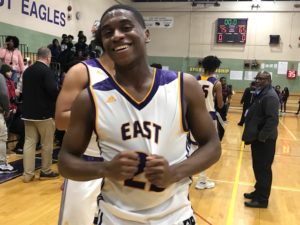 By PAUL GOTHAM
ROCHESTER, N.Y. — Freddie Brock finished with one point scored. One might have thought after listening to his coach, that the junior guard logged a triple-double.
And why not?
When the East High Eagles needed it most, there was Brock stepping in not just once but twice to take charges.
These weren't just any charges. These were clinging-to-a-two-possesion-lead, late-in-the-game, step-in-front-of-an-opponent-in-transition charges.
This wasn't just any opponent, either. This was All-RCAC performer De'Vante Mateo one of Section V's slipperiest of cats getting downhill in the open floor to set up a finger roll.
Brock beat Mateo to the spot twice and took it in the chest. Whistle blown. Possession turned over to East.
"When you look at anything but points, he's a stat sheet stuffer," East head coach Darrell Barley said after the Eagles' 75-65 win over Monroe in RCAC action Wednesday night. "He does everything else. He gets the steals. He gets the loose balls. He gets the rebounds.
"That's every game. He doesn't do anything fancy. He's fast. He's quick. He plays hard. I've never lost a game with Freddie starting, never lost a game."
Brock's two charges came in the final six minutes of the game. The first with East leading 60-54. The second came with 1:09 remaining and the Eagles up 67-62. The latter stopped a 4-0 Monroe spurt.
☝️ of 2 charges taken by Freddie Brock late in the @GoEastEagles win Wednesday night. pic.twitter.com/IJL9RUD2eV

— Paul Gotham (@PickinSplinters) January 10, 2019
"One of my jobs is to get back to the block and set up for the charge," Brock explained. "My coach always tells me to set up for charges, so we can get the ball back. That's what I did. I got back."
Zack Harris-Scott and Chaz Washington carried the load on the offensive end. After falling behind by double digits early in the second quarter, the duo combined to score nine points in the stanza, and the Eagles took a lead into the locker room at halftime.
Chaz Washington uses a ball screen to create space for a pull-up jumper pic.twitter.com/qhbaO9AA7r

— Paul Gotham (@PickinSplinters) January 10, 2019
"We had to pick our spirits up, no heads down," Washington said. "We had to keep our energy the same."
Trailing 28-18, Harris-Scott converted a rebound and putback. Washington grabbed a long rebound and got into the floor for an and-one. Two possessions later, Washington tied the score off a drive, and Brock led Harris-Scott for for an easy bucket, and East took a 32-30 lead into halftime.
Rebound and putback from Zach Harris Scott breaks 8-possession drought for @GoEastEagles pic.twitter.com/GzwfIKE5KZ

— Paul Gotham (@PickinSplinters) January 10, 2019
"We switched from a 1-2-2 to a 1-3-1," Barley explained. "I think that created some turnovers."
Washington finished with a game-high 25 points. It was the sixth time this season the senior guard scored 20 or more points in a game.
After Monroe rallied early in the third, Washington gave the Eagles a lead they did not surrender. The senior guard drilled a 3-pointer off an inbound pass to spark a 12-0 run. The win clinched a regular season sweep of Monroe for East. A year ago, East won just eight games and fell twice to Monroe. With Wednesday's win, the Eagles improved to 12-0 on the season.
"For him to come out and do what he's doing now and being a leader of this team, it is something that was a long time coming," Barley said of his senior guard. "I'm just so happy for him.
"Sometimes, I don't think he gets the recognition he deserves. If you play at East High, this is the Mecca. You're going to have four or five guys averaging double figures. There aren't going to be that many times when you have one person scoring 30 or more. That's how we play as a team, as a group. I'm glad he's my leader."
Harris-Scott topped 20 for the seventh straight game. The junior forward, averaging 21.8 points per game, scored 23 and grabbed eight rebounds.
On a squad, that's goes with a rotation of 10-11 players, Harris-Scott and Washington are the two Barley needs on the floor for offensive production.
"We got a deep team, " Barley noted. "Sometimes that's a gift and a curse. If you got a tight seven or eight that you can play, you don't have to worry about. I usually play 10 or 11, so that's going to impact a lot of scoring averages. Like I told them, if we win, good things will happen."
Tyquil Glasgow paced Monroe with 24 points. The 6-foot-3 senior forward scored 11 in the first quarter including a 3-pointer to give the Redjackets a 21-18 edge after the first eight minutes of play. But foul trouble limited him for the remainder of the first half.
Ty Glasgow cashes in on a second-chance opportunity @JMHSRedjackets pic.twitter.com/rrCNYlgHEF

— Paul Gotham (@PickinSplinters) January 10, 2019
Mateo scored 17 for Monroe (7-4) which lost for the second time in three games after wining five straight.
"We might see them in the sectionals, but I'm happy that this may be our last game against those two guys," Barley said of Glasgow and Mateo. "They're really tough. We got to get tougher. They really pushed us around."
Monroe played without starting guard Fidel Brock.
East played its second game without Seven Magee who, as reported by the Democrat and Chronicle, transferred from the school recently.
"When I had Seven he was my defensive stopper, but Freddie is my guy," Barley said."
Dillon Scott added 16 points for East. Maurice Coney had six, and Kaori Barley had four.
Ketone Kearse and Jamar Williams scored 10 apiece for Monroe. Trevone Glasgow chipped in with four points.