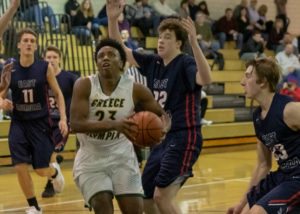 By CAITLIN McCLARE
ROCHESTER, N.Y. — Patrick Piampiano kept Penfield competitive in its split week while Griffin Stella lifted Churchville-Chili in its narrow victory over Piampiano and the Patriots. Pittsford Sutherland's Kevin Ryan continued his offensive excellence, topping 20 once again. Greece Olympia's Collin James totaled 46 points in two double-double performances.
Monroe County named the four as Player of the Week (Dec. 31-Jan. 4) for their respective divisions.
Piampiano contributed 19 points in Penfield's 69-57 win over Vertus. He racked up 19 with seven buckets from the field, three behind the 3-point arc, and two at the charity line. The senior guard also pulled down five rebounds and dished five assists. Two days later, Penfield lost by two points at Churchville-Chili. Piampiano helped keep the Patriots on Churchville-Chili's heels with 16 points, eight rebounds, four assists, and seven deflections. He shot 5-for-12 from the floor, including 3-for-7 from behind the 3-point arc and 3-for-4 from the line. Piampiano and the Patriots tip off at Webster Schroeder at 7:15 p.m. on Friday, Jan. 11.
VIEW MORE JENNIFER LAEMLIN PHOTOS HERE.
Churchville-Chili pulled out a 52-50 home win over Penfield, and the Saints' six-foot-three junior had a key part in it. Stella flirted with a double-double, contributing 15 points and nine rebounds. He remained a threat within field goal range, dropping seven of his 11 attempts from inside the 3-point arc. Stella also played a crucial part on defense. Apart from his nine rebounds, he blocked two shots and became pivotal in the two-point contest. The Saints face Victor on Blue Devils' territory on Wednesday, Jan. 9.
Sutherland's 6-foot-6 senior dropped 23 in the squad's three-point loss to Rush-Henrietta two weeks ago. Last week, Ryan did it again, except this time the Knights finished victorious. READ MORE. In the 56-50 win at Eastridge, Ryan scored 23 for the second consecutive game and marked his fourth 20+ point performance this season. He drained 11 of his 18 attempts from the field and grabbed ten boards. Ryan and the Knights (5-4) are back home on Wednesday, Jan. 9, for the first time in three weeks for a 7:15 tip against Greece Odyssey.
James topped 20 points twice, while securing double-digit boards, in a split week for Olympia. In its 91-70 win, James scored 24 and pulled down 13 rebounds. The sophomore followed up that performance with 22 points and 12 rebounds in Olympia's 88-59 loss to Greece Athena. On the week, he shot 19-for-21 from the field and connected on his only 3-point attempt.  He also converted five times from the charity stripe. The six-foot-three forward got up on defense, swatting ten shots and grabbing 25 rebounds during the week. Olympia is set to face RCAC's School of the Arts on Monday, Jan. 7, at home.
| | | | | | | | | | |
| --- | --- | --- | --- | --- | --- | --- | --- | --- | --- |
| | | | | Overall | | | | | |
| Monroe County I | CL | W | L | W | L | PF Avg | PA Avg | Strk | GP |
| Hilton | AA | 3 | 0 | 7 | 0 | 73.43 | 53.86 | W7 | 7 |
| Fairport | AA | 3 | 0 | 6 | 3 | 64.33 | 56.89 | L2 | 9 |
| Rush-Henrietta | AA | 2 | 1 | 6 | 3 | 56.22 | 56.44 | L1 | 9 |
| Webster Schroeder | AA | 1 | 2 | 2 | 6 | 61.25 | 69.13 | L5 | 8 |
| Victor | AA | 0 | 3 | 2 | 7 | 58.67 | 61.56 | L2 | 9 |
| Penfield | AA | 0 | 3 | 3 | 7 | 54.20 | 58.50 | L1 | 10 |
| | | | | |
| --- | --- | --- | --- | --- |
| Scoring Leaders | School | Grade | PPG | GP |
| Hill, T. | Hilton | Jr. | 33.4 | 7 |
| Piampiano, P. | Penfield | Sr. | 17.4 | 10 |
| Caggiano, M. | Victor | Jr. | 15.1 | 9 |
| Monroe, J. | Penfield | Sr. | 15.0 | 10 |
| Starks, A. | Fairport | Sr. | 14.6 | 9 |
| | | | | | | | | | |
| --- | --- | --- | --- | --- | --- | --- | --- | --- | --- |
| | | | | Overall | | | | | |
| Monroe County II | CL | W | L | W | L | PF Avg | PA Avg | Strk | GP |
| Webster Thomas | AA | 3 | 0 | 6 | 3 | 64.00 | 61.89 | W1 | 9 |
| Gates-Chili | AA | 2 | 1 | 8 | 2 | 63.90 | 56.40 | W2 | 10 |
| Irondequoit | A1 | 2 | 1 | 6 | 1 | 64.14 | 47.43 | W2 | 7 |
| Churchville-Chili | A1 | 1 | 1 | 4 | 3 | 66.29 | 58.29 | W1 | 7 |
| Spencerport | A1 | 0 | 3 | 2 | 7 | 49.00 | 57.11 | L5 | 9 |
| Canandaigua | A1 | 0 | 2 | 0 | 10 | 51.30 | 71.70 | L10 | 10 |
| | | | | |
| --- | --- | --- | --- | --- |
| Scoring Leaders | School | Grade | PPG | GP |
| Mason, A. | Thomas | Jr. | 26.2 | 9 |
| Slack, K. | G-C | Sr. | 19.5 | 10 |
| Thomas, P. | Iron. | Sr. | 17.8 | 7 |
| Williams, A. | G-C | So. | 14.7 | 10 |
| Stella, G. | C-C | Jr. | 14.6 | 7 |
| | | | | | | | | | |
| --- | --- | --- | --- | --- | --- | --- | --- | --- | --- |
| | | | | Overall | | | | | |
| Monroe County III | CL | W | L | W | L | PF Avg | PA Avg | Strk | GP |
| Pittsford-Mendon | A1 | 3 | 0 | 6 | 0 | 77.33 | 54.50 | W6 | 6 |
| Brockport | A1 | 3 | 1 | 6 | 3 | 64.56 | 61.00 | L1 | 9 |
| Greece Athena | A1 | 2 | 1 | 9 | 2 | 65.55 | 54.36 | W2 | 11 |
| Pittsford Sutherland | A2 | 1 | 2 | 5 | 4 | 58.22 | 51.89 | W1 | 9 |
| Brighton | A1 | 1 | 3 | 3 | 4 | 57.00 | 63.43 | W2 | 7 |
| Greece Arcadia | A1 | 0 | 3 | 0 | 9 | 39.22 | 67.78 | L9 | 9 |
| | | | | |
| --- | --- | --- | --- | --- |
| Scoring Leaders | School | Grade | PPG | GP |
| Harrington, M. | Mendon | Sr. | 19.3 | 6 |
| Ryan, K. | Sutherland | Sr. | 18.8 | 9 |
| Council, M. | Athena | Jr. | 18.7 | 11 |
| Reaves, K. | Athena | Sr. | 16.8 | 11 |
| Falter, J. | Brighton | Sr. | 15.0 | 5 |
| | | | | | | | | | |
| --- | --- | --- | --- | --- | --- | --- | --- | --- | --- |
| | | | | Overall | | | | | |
| Monroe County IV | CL | W | L | W | L | PF Avg | PA Avg | Strk | GP |
| Greece Odyssey | B1 | 3 | 0 | 9 | 1 | 70.00 | 52.50 | W5 | 10 |
| Honeoye Falls-Lima | A2 | 2 | 1 | 5 | 4 | 54.33 | 57.78 | L3 | 9 |
| Eastridge | A1 | 1 | 1 | 4 | 5 | 66.22 | 66.44 | L1 | 9 |
| Batavia | B1 | 0 | 2 | 3 | 4 | 55.57 | 49.71 | W3 | 7 |
| Greece Olympia | B1 | 0 | 2 | 4 | 3 | 76.14 | 66.14 | L1 | 7 |
| | | | | |
| --- | --- | --- | --- | --- |
| Scoring Leaders | School | Grade | PPG | GP |
| Jung, J. | Olympia | Sr. | 22.1 | 7 |
| McFollins, M. | Batavia | Sr. | 20.5 | 4 |
| James, C. | Olympia | So. | 20.1 | 7 |
| Hartsfield, J. | Odyssey | Jr. | 15.9 | 10 |
| Chamberlain, T. | HF-L | Sr. | 15.3 | 9 |
| | | | |
| --- | --- | --- | --- |
| Section V Career Active Scoring Leaders | School | Yr. | Career Points |
| Miles Brown | Northstar | Sr. | 2,538 |
| Adam Enders | Belfast | Sr. | 2,088 |
| LaDre Stanford | Avoca | Sr. | 1,547 |
| Justice Smith | Lyons | Sr. | 1,545 |
| Robert Davis | Wilson | Sr. | 1,450 |
| Keith Slack | Gates-Chili | Sr. | 1,417 |
| Mason Putnam | Prattsburgh | Jr. | 1,299 |
| Jakhi Lucas | UPrep | Sr. | 1,240 |
| Daniel Ames | Addison | Sr. | 1,088 |
| Jiahmere Mitchell | NE Douglass | Sr. | 1,082 |
| Chaz Washington | East | Sr. | 1,044 |
| Rondell Watson | Leadership | Sr. | 1,014 |