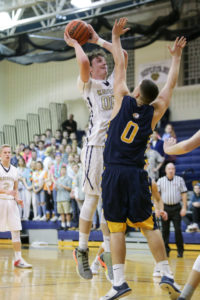 By CHUCKIE MAGGIO
ROCHESTER, N.Y. — John Nally was happy with his Pittsford Sutherland Knights after their road win at Eastridge on Friday night. His kids, who excitedly ran over to hug him during his postgame interview, were just happy to see their dad.
There were plenty of smiles on the Sutherland side after the Knights improved to 5-4 with a 56-50 victory. A squad that has alternated wins and losses all season had the look of a team that could start to string some wins together.
The Knights were the bigger team and took full advantage of their size, led by 6-foot-6 forward Kevin Ryan. Ryan scored 23 points to lead all scorers, his second straight 23-point game and fourth game with 20 or more points this season. The big man's buckets were timely, too: five of his 11 made field goals gave Sutherland the lead.
When Pittsford wasn't feeding its premier post player, it saw success from both three-point land and the free throw line. The Knights got five three-pointers to fall, three by senior John Luther and two by senior Matt Panara. Sutherland made nine free throws, five of them coming in the fourth quarter.
Luther scored 11 points, perhaps none bigger than a dagger three-pointer to give the Knights a 52-46 lead in the last few minutes. Panara added nine points, including three free throws. Junior Ben DiGiovanni also recorded nine points.
VIEW MORE CHRISTOPHER CECERE PHOTOS HERE.
"We've got some different pieces," Nally said. "Our size is obviously our strength; Kevin's an AGR-type kid and we go to him and run most of our stuff through him. But we had a couple guys like Panara tonight and John Luther, who had to stick some threes. That obviously helps create some room inside for Kevin to operate."
The seesaw game featured six ties and 14 lead changes, with Eastridge making plenty of plays to stay in it. Jalen Rose Hannah led the Lancers with 15 points, including three of the team's four baskets in the fourth quarter. Terrance Reid scored nine points, as did Adrian Rodgers.
Eastridge junior Tony Arnold, who entered the game averaging 16.4 points per game, was held to four points for the third time in the last six games. While Hannah far eclipsed his season average of just under six points and Rodgers slightly improved on his 8.6 points per contest, Arnold and Reid did not meet their normal outputs.
"Going to the zone helped keep them out of the paint, or at least when they got in there, have to deal with some bodies," Nally commented. "So we had to adjust and go a little bit of zone. But we've been pretty decent on our perimeter defense all year… we've been able to guard some of the better guards in the area.
"Matt Panara is a real leader for us on defense. He sets a good tone for us when we're going man-to-man like that. Obviously it's important- if you can guard people, you've got a chance to win."
Sutherland has done an effective job of guarding people, allowing 50 points or fewer in four of its last five games. When Hannah made a shot to cut the Knights' lead to four and a jump ball was called on the ensuing Sutherland possession, giving Eastridge a chance to make it a one-possession game, the Knights stole the inbound pass. Panara made both free throws and Sutherland avoided further trouble.
"This is a tough gym to win in," Nally acknowledged. "Eastridge has got some players, really athletic… I thought we guarded, overall, pretty decent and I thought the rebounding late was really important. We got a couple really important stops, got some boards, and then they had some good execution on a couple plays at the other end."