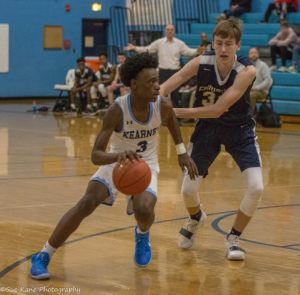 GREECE ODYSSEY (9-1) 63
WELLSVILLE (7-4) 51
Junior Jaden Hartsfield scored 11 of his game high 20 points in the fourth quarter to extend the Greece Odyssey Leopard's (No. 16 NYSSWA Class B) winning streak to five games. Senior Romell Griffin finished with 11 (three 3-pointers) while Senior guards Travon Harper and Ray Colbert both reached double figures with 10 points each. Harper made a perfect 6-of-6 from the free throw line. Senior forward Aric Williams put in six and both Junior guard Korey Canton and Junior forward Dylan Kolmetz knocked down a field goal from beyond the three-point arc. Max Jusianac paced the Wellsville Lions (No. 11 NYSSWA Class B) with 16. Colin Cook and Alec Acompra each finished with 12 points apiece. Aiden Cook and Joe Tronetti both had five while Jimmy McKinley added one to round out the scoring for the Lions.
GREECE ATHENA (9-2) 51
HORSEHEADS (IV) 44
Greece Athena top scorers Melvin Council Jr. and  Kelvin Reaves Jr. continue to get it done as both finished with 15 points. They combined for 11 of the Trojan's 12 fourth quarter points after trailing by one entering the final frame. Council leads all scorers in Monroe County III, averaging 18.9 ppg, and Reaves is fifth, averaging 16.7 ppg. Junior guard DeAndre Newsome added 12 points, Senior Johnny Salone scored seven and sophomore forward Austin Brown had two to round out the scoring for Greece Athena. Lewis Clearwater led Horseheads with 15 points and Grayson Woodhouse added 12.
VIEW MORE SUE KANE PHOTOS HERE. 
VICTOR (2-7) 59
LIVERPOOL (2-1) 60
Three Liverpool Warriors scored in double figures to secure a come from behind win. Top scorers freshman Jacob Works (15 points), senior Alex Ruston (13 pts) and junior Kyle Caves (10 pts) combined for 15 of the Warrior's 17 fourth quarter points after trailing 47-42 at the end of the third. Seniors Ryan Valentine and Matt Senecal both finished with six points, Senior Jake Piseno added four and Junior Romeo Clarke had three to round out the scoring for Liverpool. Junior captain Matt Caggiano led the Victor Blue Devils with 11 points. Caggiano is the third highest scorer in Monroe County I, averaging 15.4 ppg. Will Stone, Will Tehan and sophomore center Connor Williams all finished with 10. Senior captain Jeremy Summerson added eight points while senior guard Jon Crowley scored seven. Jaxen Roth knocked down a three pointer and freshman forward Phil Nwuguo had two for Victor.
MEKEEL CHRISTIAN (II) 76
BISHOP KEARNEY (4-5) 61
CANISIUS (6-3) 61
AQUINAS (2-7) 76
Justin Johnson scored 19 and led four in double figures. READ MORE.
DESTINY CHRISTIAN (0-6) 56
PRATTSBURGH (9-0) 78
Junior guard Mason Putnam reached double digits in the first and third quarter in a 38-point effort to lead the scoring for the Prattsburgh Vikings (No. 3 NYSSWA Class D). Putnam, who finished with four 3-pointers, scored 16 of the Vikings' 21 first-quarter points. Sophomore forward James Crowder put in the other five, a part of his 15-points, 13-rebound double-double. Crowder also had five assists, three steals and three blocks. Junior Ammon Anderson added nine points and Sophomore Caleb Clements had eight. Junior guard Chris Hively and Henry DeVoe both scored four points to complete the scoring for the Vikings. Three Destiny Christian players scored 14 points (Sophomore center Mark Hart; Sophomore guard Leda Marrassa; Senior guard Juan Martinez). Sophomore forward Samuel Downing added 11 and Sophomore guard Ross Downing finished with three.
ALBION (3-5) 46
LEROY (5-4) 56
EDISON TECH (1-12) 00
CICERO NORTH SYRACUSE (0-0) 00
CUBA-RUSHFORD (4-2) 00
CANISTEO-GREENWOOD (4-6) 00