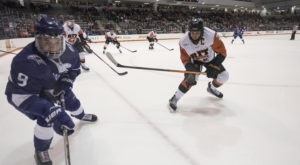 By KEVIN OKLOBZIJA
That Adam Brubacher provided Rochester Institute of Technology with a last-second, 2-1 victory over Niagara University on Saturday by scoring a power-play goal was certainly no surprise.
Since his arrival for the 2016-17 season, the hard-shooting defenseman has been a key component at the point on the Tigers' power play.
But his goal that broke a 1-1 tie on Saturday wasn't drawn up on the coaches' grease board or even used in NHL '19 on Xbox or PlayStation.
That's because there's really no way it would turn into a goal.
Except on Saturday night at the Gene Polisseni Center.
The old backhand out of the corner, off defenseman's stick, up in the air over the goalie's left leg and arm, and drop into the net with 1.4 seconds left on the clock.
Just like we drew up, said no one, ever.
"Sometimes you get lucky and the hockey gods are with you," RIT goalie Logan Drackett said after the Tigers evened their record at 6-6-2 in Atlantic Hockey and 8-8-2 overall.
Brubacher, who now has 8 goals in 18 games this season, wasn't really even shooting the puck. "I heard someone yell for it," he said.
So with his back toward the net, he flicked the puck toward the net. Niagara defenseman Jack Zielinski attempted to knock the puck down and steer to safely away but it instead deflected up off the blade of his stick and into the net.
"I just tried to throw it to the net," Brubacher said. "I thought we were going to overtime and then I saw it go up in the air and into the net."
The victory gave RIT a 2-0-1 record against the Purple Eagles in their three-game "series" that book-ended the holiday break. The Tigers defeated Niagara 8-4 on Dec. 15 then gained a 4-4 tie on Friday night in Niagara County.
"We talked about moving up in the standings and we had an opportunity to do so with the three-game series against Niagara," Brubacher said. "Getting five out of six points helped us do that."
Abbott Girduckis scored RIT's first goal, providing a 1-0 lead at 6:26 of the second period, and Niagara drew even when Niko Kovachis scored a power-play goal 8:24 into the third period.
At that point, Niagara probably should have been ahead by a goal or two, actually. The Purple Eagles outshot RIT 13-7 in the first period, thanks largely to four power plays. Then in the final 5:17 of the second period, they had 3-on-2, 2-on-1 and 3-on-1 fastbreaks and couldn't beat Drackett.
"For me, closing out periods is something I really focus on and I'm happy I got a couple saves," he said.
When Niagara finally did score, there certainly could have been the feel of "Here we go again." Strong third periods haven't been a forte of the Tigers.
"I can't tell you how many games we've been leading with 10 minutes left and we managed to give it up," coach Wayne Wilson said. "We spent a lot of time (in recent days and weeks) talking about finishing our games better.
"This gives us confidence as we go into the grind of the schedule and no weekends off."
RIT plays the next two weekends on the road, at American International College next week and at Bentley on Jan. 18-19 before coming home for a pair against Army on Jan. 25-26.