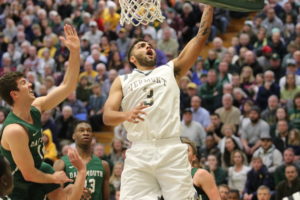 By WOLVERIDGE LANGAN
BURLINGTON, VT — Catching the ball at the top of the three-point arc, Anthony Lamb put his foot on the gas, zipping past a screen before extending a right-handed layup over the outstretched arms of a Dartmouth defender. His ninth point of the game, also the 1,000 of his college basketball career, personified what Lamb strives for in his play every night.
"It's every rep in practice, everytime that you're feeling tired or trying to push through and every little thing you just gotta keep working on and keep developing, keep focusing on," Lamb said. "It's trying to push through those little things that make the game easier."
Lamb made those little things count in a University of Vermont (10-4) win over Dartmouth (9-7), 73-59, Wednesday night at Patrick Gymnasium. The junior forward racked up 21 points on 9-of-14 shooting, grabbed 14 rebounds for the double-double while sending back six shots. He also dished out two assists, recorded one steal and sunk UVM's only three-pointer of the game.
"It makes it look better when I'm hustling out there because I have a little bit more in the tank because I pushed through in practice," Lamb said. "It's all my efforts adding up and really pushing myself forward in practice and through the hard reps that can get me to where I am right now."
From tip-off, Lamb's hustle and gritty play was evident. His first contribution? A well set screen to help senior guard Ernie Duncan knock down a midrange jumper to get the scoring started.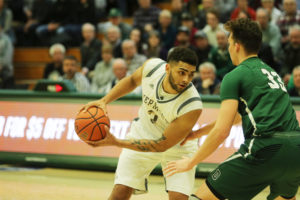 Work on the defensive glass by Lamb led the Catamounts to multiple scoring chances early on before he finally struck from the left elbow for two. Within the next two minutes, he came streaking down the lane and converted a left-handed layup through contact for the and-1. Following his converted free throw, UVM held a 10-5 lead.
"He continues to want to get better and continues to work at it," UVM head coach John Becker said. "When your best player is your hardest practicing player, your hardest workout guy and your hardest player in games, that's a good place to start with."
His effort showed after collecting another defensive rebound in heavy traffic under the rim and then continued with a contested jumper off a pivot in the post.
On the very next play, Lamb flew through the air and used both hands to deny Dartmouth sophomore forward Chris Knight. The block was a sign of things to come, as Lamb picked up two more in the first half, including a chasedown block on junior forward Will Emery to keep the Catamount's lead at four. 
Lamb hustles for the huge chasedown block to preserve the lead pic.twitter.com/OA7sbkqQLT

— Wolveridge Langan (@wtlangan) January 3, 2019
Flying over screens, active hands in passing lines and diving for loose balls, Lamb appeared to be everywhere on the defensive end. His offensive spurt came late in the first half, as his 1,00th point layup with 5:44 remaining put UVM up 28-22.

Lamb continues to get done inside, he's got nine points as the Catamounts lead 30-22 pic.twitter.com/91iL3KCGkB

— Wolveridge Langan (@wtlangan) January 3, 2019
After assisting on an Isaiah Moll layup, Lamb took the ball under the basket during one of the Catamounts' final few possessions. A little hesitation step left the Dartmouth defender reeling, and he calmly slotted in a layup to give UVM a 36-28 lead at half.
"It's [Lamb's game] grown incredibly," Becker said. "He's been everything for us."
Lamb showed that growth within the first minute of the second half, finding space behind the three-point line and calmly burying the shot. His distance shooting, not originally a staple of his game, continues to improve as he's taking—and making—more threes than any previous point in his career.
He hit a midrange jumper four minutes later, and another pivot jumper two minutes after that. Knocking down a foul shot and putting back his own miss midway through the half completed Lamb's 21 point night.

Lamb fakes out the D with a pivot, hits the jumper giving him 18 points with 13:30 left in the second pic.twitter.com/E3CvZ1fJ8A

— Wolveridge Langan (@wtlangan) January 3, 2019
He never went away on the defensive end however, gobbling up rebounds and making Chris Knight uncomfortable. The leading scorer for Dartmouth going into the game, Knight only shot 33 percent on 8-of-24 shooting.
Isaiah Moll also scored in double figures for UVM with 18, sophomore guard Ben Shungu added 10 while sophomore guard Stef Smith and freshman guard Robin Duncan finished with nine and eight respectively. Senior guard Ernie Duncan had four and senior forward Samuel Dingba scored three.
Knight led the Dartmouth Big Green with 19 points, junior guard Brendan Barry added 13 and junior guard Ian Sistare finished with 11. Junior guard James Foye had seven and Will Emery scored three. Freshman guard Wes Slajchert, sophomore guard Aaryn Rai and sophomore forward Adrease Jackson all put in two to round out the scoring for Dartmouth.
A two-time Section Five Class A1 Tournament MVP and four-time All Tournament member, Lamb led Greece Athena, under then head coach Jim Johnson, to three straight sectional titles. The Trojans advanced to the 2015 NYSPHSAA Class A title game where they fell to Scotia-Glenville (II), 54-49.
Lamb and UVM play again on Saturday, Jan. 5th, at University of Albany for their first America East  game of the season.