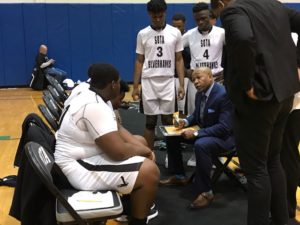 BY CAITLIN McCLARE
EDISON TECH (1-10) 53
EAST (10-0) 94
On a night when Chaz Washington reached a career milestone, Dyllon Scott and Zack Harris-Scott combined for 17 second-quarter points as East (No. 11 NYSSWA Class A) turned a one-possession game after eight minutes into a double-digit advantage at halftime. Dyllon Scott connected twice behind the arc and scored 11 in the stanza. Zack Harris-Scott added six of his game-high 23 points to lead East to a 42-20 lead going into the locker room. Harris-Scott's 23-point night marked his fifth consecutive 20+ point game. Washington finished 4-for-4 at the free throw line and drained two threes on his way to 22 points on the night and 1,000 points for his career. Dyllon Scott scored 21. Edison's Natrell Colbert scored eight points in the first quarter to keep the Inventors close at 18-15. Tahaj Washington led Edison with 11 points, eight in the fourth quarter. Other scorers: East – Damani Barley (12), Maurice Coney (10), Jordan Randolph (3), Seven McGee (3). Edison Tech – Nahjhime Kirton (9), Torrean Lewis (6), Edgar Bass (5), Jawaun Holt (4), Kevin Jackson (4), Jordan Leslie (3), Kevis Heard (2).
Congrats to Chaz Washington for surpassing the 1,000 career point total tonight . @GoEastEagles @EastEpo #greatplayerevenbetterperson @PickinSplinters @jjDandC @StevieJ_ROC @carleenFpierce @DrNelms pic.twitter.com/JPEoMXcV0I

— East Athletics (@GoEastEagles) January 3, 2019
AVON (8-1) 90
SCHOOL OF THE ARTS (5-4) 94 2OT
In a game of dramatic runs, Ke'Vion Mitchell's exclamation point proved to be the difference. Trailing by one with less than 15 seconds remaining on the clock, the sophomore guard drilled a 3-pointer from the right side of the floor. READ MORE.
PENFIELD (3-6) 63
VERTUS (0-7) 51
WATERLOO (6-4) 70
GREECE OLYMPIA (4-2) 91
Olympia took full advantage of the three ball as the Spartans hit 10 3-pointers in the win. Senior Jeff Jung connected six times from long range and finished with 30 points on the night. Sophomore Collin James hit a trio of treys to help the Spartans get out to a nine-point first quarter lead. Senior Kris Perez also contributed 15 points while hitting three 3-pointers.  Wesley Elmore (7), Ehnoc Tossah (6), Darnell Williams (4), Tre Sharpton Clark (2) and Latrell Smith who banked in a 3 at the final buzzer rounded out the scoring for Olympia. Waterloo was lead Derek and Kyle Slywka who had 18 and 16. The Indians offensive was rounded out by 11 points from Julian Ruiz, Michael Hubbard (8), Nicolas Champion (6), JaiQuon Lewis (4), John Lawerence (3) and 2 points from both Ethan Hunt and Joel Kraft.
CORNING 38
WELLSVILLE (7-3) 49
NAPLES (7-1) 53
PRATTSBURGH (8-0) 78
Prattsburgh (No. 3 NYSSWA Class D) remains undefeated after taking down the previously undefeated Naples squad. Prattsburgh led 17-8 at the end of the first quarter. Mason Putnam scored ten points in the first and tacked on 15 more in the second to give Prattsburgh a solid 41-26 lead at the half. The Vikings continued to add on in the third quarter with 56 points, while keeping the Big Green quiet at 38 points. Putnam remained unstoppable throughout the entire game, despite facing a box and one defense from Naples. The junior scored 46 points, breaking a record for the most points ever scored against a Naples boys' basketball team. He dropped six three-point buckets and went 13-for-15 at the line. Sophomore James Crowder finished with a triple-double, (11 points/ 19 rebounds/12 assists). For Naples, Cole Rathbun led with 23 points and seven rebounds. Nick Green and Ben Green followed, scoring ten a piece. Other scorers: Prattsburgh – Ammon Anderson (10), Caleb Clements (5), Chris Hively (4), Sam Byington (2). Naples – Ben Gordon (6), Tyler Northrop (2), Nick Clearman (2).
KESHEQUA (2-8) 46
BATH-HAVERLING (2-6) 62
The Indians jumped out to a 15-12 lead after one quarter on the strength of seven points from Cameron Chestnut, but Haverling responded with a 19 point second quarter to take a 31-22 lead in to halftime. READ MORE.
DANSVILLE (4-5) 51
MOUNT MORRIS (6-3) 71
PORT ALLEGANY 76
BOLIVAR-RICHBURG (4-4) 62