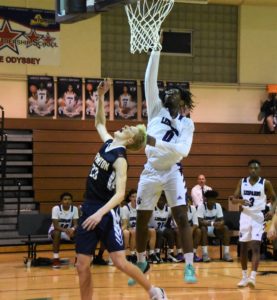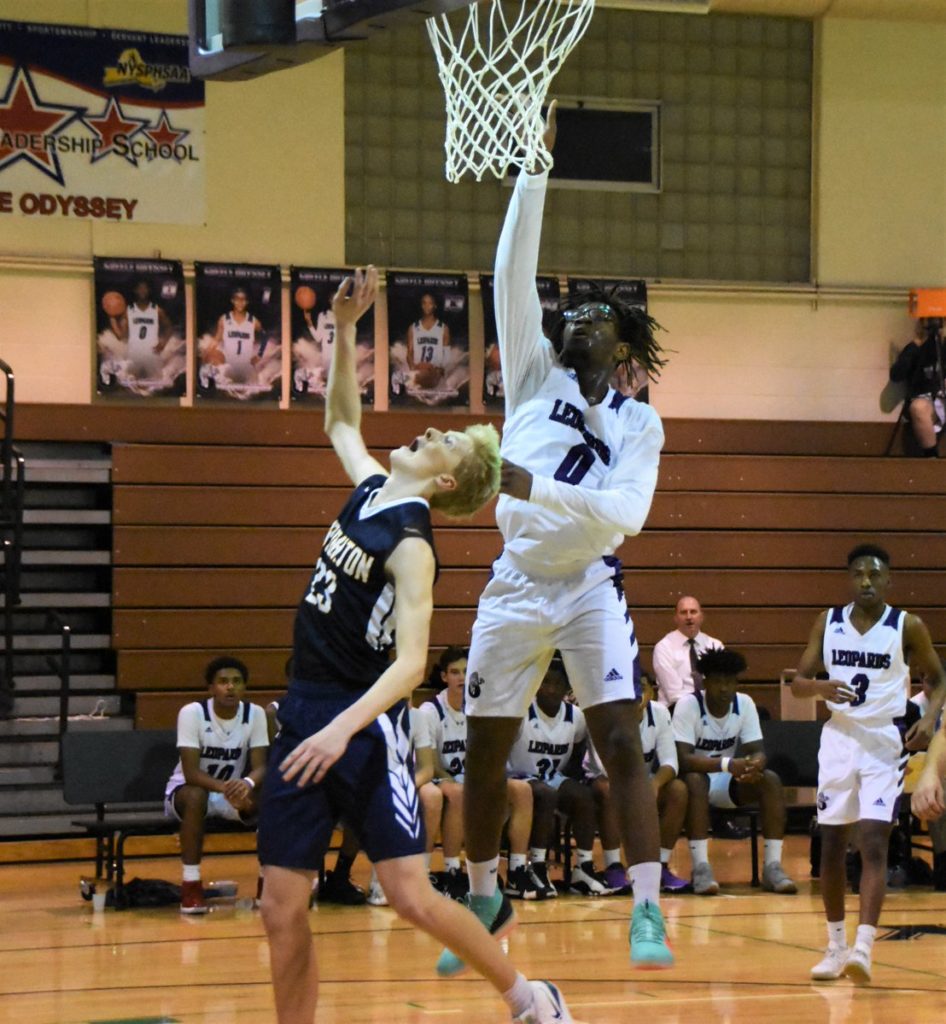 By CAITLIN McCLARE
Hilton's Tah'Jae Hill combined for 66 points in his home holiday tournament. Adam Williams paced Gates-Chili in a split week at the Rush-Henrietta holiday tournament. Connor Krapf helped Pittsford Mendon remain undefeated with its win over Webster Thomas. Aric Williams stuffed the stat sheet in Greece Odyssey's two wins.
The four were named Monroe County's Player of the Week (Dec. 24-28) in their respective divisions.
Monroe County's top scorer landed the Division I Player of the Week honors for the second time this season after adding up 66 points in Hilton's two wins. After the 2018 Hilton Holiday Hall of Fame tournament, Hilton remains undefeated and Hill appears unstoppable. Against Bishop Kearney, Hill went 10-for-12 at the free throw line en route to a game-high 31 points. The next day, Hill topped his 31 points with 35 in Hilton's 71-60 win over Athena. Hill was a perfect 12-for-12 at the line. Hilton (6-0) is scheduled to tip off at Canandaigua on Jan. 4 at 7:15 p.m.
Gates-Chili finished the Rush-Henrietta holiday tournament 1-1 with a 56-40 loss against Pittsford Sutherland and a 79-57 win over Edison Tech. Adam Williams averaged 14.5 points per game and 8.5 rebounds per game this week. The six-foot-three sophomore landed five out of nine shots from the line, shooting 55 percent.  Williams and the Spartans (7-2) resume regular season play on Jan. 4 against Webster Schroeder.
Mendon moved to 5-0 with its 79-46 win over Webster Thomas after the holiday break, where Krapf played a huge part on both sides of the ball in his 25 total minutes. The senior guard drained six of his 11 attempts, three of which came from behind the arc. Krapf also dished six assists and pulled down six rebounds. Krapf and his NYSSWA's No. 6 Vikings look to continue their streak at Honeoye Falls-Lima on Jan. 4.
There was nothing Aric Williams couldn't do this week in Greece Odyssey's wins over Greece Arcadia and Waterloo. The Leopards defeated Arcadia 86-44, while Williams went 6-for-8 from the field. The senior totaled 13 points, pulled down four rebounds, grabbed two steals, and blocked one. The senior forward one-upped himself the following day in Odyssey's 67-54 win over Waterloo with a team-high 17 points, going 8-for-10 from the field, grabbing seven boards, two steals, and blocking three shots. Odyssey faces Brockport at home on Jan. 4.
| | | | | | | | | |
| --- | --- | --- | --- | --- | --- | --- | --- | --- |
| | | | | Overall | | | | |
| Monroe County I | CL | W | L | W | L | PF Avg | PA Avg | Strk |
| Hilton | AA | 3 | 0 | 6 | 0 | 72.33 | 55.67 | W6 |
| Fairport | AA | 3 | 0 | 6 | 3 | 64.33 | 56.89 | L2 |
| Rush-Henrietta | AA | 2 | 1 | 6 | 2 | 58.38 | 55.75 | W6 |
| Webster Schroeder | AA | 1 | 2 | 2 | 5 | 60.86 | 68.29 | L4 |
| Victor | AA | 0 | 3 | 2 | 5 | 57.86 | 61.14 | W1 |
| Penfield | AA | 0 | 3 | 2 | 6 | 52.88 | 59.50 | W1 |
| | | | | |
| --- | --- | --- | --- | --- |
| Scoring Leaders | School | Grade | PPG | GP |
| Hill, T. | Hilton | Jr. | 33.5 | 6 |
| Piampiano, P. | Penfield | Sr. | 17.3 | 8 |
| Caggiano, M. | Victor | Jr. | 15.4 | 7 |
| Plummer, J. | Schroeder | Jr. | 15.2 | 7 |
| Carr, M. | Hilton | Sr. | 15.2 | 6 |
| | | | | | | | | |
| --- | --- | --- | --- | --- | --- | --- | --- | --- |
| | | | | Overall | | | | |
| Monroe County II | CL | W | L | W | L | PF Avg | PA Avg | Strk |
| Webster Thomas | AA | 3 | 0 | 5 | 3 | 63.75 | 61.63 | L1 |
| Gates-Chili | AA | 2 | 1 | 7 | 2 | 62.67 | 55.56 | W1 |
| Irondequoit | A1 | 2 | 1 | 5 | 1 | 64.50 | 48.83 | W1 |
| Churchville-Chili | A1 | 1 | 1 | 3 | 3 | 68.67 | 59.67 | L1 |
| Spencerport | A1 | 0 | 3 | 2 | 6 | 50.25 | 59.00 | L4 |
| Canandaigua | A1 | 0 | 2 | 0 | 9 | 52.22 | 70.78 | L9 |
| | | | | |
| --- | --- | --- | --- | --- |
| Scoring Leaders | School | Grade | PPG | GP |
| Mason, A. | Thomas | Jr. | 25.6 | 8 |
| Thomas, P. | Iron. | Sr. | 18.8 | 6 |
| Slack, K. | G-C | Sr. | 18.1 | 9 |
| Stella, G. | C-C | Jr. | 14.5 | 6 |
| Williams, A. | G-C | So. | 14.3 | 9 |
| | | | | | | | | |
| --- | --- | --- | --- | --- | --- | --- | --- | --- |
| | | | | Overall | | | | |
| Monroe County III | CL | W | L | W | L | PF Avg | PA Avg | Strk |
| Pittsford-Mendon | A1 | 3 | 0 | 5 | 0 | 78.80 | 57.80 | W5 |
| Brockport | A1 | 3 | 1 | 6 | 2 | 65.25 | 58.00 | W4 |
| Greece Athena | A1 | 2 | 1 | 7 | 2 | 64.67 | 55.00 | L1 |
| Pittsford Sutherland | A2 | 1 | 2 | 4 | 4 | 58.50 | 52.13 | L1 |
| Brighton | A1 | 1 | 3 | 2 | 4 | 59.50 | 67.50 | W1 |
| Greece Arcadia | A1 | 0 | 3 | 0 | 8 | 39.75 | 67.13 | L8 |
| | | | | |
| --- | --- | --- | --- | --- |
| Scoring Leaders | School | Grade | PPG | GP |
| Council, M. | Athena | Jr. | 18.9 | 9 |
| Ryan, K. | Sutherland | Sr. | 18.4 | 8 |
| Harrington, M. | Mendon | Sr. | 17.8 | 5 |
| Falter, J. | Brighton | | 17.3 | 4 |
| Reaves, K. | Athena | Sr. | 16.7 | 9 |
| | | | | | | | | |
| --- | --- | --- | --- | --- | --- | --- | --- | --- |
| | | | | Overall | | | | |
| Monroe County IV | CL | W | L | W | L | PF Avg | PA Avg | Strk |
| Greece Odyssey | B1 | 3 | 0 | 7 | 1 | 69.00 | 51.88 | W3 |
| Honeoye Falls-Lima | A2 | 2 | 1 | 5 | 3 | 56.38 | 56.25 | L2 |
| Eastridge | A1 | 1 | 1 | 4 | 4 | 68.25 | 67.75 | W1 |
| Batavia | B1 | 0 | 2 | 2 | 4 | 52.67 | 52.17 | W2 |
| Greece Olympia | B1 | 0 | 2 | 3 | 2 | 76.60 | 61.00 | W1 |
| | | | | |
| --- | --- | --- | --- | --- |
| Scoring Leaders | School | Grade | PPG | GP |
| Jung, J. | Olympia | Sr. | 22.6 | 5 |
| James, C. | Olympia | So. | 19.0 | 5 |
| McFollins, M. | Batavia | Sr. | 17.6 | 3 |
| Arnold, T. | Eastridge | Jr. | 16.3 | 8 |
| Chamberlain, T. | HF-L | Sr. | 16.3 | 8 |