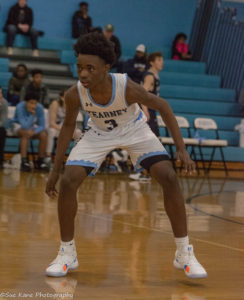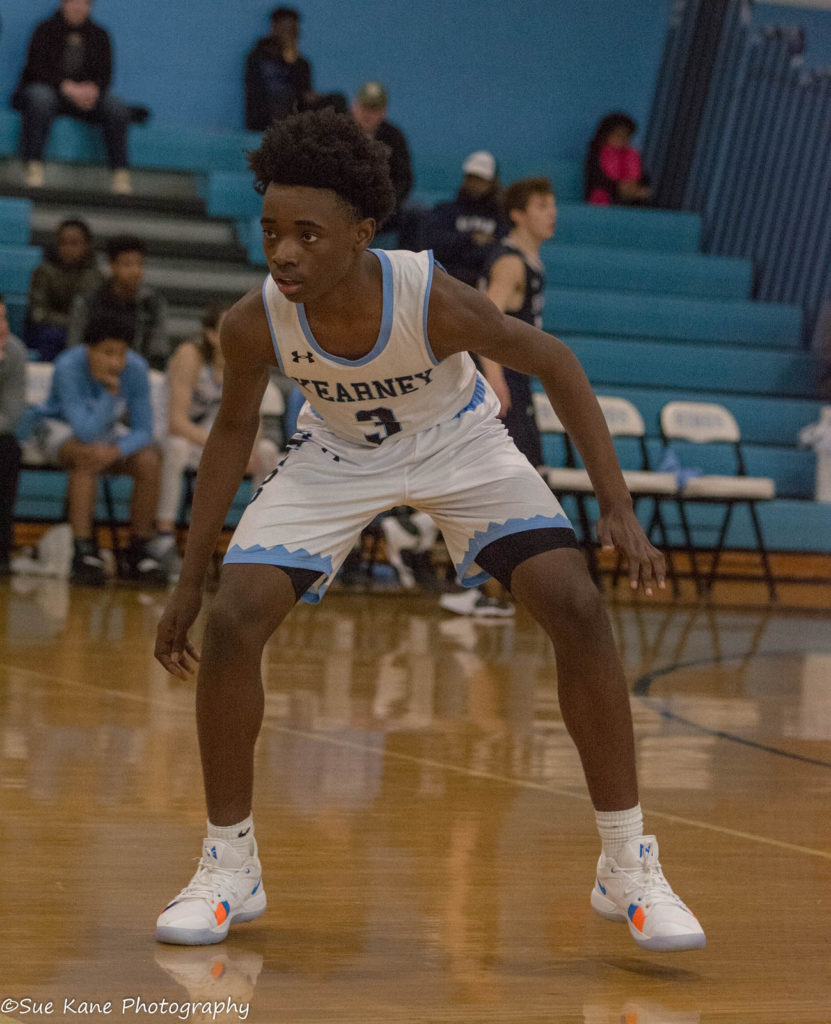 By MATT TRABOLD
TRABS KEEPS TABS 
Key Varsity Newbies Showing They are Grinches No More
The winter holiday times are still upon us, so it makes some sense to refer to new varsity players in Section V boys basketball this season as grinches rather than the usual synonym of inexperienced, green. There are obviously a number of talented and still young underclassmen that also played varsity ball a season ago as a slightly younger underclassman than they are now, but this discussion is whittled down to guys who, this season, are legitimately seeing the floor on a varsity team in this section for the very first go-around.
Five calendar weeks into a scholastic basketball season seems like a pretty good time to check the barometer on how these new guys are acclimating to this level of the sport and to get a good taste at whether or not they will be real contributors come time for postseason play. First off is a totally new student to the school as a whole in Northstar Christian sophomore guard Sean Smith. In the 2018 Bishop Kearney Christmas Showcase, Smith had trouble getting attempts at jumpers to successfully drop through despite a fluid shooting motion. In ballgames so far this season for his Knights against opponents from outside Section V, he has had a lot of success scoring in multitudes luckily. The top aspect of his game at this young stage actually happens to be his on-ball defense prowess. Similar to a gritty veteran player, Smith puts the clamps on opposing offensive players through expertly shuffling his legs right with the running cadence of an opponent and figuratively attaching to the hip of an offensive player through just about every area of the floor. Two contests ago against the elite backcourt of Leadership Academy for Young Men with Rondell Watson and a quartet of other stalwarts, Sean forced multiple shot clock violations and errant passes out of play by the Lions.
That holiday tournament from a couple weeks ago took place on the home floor of another player on this list in 6-foot-3 Bishop Kearney freshman guard Miles Rose. In his first real game as a varsity player, Rose looked a little bit nervous bringing the ball up the floor and trying to score the basketball against Fairport in front of a large and raucous road crowd. More by more in every game since though, Miles has displayed a rise in poise and consequently production – whether quantifiable on a stat sheet or not. He has not been afraid to try to score through contact or use his physical tools on the defensive end, on the baseline or on the break. The freshman is obviously not as tall as his renowned older brother Quinton Rose at the present time, but he still has great height and length for his position. Another of the main ball handlers for the Kings this year, sophomore Wilfredo Sanchez, played on the Eastridge JV squad last season.
.@KearneyBoys Fr. Miles Rose has such a likable personality on the court. Smiles Rose. Do not get it twisted though, he can turn on the eye of the tiger when need be. His older brother is an NBA prospect, but Miles keeps making a bigger and bigger name for himself. • @qrose_3 pic.twitter.com/m1AjjZr8F8

— Matt Trabold (@TrabsMatt) December 20, 2018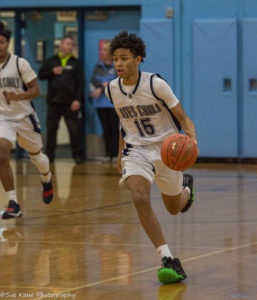 While Miles Rose was at least pulled up to the end of the varsity bench for sectional play last season, 6-foot-1 current Gates-Chili backcourt starter Turner Harris was not listed on either the varsity or JV rosters in this sport at the school last year. His 6-foot-3 forward older brother in Mitchell Harris is in his second season of being in the rotation for Terry Nowden and contributing, but Turner is the one of the pair that is playing a starring role for the Spartans this time through alongside more go-to options Keith Slack and Adam Williams. Turner's rangy limbs allow him to play much bigger than he stands. He has found a lot of success this season slashing to the hoop between defenders. In a couple years when the senior Slack and the sophomore Williams are graduated, do not be surprised if Turner is the no-brainer top option for the program and one of the top options throughout the Rochester area.
If you walked into Charles Finney's early season game at Harley-Allendale Columbia and watched the Falcons warm up before the battle started without any prior knowledge of current eighth-grader Markus Robinson, you probably would have thought that he was an upperclassman transfer due to how developed his body already is. Joe Marchand's program has a few veteran studs back this season in Keegan Ocorr, Xavier Smith and Caleb Anger, but Robinson is helping to make up for the production lost from the recent graduation of record-smashing perimeter sniper Max Harris. Robinson has the shoulders to power to the tin for scoring, but he also exhibits a pretty trustworthy downtown shot for his experience level.
VIEW MORE SUE KANE PHOTOS HERE. 
SLAP YOUR PEEPERS ON THIS FIVER
Greece Athena vs. Eastridge at Hilton High School—Fri., Dec. 28, 4:30 PM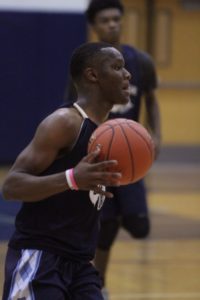 The stout one at Rush-Henrietta Senior High School features Gates-Chili, the host Royal Comets and Pittsford Sutherland, but arguably the best Christmas tournament in this sport in this section this week is this Hilton-hosted offering. Even after somewhat surprisingly being taken to a pair of overtime periods by Greece Olympia two games ago, Eastridge should be considered as part of the description for this event that each team in it is a legitimate sectional title contender this time around. As expected coming into the year, Tony Arnold and Jalen Rose Hannah make up the main duo for Dan Roser and his staff. Arnold is a slasher extraordinaire with an improved mid-range jumper as a wing, while Jalen is a backcourt blur. The speedy guardplay battle in this one between the latter and Greece Athena junior DeAndre Newsome will be fun to watch. While Hannah is not currently as consistent as he was during his great sophomore campaign last season, the depth of these Lancers is starting to build around him to make up for it. Despite being pretty undersized for his position, Terrence Reid valiantly plays a lot of four-man for this squad. He is one of very best smaller frontcourt players in the area these days. Lengthy Vertus Charter transfer Jahmel Demery is gradually seeing his production rise.
Terrence Reid @treidje sealed the deal with that towards very end of the second extra period for an @EastridgeHoops @ERidgeLancers comeback 2OT road win tonight. You cannot fault Kris Perez @Kc_DaPlug of @Olympiabball though because he was near unstoppable in those two OT frames. pic.twitter.com/EorNWeNxl1

— Matt Trabold (@TrabsMatt) December 15, 2018
This absolute unit of a Greece Athena program never seems to skip much of a beat from one season to the next regardless of the star power that graduated the year before. Plus, what a group of senior weapons the program lost the services of following last season behind Nigel Scantlebury, Christian Jones, Ryan Kubanka and Patrick Meisenzahl. The duet of Melvin and Kelvin has made the transition very smooth so far this go-around. Melvin Council, Jr. will definitely boast a backcourt height and length advantage in this matchup. Kelvin Reaves, Jr. is a great piece to throw the rock to in transition, among many other positive court attributes. Mike Setzer and his staff have a scary top eight if you are playing their Trojans. The game of 6-foot-4 sophomore Austin Brown is growing up very quickly through this season.
Bishop Kearney at Hilton—Fri., Dec. 28, 6:30 PM
Some four-team Christmas tournament hosts might schedule a much easier foe for themselves on the first night to better ensure that they will be competing in the title game of their own event later on. Hilton did not take that easy way out. You know Tah-jae Hill. You know Mitchell Carr. It did not take long this campaign though for those guys to get consistently assisted by a reliable supporting cast. Najier Daniels was the more high-profile supplementary big man to Carr last season and coming into this season, but 6-foot-2 Ryan Kurtz deserves plenty of respect himself. In a starting frontcourt role as a junior, Kurtz is never afraid to attack the paint with his lengthiness or swing an eventual hockey assist around the arc. Fellow junior Colin Burkis is one of the most reliable perimeter offense role players in Section V presently. Jack Gombatto can also lace it from downtown, but his main contribution to Troy Prince's group this year is being arguably its top intangibles warrior.
Bishop Kearney has woven a very successful last trio of ballgames coming in, even with a sturdy comeback attempt falling short in the fourth quarter at home against an incredibly complete team in the form of the Long Island alma mater of current Toronto Raptor Danny Green. Even though he plays on this battalion of wowing basketball studs, Aquinas Institute transfer Kidtrell Blocker has thrusted himself to the moniker of the go-to guy for the club. He drops jaws with what he can pull off in literally every facet of a contest. Miles Monchecourt is known well for his offensive exploits of an obscenely pure jumper and acrobatic layups, but keep both eyes on his suffocating defensive timing both blocking opposing shot attempts and getting in opposing passing routes for steals. At least once a game, 6-foot-2 junior guard Michael Gentile is going to blow by his defender for a highlight reel finger roll.
The @KearneyBoys program sure is fun to watch. • @kidtrell_4 @GentileDana pic.twitter.com/sJLjYS0NDJ

— Matt Trabold (@TrabsMatt) December 20, 2018
Northstar Christian vs. Lyons at Geneva High School—Fri., Dec. 28, 6:00 PM
Northstar Christian may have moved up two classifications to Class A2 this season, but these two titans actually played in the Class C state qualifier last year. That night, the Knights took a competitive and dunk-filled tussle. Gone from those now former rosters are Tray Roberts, Matthew Medeiros and Daniel Pickett for Northstar Christian, as well as 6-foot-5 Seth VanBuskirk for Lyons. What JJ Garwood's group did twelve days ago at the 2018 Bishop Kearney Christmas Showcase against a defending Class A sectional top seed in Leadership Academy for Young Men as a program from a school with just 104 students this year was nothing short of jaw-dropping. The Lions made it much more of a game in the fourth quarter, but Miles Brown and his Knights led by multiple tens of points for much of that ballgame. Sophomore guard Sean Smith still needs to loop in some offensive consistency with his scoring explosions here and there, but he is already arguably a top ten on-ball defender in this section. Like Daniel Pickett for the two seasons prior coming into this one, senior Josh Pickett is starting in the middle for Northstar Christian this time through. Josh is an emerging rebounder that helps out a backcourt that rebounds well.
Most people in Section V say that Miles Brown is the top player in Section V these days. 6-foot-5 Lyons senior point forward Justice Smith is not that far behind. Like Northstar Christian currently, the Lions currently sport an undefeated record. Yes, six of their seven victories thus far have come against Class C1 opposition, but Lyons also downed a stout Class A2 program in Wilson Magnet a few weeks back. Dean Schott II's group is not to be trifled with, no matter what classification you hail from. Justice's 6-foot-3 sophomore younger brother Justin Smith was mainly an on-ball defense role player last year, but now he can score in bunches on top of that.
Pittsford Sutherland at Rush-Henrietta—Fri., Dec. 28, 6:15 PM
To say that Pittsford Sutherland did not play that well in the first half of its 2018 Rainbow Classic matchup with rival Pittsford Mendon last Friday would be an understatement. The Vikings dominated over those first sixteen minutes before going into the halftime break with a lead of thirteen points after a couple quick Sutherland buckets inside the final minute of the second quarter made it look closer than it actually was. Even though the Knights largely saved face against Pittsford Mendon there by barely losing in the end after a massive third quarter comeback, they must have still been angry from the aforementioned first half of play going into last night against Gates-Chili. It would not be an enormous stretch to say that plenty of Section V boys basketball fans expected the Spartans to take that one. The top option for John Nally and his staff for a couple seasons now in 6-foot-6 Kevin Ryan bounced back in a major way against Gates-Chili in the semifinals of this Christmas tournament at Rush-Henrietta with a game-high eighteen points. Even when a game is not going as planned for Pittsford Sutherland, backcourt captain Matt Panara can be counted upon to hit big jumpers and not hang his head in despair.
Rush-Henrietta is another squad experiencing a ton of roster turnover from a campaign ago. Chris Reed's current club has rattled off five wins in a row though with some more than successful role expansions from last season around returning force to be reckoned with Shamire Broyld. 6-foot-1 senior Timmy Jackson has brought the tenacity that he displayed to the people last season on defense to the offensive side of the ball in thorough fashion, especially on the break. Talking about transition basketball, junior guard Charles Bowden III has become a dynamic distributor for Rush-Henrietta this year. It took no time at all for springy new program star Tyshaun Seawright to become confident scoring in just about every fashion.
Webster Thomas at Pittsford-Mendon—Sat., Dec. 29, 3:00 PM
Alright, there had to be one game included that was not part of a Christmas tournament. Webster Thomas came into this season with undoubtedly one of the top names in the sport in this area for two years now in 6-foot-3 current junior Andrew Mason, but that did not mean too many expected the Titans to have a hugely successful campaign this time around. Even crosstown rival Webster Schroeder came into this season with a more extensive and more high-profile group of returnees, particularly after the graduation of athletic current Penn State men's lacrosse player CJ Battaglia. A case can be made that Mason and company have already surpassed their expectations for this go-around by beating mighty Irondequoit by fifteen points last time out. On top of the margin of victory, what was so remarkable about that win was scoring in the seventies despite those Eagles coming in holding teams on the season to scoring in the fifties. Since losing to undefeated Class AA powerhouse Hilton by a mere seven points back on December 12, Webster Thomas is on a three-game victorious streak. The only losses so far for the team Griffin Coles heads are to those Cadets and a still powerful defending sectional finalist in Northeast Douglass.
Like those Cadets, Pittsford-Mendon is also undefeated at the present time, though Bob Nally's forces have only played four contests up to this point. That will all even out shortly on January 9 when the Vikings start a span of playing five games in just nine days. It is hard not to say that it is a wee bit glaring that Pittsford-Mendon went from a second quarter lead versus Pittsford Sutherland in the 2018 Rainbow Classic of almost three touchdowns to being down a couple buckets heading into the fourth quarter. With that being said, still winning that ballgame showed a bunch of resiliency for high schools kids that just experienced an exorbitant negative swing like that. This past offseason, 6-foot-6 senior captain Dan Cook clearly added a lot of productive weight to his bewilderingly huge wingspan. Sophomore Jacob Shadders is still on the smaller side in terms of physical stature, but that kid has the swagger and sauce to make onlookers think he is going to score every time down the court.
SECTION V IN DIVISION I UPDATE
Dontay Caruthers—Sr., Buffalo (East High)
On the road this past Friday, Dontay's nationally ranked Buffalo team suffered its first defeat of the storybook season after Markus Howard of fellow nationally ranked side Marquette put up forty points in the second half alone as part of a shooting night that featured a 9-of-13 perimeter performance. A silver lining for the Bulls, and especially Caruthers, that emerged from that loss was the offensive outburst of the former East High superstar. Dontay can always be counted on for elite defense, but he has not scored like that since before the foot fracture last season that cost him eleven games. His first double-digit scoring outing against a Division I opponent this season featured the senior guard scoring efficiently in every which way, including getting inside for baskets in a crowded lane, a three-pointer and a circus layup in transition while getting fouled. He was orchestrating comeback runs essentially by himself because he was firing on all cylinders to such a degree against the Golden Eagles that evening. It is certainly not a horrible sign for their at-large bid chances come 2019 NCAA Tournament time that his Bulls only dropped to No. 21 in the main national rankings after the loss.
Dontay Caruthers with the and 1!!! pic.twitter.com/zVtOeho6MZ

— Maxwell Kravatz (@MKravatz) December 22, 2018
Nahziah Carter—So., Washington (Bishop Kearney)
Nahziah's Huskies have taken nearly a week off of games during these holiday times, but he was playing some of his best basketball of the season before this hiatus. By recording eleven points on 4-of-5 shooting from the field, six rebounds a steal against Sacramento State last Friday, Carter went consecutive games scoring exactly eleven points. Over his last two ballgames, he went for a combined 22 points on 9-of-13 shooting from the field and fifteen rebounds against those Hornets and a nationally ranked Virginia Tech side. That increased rebounding output is what arguably makes this recent pair of outings the best stretch of his sophomore campaign up to this point. Over his second and third games of this year, Nahziah went for a combined 27 points versus nationally ranked Auburn and upstart San Diego, but it was not a part of as efficient shooting on top of there only being a combined three rebounds for him in that span. Washington will be looking to take advantage of a weaker than usual Pacific-12 Conference coming up on the schedule here soon.