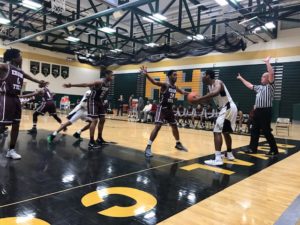 NE DOUGLASS (7-1) 70
LIVONIA (2-4) 49
NE Douglass jumped ahead of Livonia from the tip, holding Livonia to eight points in the first quarter. They outscored the Bulldogs in the remaining quarters as well. Adonis Flagler topped the scoring with 21 points. The junior pulled down 11 rebounds to register a double-double. Following Flagler for NE Douglass was Nicolas Jeanty, Maurice Glenn and Gerald Peary. Jeanty added 12 points, 12 rebounds, and four assists while Glenn collected ten points, six rebounds, and ten assists. Peary added 11 points, in part to three three-pointers. Livonia's Jalen Marshall led the Bulldogs with 14 points, all coming from the field. Other scorers: Douglass – Trevion Miller (8), Casey Diometre (5), Jonaton Rowley (3). Livonia – Nathan Genthner (11), AJ Davin (10), Steffan Gwyn (8), Alex Minnehan (4), Noah Fasso (2).
EDISON TECH (1-8) 58
RUSH HENRIETTA (5-2) 64
Jevonte Williams connected four times behind the 3-point arc and finished with a season-high 20 points to lead R-H. READ MORE.
SCHOOL OF THE ARTS (4-3) 66
PENFIELD (1-6) 61
Sophomore Ethain Clarke-DeSouza scored 12 of his team-high 24 points in the first quarter as SOTA jumped out to a 21-9 lead and held off Penfield in the fourth quarter. Clarke-DeSouza connected twice behind the arc in a season-high performance. Ke'vion Mitchell scored a dozen points. Reggie Smith and Keshaun Chatman added 10 apiece. Logan Hayes (8) and Joe Denegal (2) rounded out the scoring for SOTA. Patrick Piampiano paced Penfield with 25 points. Javion Monroe added 24. Penfield trailed by 11 after three quarters and outscored SOTA 24-18 over the final eight minutes of play. Jayden Bulger had five points for Penfield. Ty Salmon chipped in with four points. Matt Gable (1) and Dan Vercruysse (2) rounded out the scoring for the Patriots. SOTA will play Finney in Saturday's Penfield Tournament championship game. A 7:30 PM tipoff is scheduled.
EARLY COLLEGE (0-7) 34
HORNELL (6-1) 60
CANANDAIGUA (0-8) 61
C.G. FINNEY (8-1) 78
Keegan Ocorr paced four in double figures with 27 points to lead Finney. Markus Robinson added 19 points, and Caleb Anger had 12. Xavier Smith finished with 10. Josh Taylor (8) and Steve Folkerts (2) rounded out the scoring for the Falcons. Finney will meet School of the Arts in the championship of the Penfield Tournament.


BRIGHTON (1-4) 59
BROCKPORT (5-2) 71
Brighton's Jack Falter exploded for the game-leading 23 points in the Barons' loss. Two more Barons added double digits; Nate Sponsel scored 14 and Matthew Falter scored ten. However, Brockport was able to overcome with three double-digit scorers and impressive performances by majority of the Blue Devils' roster on both sides of the ball. Willie Ball and Kevin Lawrenz racked up 15 points apiece. Ball dished three assists and grabbed two rebounds, while Lawrenz pulled down six rebounds and blocked three shots. Shamar Lee led the team with seven rebounds. Other scorers: Brockport – Kyle Palka (9), Lee (7), Esten Schalge (6), Collin Cantrell (4), Troy Leibert (2). Brighton – Lukas Stant (7), Chase Seibold (4), Najeeb Awad (1).
GATES-CHILI (6-1) 40
PITTSFORD SUTHERLAND (3-3) 56
John Luther and John Messina combined for 15 points as Sutherland outscored G-C, 17-5 over the final 6:17 of the second quarter. READ MORE.
SPENCERPORT (2-5) 55
CHURCHVILLE-CHILI (3-2) 78
Four Churchville-Chili players hit double digits in the win over Spencerport. John Keele led the way with 21 points. Marcus Postell and Griffen Stella followed with 16 points each, while Terrence Wilson added up 12. Spencerport rivaled the Saints with three players marking double digits. Gino Pellett and Ben Reding led with 14 points each; Patrick Uebelacker scored 12. Other scorers: Churchville-Chili – Marcellus James (6), Garland Akins (4), Tylor Allen (2), John Bagley (1). Spencerport – Nick Thibeau (8), Alex Anderson (3), Cartier Jefferson (2), Mike Contestabile (2).
FAIRPORT (6-2) 36
SHENENDEHOWA (I) 50
The Red Raiders were held to their lowest scoring of the season in the holiday tournament played at Onondaga Community College. Fairport's only other loss this season came against Irondequoit on Dec. 18.
WHITESBORO 65
HONEOYE FALLS-LIMA (5-2) 55
Out-of-Section opponent Whitesboro finished the night with a ten-point victory. Junior Hayden Smith and sophomore Patrick Lustyk each scored 13 points to lead the Cougars. Other scorers: Trevor Chamberlain (8), Derek Childs (8), Turner Kamm (6), Jake Easton (3), Josh Vogt (3), Sam Tvrdik (1).
ROYALTON-HARTLAND (1-6) 27
BATAVIA (1-4) 75
Most of Batavia's roster got in on the action against Roy-Hart in their tournament matchup at Genesee Community College, earning the Blue Devils' first win of the season. Mason McFollins paced Batavia with 15 points, with three three-pointers, and seven rebounds. Tyivon Ayala also drained three behind the arc on his way to 13 points in the night. Roy-Hart's top scorer, Lance Krieger, topped out at seven points with five in the final quarter. Batavia kept the Rams off the boards and held them to their lowest-scoring game of the season. Other scorers: Batavia – Caeden White (12), Camden White (8), Max Rapone (6), Joe Martinucci (4), Zach Gilebarto (4), Bryce Reigle (3), Luke Grammatico (3), Jake Humes (3), Josh Weis (2), Trevor Zewan (2). Roy-Hart – Reed Albee (6), Mark Sanders (6), Charlie Brigham (4), Charlie Bruning (4).
UNIVERSITY PREP (4-6) 54
LIVERPOOL 62
WILLIAMSON (1-7) 40
MIDLAKES (3-5) 53
WAYLAND-COHOCTON (3-6) 48
PENN YAN (5-3) 64
CATO-MERIDIAN (2-1 vs. Section V opponents) 47
MYNDERSE ACADEMY (4-3) 58
Mynderse's Darren Miller came back after the holiday break to pick up right where he left off. In Mynderse's last game against Waterloo, Miller scored 31 of the team's 66 points. Against Cato-Meridian, Miller drained 26 points and grabbed 13 rebounds in the win. His threat traveled through the court, as he dished three assists, blocked a shot, and recorded one steal. Sal Franzone followed with 13 points, two assists, and two rebounds. Other scorers: Mynderse – Jared King (6), Mike Bogart (5), Jake Smith (3), Nick Jones (3), Troy Kabat (3).
NEWARK (6-1) 50
ELMIRA-NOTRE DAME 39
Newark's Jayden Peters drained six three-pointers on his way to a game-leading 20 points. Four of his three's came in Newark's 20-point third quarter. Devin Agosto followed with 12 points with five two-point buckets. Fisher took hold for Notre Dame, scoring the team-leading 17 all within the second half. Other scorers: Newark – Mason VanDeMortel (11), Kyle Martinez (4), Josh Green (2), Nick Bernardi (1). Notre Dame – Benjamin Puuk (12), Brody Nemier (5), Ryess Youmans (3), Mark Tota (2).
MARION (1-6) 35
RED JACKET (7-1) 77
FRIENDSHIP (1-6) 41
HINSDALE (1-4) 47
LEROY (2-4) 45
ATTICA (7-2) 50
WHEATLAND-CHILI (0-6) 52
YORK (7-2) 67
ALEXANDER (6-2) 63
CALEDONIA-MUMFORD (9-0) 73
Cal-Mum maintained a steady lead over Alexander to keep their perfect record. Vin Molisani and Joey Laursen each scored 16 points to lead the squad. Molisani also dished eight assists, pulled seven rebounds, and grabbed two steals. Laursen pulled down seven rebounds as well. Ethan Pies led the way defensively with eight rebounds. Leading for Alexander was Chris McClinic with 16 and Dylan Busch with 14, including four three's. Other scorers: Cal-Mum – Kyle Wade (13), Eric Wilson (12), Pies (8), Juan Cluadi (6). Alexander: Ryan Davis (13), Tyrone Woods (11).
DANSVILLE (3-4) 63
WARSAW (2-7) 55
MOUNT MORRIS (4-3) 53
ELBA (5-2) 63
CANISTEO-GREENWOOD (4-5) 51
KESHEQUA (2-6) 44
GENESEE VALLEY (6-2) 76
BRADFORD (2-5) 36