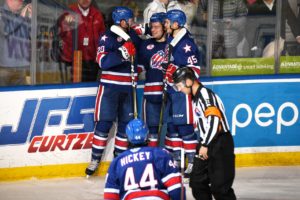 By KEVIN OKLOBZIJA
You've heard of the Gordie Howe hat trick, right? Well, the Rochester Americans just created the Moe's Hat Trick, and they don't even have a player named Moe.
Before every Amerks home game, three players are chosen as the "Moe's Hot Players of the Game." If one of the three scores a goal, a ticket stub is worth 50 percent off a meal the next day.
The question now, however, is: What happens when all three score?
Wayne Simpson, Brendan Guhle and Danny O'Regan — Friday's Moe's players — each found the net, as did Zach Redmond and Justin Bailey, as the Amerks blitzed the Toronto Marlies 5-1 in front of 8,061 fans at Blue Cross Arena at the War Memorial.
Here's your Friday Amerks Six Pack:
1. A balanced attack
In real estate, it's location, location, location. For the Amerks, it was balance, balance, balance that did the trick against the Marlies.
Simpson converted an Eric Cornel pass 3:21 into the second period during a penalty kill to break a scoreless tie — a scoring chance created when Marlies defenseman Calle Rosen ran into teammate Sam Gagner in the corner. Both fell down and Cornel took the puck.
Redmond's power-play goal 4:57 later off passes by Kyle Criscuolo and Victor Olofsson made it 2-0, and when Guhle's rocket one-timer off an Olofsson pass soared past goalie Eamon McAdam at 10:31, the Amerks led 3-0.
"Five goals from five different players, special teams working, five-on-five working and our goalie played awesome," Redmond said. "Those are the kind (of victories) that get the ball rolling."
2. Wedgewood solid again
Two nights after a 31-save shutout in Cleveland, goalie Scott Wedgewood was terrific again.
He stopped 35 shots, and the only goal he allowed came during a five-on-three power play for the Marlies.
"When he's on the top of his game, he's very tough to beat," Redmond said.
Wedgewood (11-6-1, 2.78 GAA, .916 save percentage) said the short Christmas break (Sunday through mid-day Wednesday) allowed him to re-charge, even if he spent much of it on the highway.
He did the loop from around Niagara Falls to Toronto visiting family.
"Family time always resets you, so that was good," he said. "I probably spent more time in the car than I did with family, but it's nice to catch up with people you don't see on a daily basis."
3. Making a difference, part I: Special teams
The Amerks went 2-for-5 on the power play while the Marlies were just 1-for-8.
"That's so important," O'Regan said. "The coaches work really hard showing us a lot of video. A couple weeks ago we were kind of on the other end of it."
4. Making a difference, part II: Kyle Criscuolo
The versatile centerman missed 19 games due to injury and was certainly missed. Since returning Dec. 21 against Hartford, he has a goal and three assists in four games.
"His wanting to win and caring about winning is huge," coach Chris Taylor said. "He does a lot for our PK, he does a lot for our 5-on-5, he takes a lot of faceoffs."
5. Nylander injured
Alex Nylander left the game in the first period with an upper body injury suffered on the game's first shift.
Taylor said the offensively gifted winger is day-to-day.
Nylander was hurt just as he passed the puck in the high slot in the Marlies zone. He was thumped to the ice when Morgan Klimchuk delivered a clean shoulder check.
He returned for one shift a bit later in the period, then headed to the dressing room.
The third-year forward has 8-13-21 in 30 games.
5. Slashing through the snow
Amerks forward Rasmus Asplund was twice assessed slashing minors in the second period, even though neither whack could have been considered egregious. His stick didn't even strike a body part; he hit the opponent's stick both times.
However, in today's pro game, they're penalties. Sabres general manager Jason Botterill, who was watching his prospects Friday night, said the NHL wants skill on display and eliminating all slashes provides that opportunity.
Think of it this way: The NBA doesn't want hand-checking to deter players from using to the fullest their talents. There's a reason NBA buildings are full and TV networks shell out absurd money to show games. The NHL wants the same level of entertainment so they want penalties for all slashes.
6. Packing 'em in like the old days
The crowd was announced at 8,061, and it looked every bit of that. Pre-sale was strong, and the walk-up was significant.
It was the largest crowd since Feb. 2, when Brian Gionta's one and only Amerks game attracted 9,836.
Short shifts
Simpson continues to be the AHL's Ironman. He has played 219 consecutive games but says he only thinks about the streak when he's asked about it. … Toronto's Chris Mueller finished with a game-high 11 shots on goal. That included five in 77 seconds of power play before he finally scored the Marlies first goal at 16:50 of the second period. … The slashing penalty called on Colin Greening at 12:45 of the third period was the first penalty on the veteran winger all season (in 32 games).