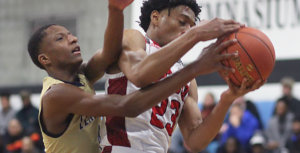 By MATT TRABOLD
TRABS KEEPS TABS
Lions, Wildcats and Institute Could Be in for a Climb in the Standings
A good rule of thumb is usually not to consult the standings too much a trio of weeks into a sports season. One has trouble not doing a double take though if she or he visits the current status of the standings pages on the Section V boys basketball website. A threesome of historically household names in the sport, one requiring a definition of recent history more so, currently sits at an eighth spot or worse in the standings for their respective classification. If history and the talent on paper for these clubs suggests, they should be making their way up these lists to some extent as this season really unfolds.
Two of these three programs in question come from undoubtedly the most stacked classification this section has to offer this go-around in Class A2 – a classification that saw its share of retooling this most recent offseason. This classification boasts all sorts of recent sectional title winners, including Wayne Central, School of the Arts, Northstar Christian and Pittsford Sutherland. Miles Brown, his pair of Division I offers at the moment and Northstar Christian made the valiant move up from a lower classification despite the entire school having a mere 104 students, and it has panned out so far. The two Pittsford programs, the other being Pittsford Mendon, are actually split between the two Class A classifications this go-through. On top of that, the current East High team also being a part of this fun is like another new face for the classification because this deepest present team in the section was just the No. 9 seed in the Class A2 sectional bracket last year.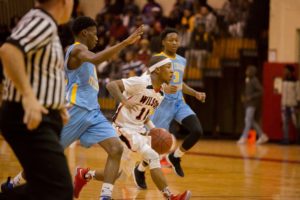 You would never guess it by looking at its roster online, but Wilson Magnet is right now on the tenth rung of the Class A2 ladder with a record two games under .500. Brendan O'Toole's current Wildcats have the depth with a strong rotation of eight or nine guys, depending on the night. They have the star power with long-time starting point guard Robert Davis and developed, high-flying 6-foot-5 frontcourt player Brennan Clark. It needs to be included that Clark did not see the floor in Wilson Magnet's 12-point loss at Greece Athena on Thursday night. They have the balance between backcourt clout and frontcourt clout.
Something has to give. Look for more close results going their way coming up here soon. Wilson Magnet has simply played a very tough schedule up to this point with defeats coming against defending sectional champions McQuaid Jesuit and Lyons on top of the hearty likes of Greece Athena, Pittsford Sutherland and East High. If Clark ends up being out for a little while, these Wildcats have the depth to make up for it with fellow reliable veteran post player Malikk Johnson and emerging junior Maurice Young. The very active Young has an insatiable drive to productively get to the basket and never stops competing. Gritty Tory Bradley is starting to get back to the larger role he had a season ago. 6-foot-3 freshman Christian Harmon has been a phenomenal addition with his shooting touch and size.
Two spots higher in those Class A2 standings right now exists Leadership Academy for Young Men. After starting their season with three victories in a row, including one against the defending postseason champion for the classification in Wayne Central, the schedule has also gotten incredibly difficult for the .500 Lions over the past trio of outings. This squad is in the midst of a three-game losing streak versus Northstar Christian, Wilson Magnet and East High. Those last two losses over the past four days were by a measly two points each. The team is trying to find a true right-hand man in the backcourt alongside high-scoring Rondell Watson. Luckily for Reggie Simmons and his staff, there are a ton of options with Maurice McKinney, Shamir McCullough, Nate Doyle and Onajae Anderson. 6-foot-3 Kennyh Hardeman is getting better and better as the main guy down low for the group.
Going over to Class A1, that current No. 10 standings spot is occupied by Aquinas Institute. That program is one classification down from a recent long stint at being a Class AA team. Much of the squad's surprising 1-5 start can be attributed to two starters being sidelined so far this year for John McCauley and his staff: a tank of a sniper in Ruben Torres and vastly improved 6-foot-7 junior Steve Mahar. A silver lining for Aquinas Institute is that productive 6-foot-2 freshmen Myles Blackwood and Jack Bleier have been quickly growing up on the hardwood with these expanded roles due to the injuries. When Torres and Mahar return to action, the overall talent pool of the team is going to be so much better for it. With his front line running mate sitting out, 6-foot-11 junior Tyler Warner has been toughening up on the interior.
SLAP YOUR PEEPERS ON THIS TROIKA
Aquinas Institute at McQuaid Jesuit—Fri., Dec. 21, 7:30 PM
This boys basketball installment of the decades-long rivalry between the two schools has a lot to live up to after the narratives added this past Section V football season. McQuaid Jesuit is certainly one of the favorites to repeat as the Class AA sectional champion. With the exception of a competitive loss against perennial Buffalo power Canisius High recently, Jake Leasure's group has a record free of blemishes. It was no question coming into the season who the two focal points on this team would be: Kobe Long and Jermaine Taggart. Taggart can frequently be deadly in transition and scoring around the tin with his lengthiness. Long cannot be stifled in this state playing a big role shooting from the outside. Plus, he has displayed a penchant for successful horn heaves over the past few seasons many a time. 6-foot-6 senior Connor Zamiara is one of the biggest humans in the section in a number of regards. He is a brute on both ends in the best way possible for his squad, but he can also employ finesse in many scenarios. Fellow seniors Harry Bruu and Jon Catone have gone from contributing cult heroes down the stretch in the program's notable run to the state semifinals a season ago to weapons that can be leaned upon this campaign.
Jermaine Taggart @JTaggart02 and Kobe Long @kobelong_3 yet again showed tonight for @McQuaidBball that they have such a mighty court connection this season. Drip. pic.twitter.com/f8u6QbCLch

— Matt Trabold (@TrabsMatt) December 20, 2018
While McQuaid Jesuit is 5-1 at the moment, Aquinas Institute finds itself at 1-5. With two starters being sidelined to begin the year, this club has dropped a pair of games to powerhouses from the Syracuse area and a pair of games to currently strong teams out of the Buffalo area. Added to that, Aquinas Institute fell by just a single point to one of the most big-name large school programs in this sport around here since the school came into being within the last decade, University Preparatory Charter School for Young Men, back nine days ago. A positive for John McCauley's team though is that 6-foot-2 starting point guard Justin Johnson is not one of those injured guys right now, unlike the latter half of last season. His backup in Gabe Miller has been making strides as well as a junior.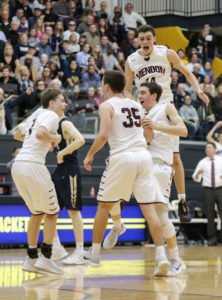 Pittsford Sutherland vs. Pittsford Mendon at Louis A. Alexander Palestra—Fri., Dec. 21, 8:00 PM
Friday night also houses arguably another top two rivalry in Section V history with the Knights and Vikings going to war, again with each having a Nally brother at the helm. Just like last season, both Pittsford Sutherland and Pittsford Mendon are legitimate sectional title contenders this campaign. The former started its year with an impressive home victory against Wilson Magnet. The Brockport loss three games after that might not have been very expected, but it is hard to fault John Nally's battalion too much for its other loss thus far being to defending sectional champion Wayne Central. Like most of the span of three varsity seasons coming into this one for this program, 6-foot-6 Kevin Ryan is the calm, cool and collected go-to guy for the side. No matter how bouncy the defender on him is, Ryan is so tough to stop once he gets his back to the basket in the post. Plus, the traditional big successfully gets to the charity stripe a ton. Last season, Benedict DiGiovanni was the lacrosse star that was generally athletic enough to wow from time to time on the basketball court. Now, he is an actual basketball stud. 6-foot-6 Conner Fitzsimmons has turned into much more than a big body to put out there when Ryan or Matt Thaney got into foul trouble.
Pittsford Mendon presently sits atop the Class A1 standings around here. The dunking long arms of 6-foot-6 Dan Cook are attached to a young man that has incorporated more jump shooting into his game this go-around. Sophomore guard Jacob Shadders has been so poised between coming into this season and in said season through three ballgames that the coaches have not yet felt that need to bring younger CP3 Rising Stars National Camp disciple Kidder Lindley up from the JV side of things. Senior starting point guard Connor Krapf has played like a senior for a few campaigns now. Krapf dabbles in the repeatedly lost art of a pass-first one-man. If these clubs want to meet in postseason play later on this season, it will have to be in the Class A state qualifier with them actually being in different classifications this time.
VIEW MORE CHRISTOPHER CECERE PHOTOS HERE. 
Canisius High at Irondequoit—Sat., Dec. 22, 3:30 PM
Irondequoit may have been upset by fifteen points by Andrew Mason and Webster Thomas on Thursday night, but these Eagles will be at a record stout enough in a couple weeks to barely recall that slight slip up. That is unless the team opts to utilize it as additional motivation. After sitting out Tuesday's contest with an illness, defensive stopper Freddy June, Jr. played limited minutes Thursday. The senior guard might have ended up playing a legitimate role if at full health for that one due to the Titans' offensive attack channeling through twelve successful triple tries. Through sheer force of will and improved jump shooting form, especially of the mid-range variety, 6-foot-5 Patrick Thomas has been elevating his output in a variety of realms enough this year to get close to entirely making up for the roster losses from last year's squad. Junior guard Luke Melidona, with his trademark thick mustache, has formed himself into an electric, circus layup-toting whirling dervish. Kenny Gonzalez is proving that he was a hidden wonder on the slightly deeper collection of Eagles last time around. His dimensions have shown to be very conducive to quickly darting around the paint past smaller or slower defenders to compile statistics. With Josh Stenglein being a bigger piece of the pie this season on top of him adding quite a few tools to his repertoire as a senior, especially on the defensive end, Connor Shafer has stepped into Josh's former role as a sweet-shooting accompanying backcourt player.
Along with Irondequoit, McQuaid Jesuit was the other large school team from this section to make a state run last season. Big Buffalo basketball name Canisius High already went to McQuaid Jesuit this campaign and won by a couple buckets. Jayce Johnson is playing at Middle Tennessee State now. Ryan Bradley is playing at Daemen now. Nick Macdonald is in a prep school year at St. Thomas More, which produced former and current NBA players Devin Ebanks and Omari Spellman. With all of that being said, the present Crusaders have displayed that they are clearly not a group to be overlooked.
SECTION V IN DIVISION I UPDATE
Anthony Lamb—Jr., Vermont (Greece Athena)
On Tuesday at home against St. Bonaventure, Lamb set a new career-high in scoring for the third time this season with a maelstrom of 42 points on 15-of-28 shooting from the field, six successful triple tries and 6-of-8 shooting from the charity stripe. The other two instances were against Ivy League powerhouses Harvard and Yale. That outburst versus the Bonnies included a clutch three-pointer and blocked shot in the second overtime period to really help seal the deal on the victory. To go along with the six rebounds and no turnovers he recorded for the Catamounts that night, Anthony rejected a trio of opposing shot attempts. That is not too shabby for a guy who ended his sophomore campaign at 0.8 blocks per outing. Through twelve ballgames this campaign, he has five rim protection performances of at least three blocked shots. Despite standing 6-6, Lamb is currently No. 38 in the country in blocked shots average and tied for No. 21 in the country in total blocked shots through this point of the year.
42 points for @UVMmbb's Anthony Lamb…

Yea, what did you do today? pic.twitter.com/OGcjDXydyo

— FOX College Hoops (@CBBonFOX) December 19, 2018
Nahziah Carter—So., Washington (Bishop Kearney)
This past Saturday, Washington might have fallen against a really good No. 13 Virginia Tech team, but Nahziah had one of his top two performances of his sophomore season thus far. For the third instance this campaign, Carter recorded exactly eleven points. This installment, he went 5-of-8 from the field with a career-high nine rebounds and a steal. Nahziah went for a season-high sixteen points versus No. 11 at the time Auburn in the second contest of this year, but he set a season-high against the Hokies this past weekend with five shot attempts made from the field as part of his scoring output. The top highlight play of the game was an awe-inspiring elevating act and tip slam from Carter that saw him catch the board and somehow elevate past not one but two other players between him and the rim. Nahziah's scoring and rebounding averages are still up from what they were last season.
It has been quite a day for former and current @KearneyBoys players when it comes to unique dunks. Nahziah Carter @_ClutchCarter somehow stood on top of air for a moment there to pull off that tip slam vs. Virginia Tech MBB over not one but two people between him and the rim. pic.twitter.com/fMKH8jBIR0

— Matt Trabold (@TrabsMatt) December 16, 2018
Keith McGee—So., New Mexico (Greece Arcadia)
His Lobos might have fallen for their fourth loss in the span of five ballgames, but the former Greece Arcadia Titan, Leadership Academy for Young Men Lion and Bishop Kearney King reached double figures in scoring against North Texas on Tuesday. Similar to Nahziah Carter in his last outing, McGee set a season-high for number of successful shot attempts from the field with a quartet of them. Against the Mean Green in that one, Keith went for eleven points after hitting four of his seven overall shot attempts and going 3-of-5 from downtown. In the first half on Tuesday, he exploded for 3-for-3 shooting from behind the arc. One of those three-pointers cut the New Mexico deficit to three points. His other two successful perimeter jumpers were of the back-to-back variety to cut their deficit to just two points. He is quickly becoming a player Paul Weir and his staff can lean on. This New Mexico team has a pair of tough tests coming up in the next four ballgames in the form of Penn and currently No. 6 Nevada.