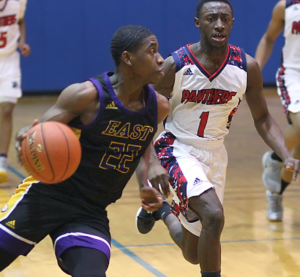 By MATT TRABOLD
TRABS KEEPS TABS
Early Returns on Same Faces in New Places
An aspect of high school athletics in this day and age that is understandable and now more prevalent has to do with players switching to another school to play, whether inside a given section or to a program in another section or state from the original one. Like each of the past few seasons, this Section V boys basketball season presented many an exciting case of the same face/new place phenomenon.
With this season of the sport being around two and a half weeks in, we are starting to see what roles these transfer additions should be playing with their new clubs throughout this campaign. This phenomenon around these parts this time around really centers around a central pair of programs. East High is arguably the deepest team in the section this season, but the current Bishop Kearney side actually has a bigger portion of the roster pie consisting of transfer additions.
A Pittsford Sutherland swap, who sat out of Section V competition in this sport last year due to the transfer waiver, in smooth 6-foot-6 guard/forward Miles Monchecourt and what would have been the most complete returning player at Aquinas Institute this season in Kidtrell Blocker look like the safe bets to be the leading scorers for Kevin Goode's group this time through if the first chunk of games is any indication. Monchecourt has a textbook pretty jumper form, is constantly hustling onto the ground for loose basketballs and can weave through defenses with awe-inspiring layups. Blocker's versatility will allow him to get his in the points column with volume scoring at the very least. Kidtrell has the quick feet to make him a bigger than usual guy to put at the front of a defensive stance, similar to Marquan Anderson from Edison Tech if you want a section-wide example from last season.
The final member of Bishop Kearney's main three transfer pieces this go-around is 6-foot-5 center Antwan Williams, who came over from playing in the state of Michigan. Do not be shocked if he leads all of Section V in blocked shots this season. He has the bewildering wingspan to do just that. On top of that, Antwan gets very high off the ground very quickly, which allows for recovery blocks, to go with his impressive mid-range shooting touch. It also needs to be mentioned that Williams displayed on the road at Fairport in his first-ever Section V contest that he possesses a level of ingrained sportsmanship that is above the rest in the country for the most part. Against the Red Raiders there, he could be seen a number of times going out of his way to pick up an opposing player off the ground.
How about those new-look East High Eagles? The name of the game is Scott when it comes to most of the new talent for this historically renowned program. 6-foot-6 cousins Zechariah Harris-Scott, formerly of University Preparatory Charter School for Young Men, and Dyllon Scott, formerly of Penfield, are a frontcourt force you need to be scared of if you are about to play this team. Harris-Scott's energy on his face and in his limbs is essentially unmatched. He flies around the basketball court to all corners that he needs to depending on the play. His rangy frame to go along with that solid height makes transition dunks a strong part of his hardwood arsenal. Dyllon was injured to begin this campaign and received his first start on Tuesday at Wilson Magnet. He wasted no time in the first quarter showing his stardom and the improvements he has made since his days with the Patriots, including muscling a rebound away from two Wildcats for a basket inside and a long two-point jumper off a stupefying shot fake and crossover on top of stopping on a dime to finish things off.
.@GoEastEagles BBB has added so much on-court and coaching clout this season with the trio of Zechariah Harris-Scott, Dyllon Scott and Tony Scott. Hit your soar, Eagle. Ironically, the assist on both of those was from Howard Eagle. pic.twitter.com/0cmDbMzoMk

— Matt Trabold (@TrabsMatt) December 8, 2018
Even the coaching staff for this East High team has been infused with notable new names for this season. There is the father of Dyllon Scott and the uncle of Zechariah Harris-Scott in former Syracuse University forward Tony Scott. Then, there is recent Rochester RazorShark Jonathon Ivy, who played in the ESPN family of networks-televised The Basketball Tournament this past summer for "We Are D3." The older brother of one of the talented point guards on the currently nationally ranked Buffalo men's basketball team Dontay Caruthers in Brandon Caruthers is another assistant coach long-time program head coach Darrell Barley brought in coming into this season. Rounding out this group of current East High boys basketball coaches that used to star for the program back in the day of Barley, Scott, Ivy and Caruthers is Norman Simmons.
.@GoEastEagles @BportAthletics @RocRazorSharks product John Ivy beat the horn a short time ago tonight in a close one vs. a team ft. Matt Barnes, Lorenzo Mata, Khalif Wyatt, Malcolm Lee, Jordan Adams, etc. https://t.co/U3Kxbw4kSz

— Matt Trabold (@TrabsMatt) July 15, 2018
It is not all Bishop Kearney and East High though when it comes to teams this year with exciting transfer additions. Current Monroe guard Fidel Brock was arguably the second-best player on Churchville-Chili last year, so him entering the fray as a captain alongside De'vante Mateo is a big deal for his new scholastic basketball stop after it graduated a lot of talent off the wing from last time around. Fidel is fearless going at any type of court challenger. Vertus Charter swap Jahmel Demery is not having as much success at Eastridge thus far as he did with the Warriors a season ago, but he provides needed height on both sides of the floor, even if he does not play inside all of the time.
30. 8 remaining Fidel Brock in the lane gives @JMHSRedjackets a 70-69 lead pic.twitter.com/xdMUAtPEyV

— Paul Gotham (@PickinSplinters) December 12, 2018
SLAP YOUR PEEPERS ON THIS 2018 BISHOP KEARNEY CHRISTMAS SHOWCASE FIVER
Gates Chili vs. Elmira Express at Bishop Kearney—Sat., Dec. 15, 2:15 PM
Slack is back. Oh, is he ever. Despite Gates Chili graduating Thomas Jones III, Damon Payton, Mark Morrison, Gunther Kroth and Vincent Ibezim from arguably the most pleasant surprise elite team in the section last season, Keith Slack still has a solid supporting cast for his senior and fourth varsity campaign at the school. With no more Kroth, Ibezim and especially Jones III navigating the blocks for Terry Nowden and his staff, Slack's new frontcourt right-hand man is 6-foot-3 sophomore Adam Williams. He was built as a freshman last year, but Williams clearly bulked up even a lot more this past offseason. Adam had some productive moments last season, but he is now shaping up to be the program's next star. He will continue wowing with windmill dunks in (at least) warmups and putting together double-doubles in the actual games themselves throughout this season. Another senior guard in Traylan McCray has seen a hearty role expansion this go-around as well from a speedy bench spark last season to a more reliable and important threat and captain in his final high school hurrah. 6-foot-3 junior Mitchell Harris has shown over the past couple seasons that he can be very active down low, and now his backcourt little brother Turner Harris looks like a new varsity breakout candidate for the Spartans. Turner posted nine points against Canandaigua within the last week.
Get warm ups slo-mo Adam Williams #23 @GCSpartan_Hoops @GCSDSpartans @GatesChiliHS #BleedBlue #GCHS #GatesChili #GCHigh #GatesChiliHighSchool#basketball #domore#GCHigh #HomeOfTheSpartan #GatesRaisedMe #GatesMade #VJBphotography #VJBsportsphotography #GiveUsAShot #Roc #585 pic.twitter.com/81uZoGNrpB

— Knock Down Shooter📸 (@VJBsportsPhoto) December 7, 2018
East High vs. Nottingham at Bishop Kearney—Sat., Dec. 15, 4:00 PM
There should not be much of a debate here. East High is the deepest team in Section V boys basketball this season. The Eagles legitimately have a stout ten-man rotation at the moment, and that does not even take into account currently injured backcourt brothers Maurice Coney and Trequan Coney. That extreme depth has already proven to be suffocating for opponents so far this young season. On Tuesday, Darrell Barley's group was getting doubled up after one quarter of play against Wilson Magnet, 22-11, but still ended up winning by a pretty wide margin of thirteen points. Darrell Barley was known to have done plenty of his work inside the arc during his Division I men's basketball career with Canisius, but his sons Kaori Barley and freshman Damani Barley are probably the top perimeter offense threats on this squad. Broad-shouldered senior forward Howard Eagle recently lost his starting spot once the very improved 6-foot-6 Penfield transfer Dyllon Scott returned from injury, but he is polished enough imposing his will in the paint and working in transition both receiving and distributing the basketball to be the best performer for the club on multiple nights going forward this year. Nottingham is no stranger to playing games recently at Ed Nietopski Gymnasium. Just a couple years ago, current 6-foot-10 William & Mary star Nathan Knight could be seen on the court there. 6-foot-6 Jaden Ezomo, who played this past summer with the 15U Albany City Rocks team, will be the large force to be reckoned with for the Bulldogs this time around.
#INMYBAG #Edition
6'6 PF #JADENEZOMO 2021 #PeachJam2018 #NIKEEYBL 15U#SLEEPERALERT 📝👀#WelcometotheFUTURE#Tough#Raw#Athletic#Talented#Workhorse
Ck out #Rawfootage of #JADENEZOMO putting in work. #WeoutHere @thecityrocks @KevanJr @coachJDove32 @CoachNearyCR pic.twitter.com/zp6p35UvLf

— NEW RECRUIT MEDIA (@NewRecruitMedia) August 22, 2018
2020 6'7 Jaden Ezomo 👀 pic.twitter.com/uwbUUPqQCR

— coachtwan (@coachballinger) October 24, 2018
Northstar Christian vs. Leadership Academy for Young Men at Bishop Kearney—Sat., Dec. 15, 7:30 PM
Right when you thought Miles Brown could not be a better player during his Northstar Christian career, he added a significant amount of vertical athleticism and productive weight this past offseason. That is one of a few reasons these Knights are getting closer and closer to making up for the recent big graduation losses of Tray Roberts, Matthew Medeiros and Daniel Pickett. A few new faces for JJ Garwood and his staff are thoroughly helping out this cause as well. Sophomore guard Sean Smith exploded for 24 points against Global Concepts from the Buffalo area last time out. Junior forward Josh Capolaretti also looks poised to have at least a couple of huge nights this campaign. Josh Pickett will be an important factor on the boards for Northstar Christian this go-around after Daniel Pickett was the last few years coming into this one. Northstar Christian is averaging 95.5 points an outing so far this season. Miles has sent through 68 points of those. Both of the squads in this one are capable of reaching triple figures in points. The core trio for the Knights also features the twin brother of Miles in Michael Brown and varsity veteran freshman Ryan Garwood.
The other dynamic offensive team in this battle is Leadership Academy for Young Men. Sweet-shooting and quick-twitch Rondell Watson is rarely denied on the hardwood and will certainly be one of the top scorers in the state yet again. Established marksman Nate Doyle and diligent on-ball defender Shamir McCullough along with sophomore Maurice McKinney are combining to fill the backcourt production the now-graduated Dezmere Ellis provided alongside Watson this year. The length in the starting lineup for these Lions comes from 6-foot-3 junior Kennyh Hardeman. The transition game for this program has always been dominant, but Kennyh has made it that much better since joining the rotation this season. If Reggie Simmons and his staff want to play bigger though, they can bring in 6-foot-5 behemoth center Kris Martin in off the bench when necessary. Martin is the tallest Lion since Aney Majak from the state finalist team three years ago, but he easily could be the biggest overall player in the fairly young history of the program.
Rondell Watson sends us to overtime. pic.twitter.com/jGeYvTa27f

— Paul Gotham (@PickinSplinters) December 12, 2018
St. Mary's at Bishop Kearney—Sun., Dec. 16, 12:00 PM
Host Bishop Kearney is the only Section V team playing on each day of the 2018 Bishop Kearney Christmas Showcase. These Kings have played slightly under expectations so far this season, including an away loss by sixteen points against Fairport to start their season, but you can bet the team is going to be a force to be reckoned with across the section here soon once this group of almost entirely new faces fully gels together as one. One of the two returning rotation players from last season for the Kings in 6-foot-2 junior guard Michael Gentile came back this year visually much bigger in terms of bulk, lengthiness and even height a little bit. He can slash inside the perimeter and find success on a variety of runners and floaters. The other returning rotation player in Jamal Williams, 6-foot-3 freshman Miles Rose and bravado-spreading sophomore Eastridge transfer Wilfredo Sanchez have split time manning the point this young season so far after head coach's son Kevin "K2" Goode Jr. had loads of success at that spot last time around. Williams has been starting at the one-spot so far this campaign, but do not be surprised if the younger Rose and Sanchez get more and more time there throughout the year as they get more acclimated to varsity basketball. 6-foot-3 Deiontray Dixon has the length and stride to be a good bench piece going forward.
Northeast Douglass vs. Global Concepts at Bishop Kearney—Sun., Dec. 16, 4:00 PM
A Class A2 finalist a year ago, Northeast Douglass will get its first go at the 2018 Bishop Kearney Christmas Showcase in the last of the eight games of the event. It is an understatement to say that Global Concepts out of the Buffalo area has struggled with Section V opponents up to this point this season. Already this time through, the Gators have relinquished 105 points in a game to Northstar Christian on top of 113 points in a game to Leadership Academy for Young Men. A side boasting sensational scorer Jiahmere Mitchell could very conceivably make it three ballgames in a row for Global Concepts versus a Section V foe where the Rochester-based club reaches triple figures on the scoreboard. Maybe the one sharpshooter currently playing high school boys basketball in this area who is more known for hitting horn heaves than Mitchell is Kobe Long from McQuaid Jesuit, but Northeast Douglass will probably not need those late-game heroics in this one. A pretty new rotation player for Kyle Crandall and his staff in senior guard Casey Diometre has also shown through the first couple weeks of this season that he can be counted on in situations during a contest that require the clutch gene. Do not be fooled by the roster for these Panthers showing no one taller than 6-foot-1. Three players in particular help this group play way taller than it stands. Trevion Miller has the mass to bang in the trenches on both ends against a bevy of taller opposing players. On top of that, Lamar Lovelace and second option Adonis Flagler have the vertical toughness to also find success against bigger players on paper.
NE Douglass and @GoEastEagles going to OT tied at 67 on this game-tying floater by Jiahmere Mitchell @PickinSplinters @SecVBBasketball @Wheyen3 pic.twitter.com/HXWBGmhDlA

— John Mitchell Likanje Junior (@jml5798) December 14, 2018
.@jiahmere_m4 of Northeast Douglass hit 7 triples last game. Today vs. Brighton w/ 0:08 left, he won game w/ heave! pic.twitter.com/Uw5HzpPY7p

— Matt Trabold (@TrabsMatt) January 14, 2017
BISHOP KEARNEY CHRISTMAS SHOWCASE SCHEDULE
SATURDAY
UPrep vs. St. Mary's (XI) 12:30 PM
Elmira (IV) vs. Gates Chili 2:15 PM
Nottingham (III) vs. East 4:00 PM
Bishop Kearney vs. Global Concepts (VI) 5:45 PM
Leadership Academy vs. Northstar Christian 7:30 PM
SUNDAY
St. Mary's (XI) vs. Bishop Kearney Noon
Lancaster (VI) vs. Elmira (IV) 1:45 PM
Global Concepts (VI) vs. NE Douglass 3:30 PM
All games played at Ed Nietopski Gymnasium.
SECTION V IN DIVISION I UPDATE
Brian Fobbs—Jr., Towson (Bishop Kearney)
Brian had a solid start to his first season in Division I men's basketball through averaging 9.3 points an outing and 4.8 rebounds an outing through his first four games at this level of the sport, with No. 5 at the time Virginia being one opponent in that span. In his last five performances though, Fobbs has looked like one of the very most elite players in the whole Colonial Athletic Conference this season. Over that stretch, he averaged a combined 23.0 points per contest and 7.0 rebounds per contest as a guard standing below 6-foot-5. That stretch included a showing last time out of 32 points on 8-of-16 shooting from the field, 6-of-12 shooting from deep and 10-of-10 shooting from the charity stripe in an overtime win over 2018 NCAA Tournament darling Maryland-Baltimore County. That 32-point number is the thirteenth-best single-game scoring performance in program history.
Anthony Lamb—Jr., Vermont (Greece Athena) 
After an unorthodox below his usual caliber two-game stretch against George Mason and Towson that featured combined 11-of-27 shooting from the field and nine turnovers, Anthony was a man on a mission last time out for the Catamounts. In a victory over Harvard in that one, Lamb detonated for 37 points on 14-of-22 shooting from the field and 5-of-9 shooting from downtown on top of no turnovers in 29 minutes of playing time. After that performance, Anthony solidified the second-most amount of cumulative points, being 206 tallies, in the first ten ballgames of a season in program history. That number is only behind the 2005 number of NCAA Tournament legend Taylor Coppenrath. Sorry, Syracuse University fans. On top of being a significantly more productive rebounder as a junior, despite just two rebounds against that Crimson this past Saturday, he is also currently top twenty in the country in total blocks at 6-foot-6.
Jeenathan Williams—Fr., Buffalo (University Preparatory Charter School for Young Men)
This past Saturday was also pretty good to another Section V product playing in the highest division of college basketball in Williams. In a recent rivalry type of matchup on the road at St. Bonaventure, Jeenathan had arguably his most promising outing of his young collegiate career. In nine minutes of playing time in a hostile road environment, he put together seven points for the nationally ranked Bulls against the Bonnies. The first of his two buckets from the field that afternoon was one from inside on a possession that saw him show all kinds of persistence and toughness in a crowd that included 6-foot-10 notable young shot-blocker Osun Osunniyi. Jeenathan banged on one of the blocks and pivoted a couple times while getting bumped before scoring over a few outstretched arms. His other basket was a much contested three-pointer. After their second meeting of the season with currently depleted Southern Illinois, his Bulls square off with a pair of currently nationally ranked opponents in Marquette and Syracuse in true road games next week.