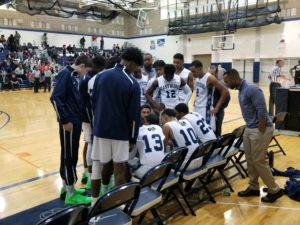 EDISON TECH (1-5)  58
LEADERSHIP ACADEMY (4-1)  99
Rondell Watson dropped 37 points and had seven steals for Leadership. Kennyh Hardeman added 19 points and grabbed 18 rebounds for a double-double. Leadership scored 61 points as a team in the second half. Natrell Colbert and Javonte McKnight tied for the Edison lead for points with nine each. Torrean Lewis and Jawaun Holt each scored eight points for Edison. Other scorers: Leadership- Nate Doyle Jr. (12), Shamir McCullough (10), Calvin Washington (8), Marquise Saballer (6), Maurice McKinney (3), Jamez Aiken (2), Kris Martin (2), Edison- Kevis Heard (7), Alton Knight (5), Kevin Jackson (4), Edgar Bass IV (3), Jarell Johnson (2), Tahaj Washington (2), Arnold Henderson (1)
WILSON MAGNET (2-4) 86
FRANKLIN (1-5) 54
Seven different players contributed in the second quarter as Wilson outscored Franklin 30-8 to take a 46-17 lead into the locker room. Robert Davis led Wilson with 15 points on the night, followed by Malikk Johnson, Christian Harmon and Maurice Young all with 12 points apiece. Brandon Moore topped Franklin with 17 points, while Davonte Gains added 11 of his own. Other scorers: Wilson – Brennan Clark (8), Dejzhon Crumity (5), Musa Mohamed (4), Tory Bradley (4), Christian Oramas (3), Latief Holmes (3), Desi Floyd (2), Jordan Major (1), Franklin- Tyrone House (8), Marcher Spencer (6), Kentonio Kelly (5), Teriq Johnson (3), Raheim Drisdom (1)
SCHOOL OF THE ARTS (3-2) 68
MONROE (4-2)  74
Fidel Brock led the way with 12 points late to help SOTA secure the win. READ MORE.
RUSH-HENRIETTA (3-2) 57
PENFIELD (1-3) 53
Nyles Goodwin topped Rush-Henrietta with 14 points, followed by Javonte Williams with 11 and Tyshawn Searight with 10. The teams were knotted at 30 all at halftime. Patrick Piampiano netted 28 points for Penfield, including 18 in the second quarter. Other scorers: Rush-Henrietta- Charles Bowden (7), Shamire Broyld (7), Tim Jackson (6), Eddie Beverly (2), Penfield- Javian Monroe (8), Ryan Wensley (6), Ryan Novy (4), Jayden Bulger (4), Ethan Fili (3)
PITTSFORD SUTHERLAND (2-2) 65
BROCKPORT (3-2) 69 OT
Sam Velletri topped Brockport with 18 points, followed by Ishmael Hannah with 16 points. After trailing 44-42 going into the fourth quarter, Brockport outscored Sutherland 17-15 in the fourth and 10-6 in overtime to earn the win. Kevin Ryan netted 26 points to lead Sutherland, finishing the game 10-for-16 from the charity stripe. Ben DiGiovanni added 13 points for Sutherland. Other scorers: Brockport- Kyle Palka (12), Shamar Lee (9), Esten Schlage (8), Kevin Lawrenz (4), Willie Ball (2), Sutherland- Matt Panara (5), Patrick Sanna (5), John Messina (4), John Luther (3)
EASTRIDGE (3-2)  86
GREECE OLYMPIA (1-1)  83 2 OT
Junior guard Tony Arnold scored 30 points to lead the Eastridge Lancers, who pulled out a double overtime winner over Greece Olympia. Lancers jumped out to a 21-19 first quarter lead but that would be erased as Olympia outscored the Lancers 21-12 in the second quarter to take a 40-33 lead into halftime and continued to put the pressure on Eastridge leading by three going into the fourth quarter. But Eastridge came back led by Arnold, who finished with 30 and Terrence Reid and Adrian Rogers who combined for 31 more points to help the Lancers push the game to overtime and finally finish off the Spartans in the second  extra frame. The Spartans were led by sophmore Collin James and Darnell Williams, who each had a season high in points finishing with 25 and 13 respectively. The Spartans were also contributed by seniors Jeff Jung (19) and Kris Perez (14) and juniors Tre Sharpton-Clark (5) and Ehnoc Tossah (6) and forward Makyle Murdock (2). While the Lancers rounded out the scoring with Jahmel Demery (7), Jordan Campers (5) and Jalen Young (5) , Talib Kinlock (3) and Jalen Rosa Hannah (3) and Jaden Keech (2).
HONEOYE FALLS-LIMA (3-1) 44
GREECE ODYSSEY (4-0)  65
Jaden Hartsfield led Odyssey with 13 points, followed by Travon Harper with 11 and Aric Williams with 10. Oddyssey opened with a 19-6 scoring difference in the first quarter. Trevor Chamberlain topped HFL with 23 points, including 11 in the third quarter. Derek Childs added 11 for HFL. Other scorers: Odyssey- Romell Griffin (8), Preston Mathis (7), Dylan Kolmetz (7), Ray Colbert (4), Luke Schneider (3), Korey Canton (2), HFL- Turner Wilson (4), Jake Easton (3), Patrick Lustyk (2), Samuel Turdik (1)
WEBSTER THOMAS (3-2) 73
CANANDAIGUA (0-5)  49
BRIGHTON (1-2) 55
PITTSFORD-MENDON (2-0)  96
Jacob Shadders led Mendon with 24 points, with Connor Krapf netting 19 points and Michael Harrington adding 17 points. Dan Cook also had 15 points and grabbed 12 rebounds for Mendon. Chase Seibold topped Brighton with 20 points. Other scorers: Mendon- Kevin Keneally (7), Charlie Bennett (5), Tommy Birmingham (4), Caleb Arena (3), Kyle Hennessey (2), Brighton- Nate Sponsel (9), Jack Falter (9), Najeeb Awad (9), Matt Falter (6), Agathia Visveswaran (3), Sam Zarkowsky (2), Jack Carl (1)
FAIRPORT (5-0) 60
VICTOR (1-4) 53  OT
Stefan Milinkovic led Fairport with 15 points, followed by Andre Starks with 13 points. Fairport outscored Victor 7-0 in the overtime period. Matt Caggiano topped Victor with 14 points, with Chase Dickens adding 12 points and Conner Williams scoring 10. Other scorers: Fairport- Vanzell Johnson (11), Ryan Lucey (11), Max Molisani (8), Ryan Kennedy (2), Victor- Will Stone (6), Phil Nwugwo (6), Jeremy Summerson (3), Jaxon Roth (2)
WEBSTER SCHROEDER (2-2) 52
HILTON (3-0) 68
Tah'Jae Hill netted 40 points, going 10-for-10 from the free throw line and hitting four threes, for Hilton. Hilton outscored Schroeder 41-19 in the second half after trailing 33-27 going into halftime. Jo Jo Plummer led Schroeder in points with 18, followed by Ky'mere Meeks with 16 points. Other scorers: Hilton- Mitch Carr (11), Ryan Kurtz (6), Noah Malta (4), Colin Burkis (3), Alex Mutretta (3), Jackson DiPalma (1), Schroeder- Colin Merkey (5), Luke Insley (4), Colin Donnelly (4), Josh Hauman (3), James Knox (2)
GATES-CHILI (3-1)  58
IRONDEQUOIT (3-0)  64
Patrick Thomas fueled Irondequoit with a career-high 26 points, as well as 13 rebounds and three assists, with Josh Stenglein adding 15 points. Freddie June, Jr. scored nine points, handed out five assists and collected three steals. Kenny Gonzalez contributed seven points and seven rebounds, while Luke Melidona had four points, a pair of assists and five steals. Irondequoit led 32-31 at halftime. Keith Slack controlled Gates-Chili's offense with 32 points, hitting eight three-pointers over the course of the game. Other scorers: Irondequoit- Keenan Robertson (2), Jack Brennan (1), Gates-Chili- Traylan McCray (6), Devin Walton (6), Turner Harris (5), Adam Williams (5), Andrew Newcombe (2), Mitchell Harris (2)
GREECE ATHENA (4-1)  68
GREECE ARCADIA (0-6) 36
Melvin Council Jr. scored 21 points to lead Athena in scoring, with Kelvin Reaves Jr. adding 13 points. Council scored 14 of his 21 in the first quarter of the game. Travers MacNeal was Arcadia's lone double-digit scorer with 12 points, seven of which came in the second quarter. Other scorers: Athena- DeAndre Newsome (7), Austin Brown (7), Terrell Wilson (5), Isaiah Brock (4), Johnny Salone (4), Robert Mitchell (3), Noah Horn (2), Jake Cerone (2), Arcadia- Jerrell Robinson (9), Evan Insley (4), Joe Desiato (4), Elijah Barnard (3), Evan Caufield (2), Tony Stephenson (1), Kyle Blum (1).
WORLD OF INQUIRY (2-4) 65
EARLY COLLEGE (0-4) 46
LIMA CHRISTIAN (1-3)  19
C.G. FINNEY  (6-1) 59
RED CREEK (2-5) 53
MARION (1-3) 60
NEWARK (5-0)  59
PALMYRA-MACEDON (1-4) 37
After a tight first quarter tied at 10-apiece, the Newark Reds steadily pulled away to keep their undefeated season in place. Newark outscored Pal-Mac 37-10 in the second and third periods combined in the Wayne County matchup. Jayden Peters led a trio of double-figure scorers for Newark, finishing with 13 points. Mason VanDeMortel scored 12 and Devin Agosto 10. Nick Sapienza led the Red Raiders with 15 points, while James Thompson and Nick Patnode each scored five points.
GENEVA (3-3)  65
WAYNE (4-1)  78
Logan Blankenberg led Wayne with 24 points, followed by Nicholas Carmichael with 17 and Billy Thomson with 11. Wayne exploded in the first half, outscoring Geneva 40-18, to cruise to a Finger Lakes East victory. The Eagles increased the lead to 65-38 after three periods before Geneva responded with a 27-18 fourth quarter. Reid Patchett topped Geneva with 13 points, with Liam Ryan and Akim Hudson tying for second on the team with 12 points. Other scorers: Wayne- Logan Holgado (9), Maxim LaRocco (4), Jaiden Burlee (4), Brandon Nowack (3), Louis Reding (3), Cakeb Kornaker (3), Geneva- Dante Reid (6), Nicholas King (5), Christian Tapscott (5), Davante Johnson (4), Jagger Kerr (3), Dugan Doeblin (3), Nicholas Askin (1), Kaya Parara (1)
MYNDERSE (2-2)  65
MIDLAKES (1-4) 56
Jared King's three pointer broke a tie and put Mynderse Academy up 58-55 with 3:30 left in the game to lead the Blue Devils over Midlakes in a Finger Lakes East battle pitting two teams who had lost two games in a row. Midlakes pulled to within 59-56 with 1:42 left, but the Blue Devils scored the last six points of the game to secure the win.
HOUGHTON (3-2) 56
HINSDALE (0-4)  44
JASPER-TROUPSBURG (4-2)  60
ARKPORT-CANASERAGA (2-6)  29
CAMPBELL-SAVONA (2-4) 69
AVOCA (7-0) 87
Avoca remained Section V's winningest team on the young season with a convincing victory over a game Campbell-Savona squad in a Steuben County matchup. Avoca, ranked second in the state in Class D by the New York State Sportswriters Association, was led by Nathan Nunn's 36 points – 24 in the first half – 11 rebounds, three assists and four steals. LaDre Stanford added 24 for the Avoca cause. Campbell-Savona was led by Owen Jewell (18 points) Ethan Park (14), and Kaleb Zimar (14) led the way for C-S. Avoca led 47-30 at halftime, but only outscored C-S 40-39 in the second half.
BOLIVAR-RICHBURG (3-3)  60
CANISTEO-GREENWOOD (2-4) 59
CALEDONIA-MUMFORD (6-0) 59
LEROY (2-2)  54  OT
For the second time in as many games, Cal-Mum connected on a buzzer-beater. Friday night, Kyle Wade sent the game into overtime with a shot to beat the buzzer, and the Raiders (No. 13 NYSSWA Class C) pulled away in the extra period. Leading the way for Cal-Mum was Ethan Pies with 15 points while Eric Wilson chipped in 11. Wednesday night, Vinny Molisani hit from half court before the horn in Cal-Mum's win over Mount Morris.
AVON (6-0) 50
WARSAW (2-4) 33
Avon's Connor Taylor scored 22 points, grabbed eight rebounds and dished out four assists to lead the Braves to a Livingston County Division 2 victory and keep their undefeated season intact. Taylor scored 12 points in the decisive fourth quarter to break open the game. Avon led 34-27 heading into the final period, but outscored the Indians 16-6 to secure the win. Nick Rowland added eight points and Andrew Rowland seven for Avon. Andrew Coleman and Rochawn Scott led Warsaw with 11 and seven points, respectively.
KESHEQUA (2-3) 34
GENESEO (5-1)  58
Geneseo's Adam Wright converted nine-of-10 free throws and finished with 18 points to lead the Blue Devils to a win over Keshequa in a LCAA Division 2 matchup. The Blue Devils used a decisive third quarter, outscoring Keshequa 19-8 to go up 49-25 heading into the fourth quarter and themselves breathing room. Giovanni Cicorla-Timm hit two three pointers in the third to lead the charge. Jake Hamilton and Noah Reilly each scored seven points in the game for Geneseo. Keshequa had three players score in double-figures, including Cameron Chestnut with 13, Hunter Stephens with 11 and Bryson Mellin with 10.
WELLSVILLE (5-1)  66
WAYLAND-COHOCTON  (1-5) 63
Wellsville senior Joe Tronetti grabbed a loose ball and drained a three point shot with 4.7 seconds left to seal the second dramatic win in eight days for the Lions. In a back-and-forth fourth quarter, Wellsville tied the game at 63-all on two free throws by Max Jusianiec with 11.7 left after he stole the ball and was fouled intentionally. Given the ball back after the free throws, a scramble ensued for the ball and it ended up in Tronetti's hands who drilled the game-winner. The game was close all night and Wellsville led 37-33 at half after a tied game at 21 after the first period. In the first half, the teams combined for 13 three pointers with hitting Jusianiec hitting five of them. Way-Co responded to start the third with five unanswered points to regain the lead and it was a see-saw affair after that. Last Friday, Wellsville beat Franklin 55-52 on a buzzer-beating three-pointer by Jusianiec.
DANSVILLE (2-2)  44
LETCHWORTH (0-4)  36
Dansville used a 14-1 second quarter advantage to regain the lead and pull away from its LCAA foe.
Arrik Gerber led the Mustangs with 15 pts – including three three pointers – and Drew Morrow grabbed 12 rebounds. Letchworth was led by William Shering's 14 points and William Bean's 11 points.
BELFAST (1-2) 59
MOUNT MORRIS (2-2) 70
Mount Morris evened its record in this non-conference matchup.
BATAVIA-NOTRE DAME  (2-3) 74
PRATTSBURGH  (5-0) 84
Despite first-half foul trouble, senior Mason Putnam scored 34 points to lead undefeated Prattsburgh to the victory in the high-scoring, non-conference affair. BND led 38-37 at halftime, but the Vikings used a decisive third quarter to give them the cushion they needed. Prattsburgh outscored the Irish 25-12 in the quarter to take a 61-50 lead into the final period. Sophomore Kris Johnson added 24 for the Vikings. The Irish had four players score in double-figures, led by Keith Szczepanski's 22 points. Zach Cocking scored 18, Gabe MacDonald 17 and Spencer Misti added 12.
WATERLOO (4-2)  56
PENN YAN (4-2)  51
Waterloo outlasted the Mustangs in this Finger Lakes East matchup.
FILLMORE (3-1) 57
CUBA-RUSHFORD (3-2)  60
ROCHESTER ACADEMY 53
GENESEE VALLEY 85
ORCHARD PARK 59
NORTHSTAR CHRISTIAN (3-0) 81