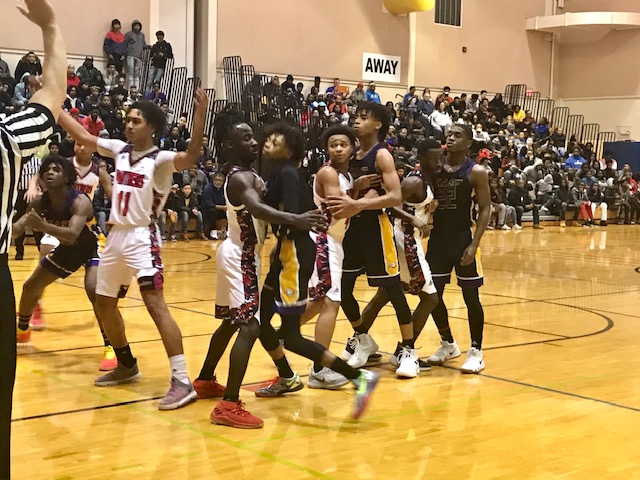 By JOHN LIKANJE
ROCHESTER, N.Y. — Seven McGee and Chaz Washington led a dramatic third quarter comeback an the East High Eagles went on to defeat the NE Douglass Panthers, 81-73, in overtime at School No. 33, Thursday night.
Trailing 47-38 with just over two minutes remaining in the third, the Eagles stormed back on an 11-0 run to take a 49-47 lead into the fourth quarter. McGee and Washington combined to score 10 of those 11 points, including six straight to end the period. It was the Eagles' first lead in seven and a half minutes of game play after temporarily having a 31-29 edge in the beginning of the third quarter on Washington's three-pointer right out of the halftime break.
"Coming in, they were ranked in the state so we knew we had to take it seriously," Washington said about the third quarter run. "Coach Barley just told us 'Next man up. Everybody be prepared to play.' We came out with a lot of energy and it brought everyone's spirits up."
After an up-and-down fourth quarter in which there were six lead changes and five ties, the stage was set for overtime. Tied at 67 apiece, Washington quickly converted a layup off the opening tip four seconds into the period. After the Panthers temporarily took the lead on a three-pointer, the Eagles went on a 12-3 run down to stretch to pull away for the victory.
Eagles head coach Darrell Barley was proud of his team for keeping their composure.
"My assistant coach, Tony Scott, said 'That's over and done with.' We gave up a four point lead," Barley said of the in overtime. "Let's show them what we're all about. It's overtime. And we did it but it was not easy."
The Eagles took advantage of their one-three-one defense as well. They forced turnovers on 21 of the Panthers' 62 possessions in the second half, including seven in the fourth quarter.
"We forced them to make uncomfortable plays," Barley said about his squad's effectiveness on defense. "I thought my two sons (Damani and Kaori) did a good job as far as pressing the ball. They got some key steals and key tips in the overtime."
Washington finished the game with a team-high 20 points, including 15 through the first three quarters. After not playing in their previous game against Wilson on Tuesday and the first half of this game, McGee came off the bench in the third period and sparked the Eagles with six points.
"There's a whole lot of people on the team that can come in and do work," McGee explained about being ready to play if called upon. "I came tonight ready to play and help my brothers and we came out with the win."
"They're both great athletes," Barley said about McGee and Washington, who are both multi-sport athletes. "Both of those guys are strong and physical and they're able to get to the basket at will."
Despite battling foul trouble, junior forward Zachariah Harris-Scott scored 12 points. Dyllon Scott netted 12 as well.
Damani Barley (10), Howard Eagle (7), Kaori Barley (6), Kai McCullough (5), and Jordan Randolph (3) rounded out the scoring for the Eagles.
For the Panthers, junior guard Lamar Lovelace scored a game-high 21 points, including four three-pointers. Senior guard Jiahmere Mitchell netted 15 points and sent the game into overtime with a floater down the lane with 18 seconds remaining.
NE Douglass and @GoEastEagles going to OT tied at 67 on this game-tying floater by Jiahmere Mitchell @PickinSplinters @SecVBBasketball @Wheyen3 pic.twitter.com/HXWBGmhDlA

— John Mitchell Likanje Junior (@jml5798) December 14, 2018
Trevion Miller (14), Adonis Flagler (12), Maurice Glenn (8), Casey Diometre (2), and Nicolas Jeanty (1) rounded out the scoring for the Panthers.
Fans will want to mark February 1st on their calendar for this rematch between both teams. Game set to tip off at 6:15pm. For now, they are scheduled to play in the Bishop Kearney Christmas Classic this weekend. East will match up against Nottingham (III) on Saturday at 4:00 PM while NE Douglass will play Global Concepts (VI) on Sunday at 3:30 PM.