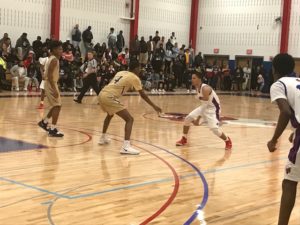 By PAUL GOTHAM
ROCHESTER, N.Y. — It was a game fitting of a milestone. Trailing by double digits entering the fourth quarter, the Monroe High boys' basketball rallied and won in overtime.
In doing so, the Red Jackets secured the program's first victory in their new gymnasium.
"It feels great, a great win," said Fidel Brock who scored eight points in the fourth quarter and five more in overtime to pace Monroe's 86-77 victory over Leadership Academy. "It's amazing. That was a great win for us, a great team win."
Brock keyed the rally early in the fourth quarter with a play on the defensive end.
"Fidel kinda set the tone for that quarter by getting a steal off an inbound pass," said 13th-year Monroe head coach Matt McCormick. "That's what I tell these guys all the time. Defense will lead to easier baskets on offense."
The senior then scored six during a 14-5 run to tie the game.
The 5-foot-8 guard got in the paint off the dribble and finished. Kerone Kearse converted a rebound and putback before Tyquil Glasgow scored on a jump hook in the lane.
"We had to iron a couple things out on offense getting in the paint," McCormick noted. "We're a different team when we get in the paint and we don't settle for threes. That's what got us back in."
De'vante Mateo and Brock scored on back-to-back run outs off long rebounds to tie the game at 65.
Brock gave Monroe its first lead of the second half when he scored in the lane.
"They bring the 3-2 (zone defense) up pretty high," McCormick said of Leadership. "We started getting the ball inside to Ty a little bit more and work that backside of the zone.
"With "Pee Wee" (Mateo) and Fidel making the dribble drive and getting paint touches, we're a different team. That was the message, and that's what we did."
30. 8 remaining Fidel Brock in the lane gives @JMHSRedjackets a 70-69 lead pic.twitter.com/xdMUAtPEyV

— Paul Gotham (@PickinSplinters) December 12, 2018
Kearse connected on a corner three to open the scoring in overtime. Monroe did not surrender the lead from there.
"When it went into overtime, I was confident that our momentum would keep going," McCormick noted.
Glasgow scored in the lane and assisted on an and-one from Brock when he saved a ball from going out of bounds and fed his teammate in the lane.
Fidel Brock and-one gives @JMHSRedjackets an 82-74 lead pic.twitter.com/cYFGt45GND

— Paul Gotham (@PickinSplinters) December 12, 2018
"It was just a hustle play," Brock said. "I forced it a little bit earlier in the play. Ty got the tip back, made a great pass to me. I just tried to finish it."
Next trip down the floor Glasgow scored in the lane and Monroe (3-2) had an 84-74 advantage.
"We wanted to come in here and prove ourselves," Brock said of the win over the previously undefeated Lions, ranked No. 23 NYSSWA Class A. "We always play with a chip on shoulder."
Mateo finished with a game-high 29 points to lead Monroe. Glasgow added 23, and Brock had 19.
Kearse (5), Trevone Glasgow (6), JoJo Jones (2) and Jahmir Bloom (2) rounded out the scoring for Monroe.
Leadership's Rondell Watson scored 15 of his team-high 27 in the third quarter. The senior guard gave the Lions their first double-digit lead of the night at 55-44 when he hit one of his six 3-pointers on the night. He sent the game into overtime when he nailed his final trey with 3.0 seconds remaining on the clock.
Rondell Watson sends us to overtime. pic.twitter.com/jGeYvTa27f

— Paul Gotham (@PickinSplinters) December 12, 2018
Maurice McKinney scored 14 for Leadership. Kennyh Hardeman added 12. Shamir McCullough had 11 points and Marquise Sabalier, 10.
HALFTIME: Shamir McCullough finds Kennyh Hardeman in the lane for 2 of his 12 points. Leadership 34 @JMHSRedjackets 27. De'Vante Mateo leads all scorers with 14. Lions closed the half on an 11-0 run. pic.twitter.com/gwKTZf7CKN

— Paul Gotham (@PickinSplinters) December 12, 2018
For the past three years, Monroe has been housed at the John Marshall building across the city while renovations took place on the Alexander Street campus. The Red Jackets practiced and played their "home" games at No. 33 School during that time. Monroe last tried to host a game in 2009 at the current building, but limited seating prevented any future contests at the school. Monroe hosted East on December 3rd for their first actual home game in almost a decade.