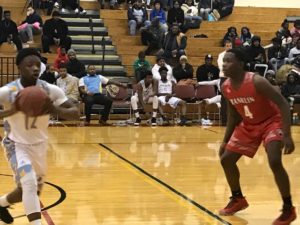 By PAUL GOTHAM
ROCHESTER, N.Y. — Friday night, a strong fourth quarter came up short. Monday night, they put together four solid quarters. In between, Eddie Lee's Franklin Quakers spent some time at the hospital.
Freshman Brandon Moore led four in double figures, and Franklin downed Early College, 85-52 in RCAC action Monday night.
Moore paced a decisive third quarter when Franklin outscored Early College, 26-3.
"It feels great to get the W there," Moore said. "I just told my team that we got do it on defense. Defense wins games."
Moore scored 13 of his game-high 27 points in the decisive stanza including five  when the Quakers ran out to a double-digit advantage midway through the period.
Leading 38-37 at halftime, Moore hit a runner in the lane. Kentonio Kelly followed with a baseline drive for a reverse layup. Devontae Goins connected from behind the 3-point arc. Moore converted a traditional 3-point play, and Kelly got loose on the baseline for another layup.
Tyrone House grabs the loose ball and gets to the rim. Franklin leads Early College 25-21. pic.twitter.com/OBuBOoBdUV

— Paul Gotham (@PickinSplinters) December 10, 2018
"I was calling out for the screens and just going," Moore said. "I've been working on that. It pays off."
Franklin led 50-39.
Early College did not cut the margin to single digits again in the contest.
"It's been a long time coming," Lee said of his squad's first win of the season. "Tonight they played a complete game. Usually they play three quarters."
The Quakers outscored Wellsville, 20-6 in the fourth quarter Friday night, but the Lions converted on a last-second 3-point opportunity to beat Franklin 55-52.
"I told them we needed to finish what we started in that fourth quarter at Wellsville, we need to play the same way tonight," Lee said of the discussion in the locker room at halftime. "I told them 'you know you're better than this team. Just go out and play.'"
Devontae Goins feeds Marcher Spencer inside. End of the 3rd: Franklin 62 Early College 40 pic.twitter.com/MgZcpgh699

— Paul Gotham (@PickinSplinters) December 11, 2018
Kelly finished with six of his 13 points in the quarter.
The Quakers scored on 11 of 16 possessions during the eight minutes. After Early College's Jaequon Nesmith converted a rebound and putback to pull the Cobras within three at 42-39, Franklin scored the next 20 points.
"That fourth quarter we played together as a team," Lee said. "It was more team basketball."
Franklin played the game without junior co-captain Tahjir King who fractured his wrist in Friday's loss. The team was at the hospital with King in Wellsville until midnight before retuning home.
King joined fellow co-captain Tyree Spann, who broke his wrist earlier in the season, on the bench.
Malcoim Brown takes the Brandon Moore feed and hits the baseline jumper. 4:09 remaining Franklin 73 Early College 43 pic.twitter.com/mwBmAER8Ps

— Paul Gotham (@PickinSplinters) December 11, 2018
"To win that game with those two on the bench says a lot about the kids on the floor," Lee noted.
Moore, who scored 14 in the first half, connected on all five of his free throw attempts in the third quarter and went 8-of-11 from the charity stripe for the night.
"He attacked the basket instead of settling for threes," Lee said of the guard's performance. "He sees the court well. "That kid is going to be good once he learns when to go and when not to go."
Anthony Smith scored 13 for Franklin (1-3). Marcher Spencer added 10. The Quakers finished 1-20 last season.
Ahmir Buckhannon and Sam Jackson paced Early College (0-3) with 14 points apiece.
Other scorers: Early College – Jahan Richetts (9), Nesmith (8), Kemar McCloud (3), Marquis Crawford (3) and Jovan Sargent (3). Franklin – Devontae Goins (7), Malcolm Brown (7), Teriq Johnson (3) and Tyrone House (7).