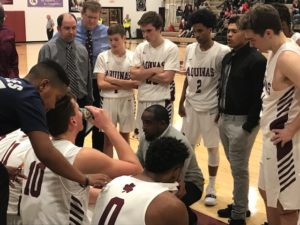 By PAUL GOTHAM
ROCHESTER, N.Y. — A third-quarter rally fell short, and the Aquinas Li'l Irish dropped a 77-70 decision to the Bishop Ludden Gaelic Knights (III) at the Wegman-Napier Center, Monday night.
Justin Johnson connected four times behind the 3-point arc including back-to-back treys to give Aquinas a 44-41 lead with less than three minutes remaining in the stanza. The Li'l Irish and Gaelic Knights traded baskets and the lead before a Monte Johnson bucket gave Bishop Ludden a 51-50 edge heading into the fourth quarter.
The Gaelic Knights did not trail again.
"We're playing good in spurts," third-year Aquinas coach John McCauley said. "We haven't put it together yet. I keep telling myself that these are the lessons we're going to have to learn."
Trailing 31-25 at halftime, AQ used a long-range attack to close the gap. Johnson connected twice from the right side before Jack Scanlon nailed a trey from the left corner.
Tyler Warner converted a rebound and putback to cut the deficit to one, and Johnson took over from there.
"I'm proud of my guys for the way they fought back in the third quarter," McCauley added. "They made it a game. These are good lessons to go thorugh early in the year. We're playing some tough teams, some well-coached teams. We're learning."
After Bishop Ludden knotted the game, freshman Jack Bleier finished a layup to give the Li'l Irish the lead back. Luke Putnam connected, and Gabe Miller gave Aquinas a 50-49 edge late in the third.
It was AQ's last lead of the game.
"We're a young group," McCauley noted. "Our core is freshmen, sophomores and juniors. I like what we're doing. I tell them every day we're nowhere near where we're going to be at the end of the year."
The Gaelic Knights scored on four of five possessions early in the fourth, and a Nick Button rebound and putback made it a double-digit game 61-51. Mykell Kaigler connected from long range on the next trip down the floor to give Ludden its largest lead of the night at 64-51.
Aquinas cut the margin to six when Johnson fed Bleier for a bucket with 30.6 seconds remaining in the game. After a timeout, Aquinas trapped the ensuing inbound pass and forced a turnover. But the Li'l Irish could not take advantage.
Damon Montgomery finds Tyler Warner in the post for the hurt and harm. Aquinas trails 67-58 with 3:32 to go. pic.twitter.com/4OHr4EUqTe

— Paul Gotham (@PickinSplinters) December 11, 2018
"Even at the end when it seemed out of reach, we still managed to find a way to come back and give ourselves a chance," McCauley state. "That's important for a team, especially a young team, to have that fight."
Aquinas was without the services of juniors Ruben Torres and Steven Mahar. The duo which played on the school's state champion football team are still recovering from injuries. Torres is day-to-day. Mahar will be out at least another week.
"When we get them back, those guys will be a big boost."
Johnson hit five 3-pointers and led Aquinas with 20 points. Warner added a dozen. Miller and Scanlon scored 11 apiece.
Bleier scored seven points. Putnam had four. Miles Blackwood (2) and Damon Montgomery (1) rounded out the scoring for Aquinas (1-3).
Aquinas will host UPrep, Wednesday night. A 6:30 PM tipoff is scheduled.
Button finished with a game-high 32 points for Bishop Ludden. Monte Johnson scored 18. Kaigler and Champ Reid added eight apiece. Tyler Webster Webster had seven.